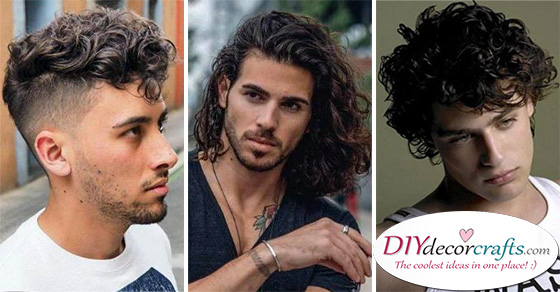 When it actually comes to finding the perfect hairstyles as a man, it can prove to be a difficult task. Especially if you have curly hair! Curly hair can be hard to style in a way which reflects your own personality and style. In more recent times, a whole variety of curly hairstyles have become popular and trendy. So if you are one of those men who have curly hair and often wishes for straight hair, forget about it! Instead, look through our collection of curly hairstyles for men! We have collected a whole pick of hairstyles for curly hair men. This way, you will be sure to find something which suits your style!
1. Fading into Your Skin – Stylish Hairstyles for Curly Hair Men
Check out this short hairstyle for men which has become very popular over the past few years! This is no other than the skin fade haircut. All this means is that with a razor a hairdresser is able to achieve a fade between your hair and your skin. The hair on the top of your head is left a bit longer, but the rest is quite short. This creates an incredibly unique look for any guy! If you have a tattoo somewhere on your head, getting this haircut will be a great way to show it off! The skin fade haircut looks even better if you have curly hair, as it adds a new and unique touch to your whole look! These are amazing curly hairstyles for guys that will definitely make you stand out from the crowd!
2. Grease Vibes – Curly Hairstyles for Men
Have you ever seen the movie Grease? You might have been inspired by the movie to get a hairstyle such as the one Danny Zuko has. After all, it gives off confident and cool vibes, which might be the sort of energy you'd like to channel. It's all about creating an extravagant pomp hairstyle on your head. You will probably need quite a bit of hair gel or hairspray to achieve this look, but it's totally worth it! So if you have curly hair, this hairstyle will definitely uplift your whole look, so make sure to give it a try!
3. Going Big and Natural – Show Off Your Curls
If you prefer a more natural style, then make sure to opt for a natural look! When you have curly hair, you know that it might grow out looking big and stylish. So why not try it out? Grow out your beautiful curls to midlength and let them run completely wild! This is a low maintenance look, so if you don't have the time to style your hair every morning, this will be perfect for you. You can simply get out of bed looking your best with these longer and natural curls!
4. Long and Elegant – Hairstyles for Curly Hair Men
If you have decided to grow out your curls to create a long mane, trust us, it's a great idea! There are a lot of options on what to do with curly and long hair for men. So find some curly hairstyles for guys! For example, you might want to tie it up in a man bun, create a ponytail or do a half-up half-down hairstyle. It's really up to you! If you want to leave your hair out long and flowing, you should decide which side to part it on. For elegant energy, you can use a bit of hair gel to slick back your hair and keep most of it from falling into your face.
5. Simple and Easy – Leave it Natural
When going to the hairdressers' for a haircut, you don't necessarily have to get an eccentric haircut. The great thing about curly hair is that it looks amazing in any way! So if you decide on having your hair cut in the same length all around your hair, you will look fabulous! Have your hair cut in the same length will create a natural look. This is also the perfect hairstyle if you are waiting for your hair to grow out long because this will ensure that it grows out evenly. Not to mention, these would be awesome curly haircuts for boys as well, not only grown men!
6. An Amazing Afro – Bold and Brilliant
Perhaps you have bold and brilliant locks of curls. While there is some curly hair, which droops down, there is a lot that forms into an afro when growing. This is something you should be proud of and something you should show off to the world! A fabulous thing about afros is that there is a whole variety of ways on how to style it. You can use a simple headband to create a whole new look for yourself!
7. A Modern Look – Curly Hairstyles for Men
Hairstyles from the nineties have started to become super popular again. So it would only make sense for you to try it out. It's actually quite simple to achieve a hairstyle such as this. If you have decided to grow your gorgeous curly hair to midlength or longer, you can simply part your hair in the middle, letting your curls fall into your face. This is an awesome look which you can wear to casual events or fancy occasions, it's perfect for anything!
8. A Unique Mohawk – Funky Hairstyles for Guys with Curly Hair
Perhaps you are in search of curly hairstyles for men that will unleash your inner rockstar. You will have probably heard of a mohawk! These awesome hairstyles for curly hair men bring fun and funk with themselves wherever you go. A mohawk would look especially good with curly hair. To achieve this look, you will need to shave both sides of your head, leave a line of hair in the middle which is still long. You can use hair gel or hairspray to make your curls point upwards and for them to stay in place.
9. The Curly Mullet – Bringing Back the Eighties
There were many awesome hairstyles during the eighties which have been somewhat forgotten. One hairstyle which some people still choose to try out and wear is no other than the mullet. Mullets may look a bit strange since it's all about layering the hair in an unusual way, but they definitely bring a unique sense of style with themselves. So if you would like to reflect your unique personality with a new hairstyle, you might as well try out a mullet. It will look perfect with curly hair, so you don't have to worry about not having straight hair!
10. A Stylish Crop – Curly Hairstyles for Men
Here is yet another fabulous hairstyle idea for men with curly hair. Get your hair cut in a crop! Shaved short on both sides of the head and left longer on the top. Getting a textured crop also involves having bangs. With his haircut, you are guaranteed to get noticed more easily as well as stand out from the crowd. This hairstyle is perfect for guys who have thinner hair, as the textured crop will create an illusion of having more hair! These would also be awesome curly haircuts for boys!
11. The Man Bun – A Chic Style
Maybe you have long curly hair, which you have been growing for a few years. You wouldn't really like to cut it, besides getting the usual trim every now and then to keep your hair healthy. A great hairstyle for men who have long hair is tying it up in a man bun. Not long ago, the man bun became a very popular hairstyle for men. It looks effortless, as well as giving any guy a chic style. So, if you have longer curls, then simply tie them up in a bun and try out this awesome hairstyle!
12. A Half Up Man Bun – Laidback Long Curly Hairstyles for Men
When it comes to the man bun, there are actually several options on how to create one. You don't have to use all of your hair to create one, you can try using only half of it. This way you will be able to create a top bun, with the rest of your long, curly hair running out freely. A hairstyle like this will say that you are chill, laidback and down-to-earth. So if you feel like this resonates with you, give this top bun a try!
13. Adding Some Colour – Making Your Hair Pop
Maybe you want to go to a music festival this summer or go out partying a lot! Or perhaps you would just like a way of expressing your vibrant and optimistic personality with your hair. A great way of giving yourself a new and fun look is by adding some colour to your hair. If you thought that hair dye and colour was reserved for women only, you couldn't be more wrong! So give yourself a new and funky look!
14. Short and Stunning – Hairstyles for Curly Hair Men
Instead of going for a long hairstyle, you might prefer to stick to something short. After all, keeping your hair short is a practical idea! So if you spend a lot of time doing physical activities, having short hair will prevent it from constantly disturbing you by falling into your eyes. To complete this short and curly hairstyle for guys, you might consider growing a beard or some stubble. This will help enhance your masculine vibes!
15. Shaggy and Windswept – A Romantic Appearance
Do you prefer a messy hairstyle, which gives you a feeling that you have just crawled out of bed? Grow out your curly hair at least to a midlength, if not longer. Instead of combing it out or paying much attention to it, let it curl in any way it would like to. This windswept and messy look somehow creates an attractive and appealing look as well as channelling masculine energy. This doesn't mean you don't have to take care of your hair though! If you have long curls, you will have to use some conditioner and give your hair an occasional trim to keep it healthy!
16. Grey and Wavy – Stylish and Mature
Has your hair started to turn grey? Don't worry too much about it! Hair turning grey is a natural process, not to mention, grey hair has become super trendy over the past few years. So if you have a few silver streaks running through your curls, you should be happy about them! They will give you a new and mature look! If your hair is going grey, then don't dye it, leave it natural!
17. Simple and Sweet – Cute Haircut Ideas
Maybe you are in search of a shorter and trendy hairstyle for men for curly hair. If so, have your curls cut in a shorter style. If you have thinner hair, then make sure to have it layered. The layers of hair will provide more texture, thus making your hair appear thicker than it actually is! Depending on what suits the shape of your face, you might consider getting some bangs cut. The curly bangs will definitely add a cute effect to your look!
18. A Long Curly Fringe – Long Curly Hairstyles for Men
Here is one of many stylish curly hairstyles for men who have mid-length or long curly hair.  Part your hair on one of the sides. With this move, you will also create a long fringe, which you will be able to sweep to the side of your head. You might need to use a bit of hairspray or gel to keep it in place. If you have problems with your hair being frizzy, you might need to use a conditioner when washing your hair, to give it a smoother look.
19. Adding a Few Highlights – A Sunkissed Glow
Give yourself some gorgeous beach waves for summer! If you have naturally wavy or curly hair, this idea will definitely give you a sunkissed glow! It's all about adding some natural-looking highlights to your hair. With a few lighter tangles and curls, you will look as if you've just arrived from the beachside.
20. The Woodcutter Look – Hairstyles for Curly Hair Men
Try out hairstyles for guys with curly hair that are all about ruggedness and manliness. Allow your curls to grow out midlength or longer. You don't need to comb it out, just leave it messy and natural! Another thing to consider is to grow out your beard and a bit of a moustache. Growing a beard means taking responsibility for keeping it nice, clean and in shape! But this pays off because it will look amazing! Long curly hair and a beard will present you with the look of a woodcutter!
There is a huge variety of unique and awesome hairstyles for curly hair men. We hope you found some amazing curly hairstyles for men! For other ideas concerning hairstyles, such as Hairstyles for Boys with Curly Hair or Trendy Mens Haircuts, make sure that you check out our website!
Advert