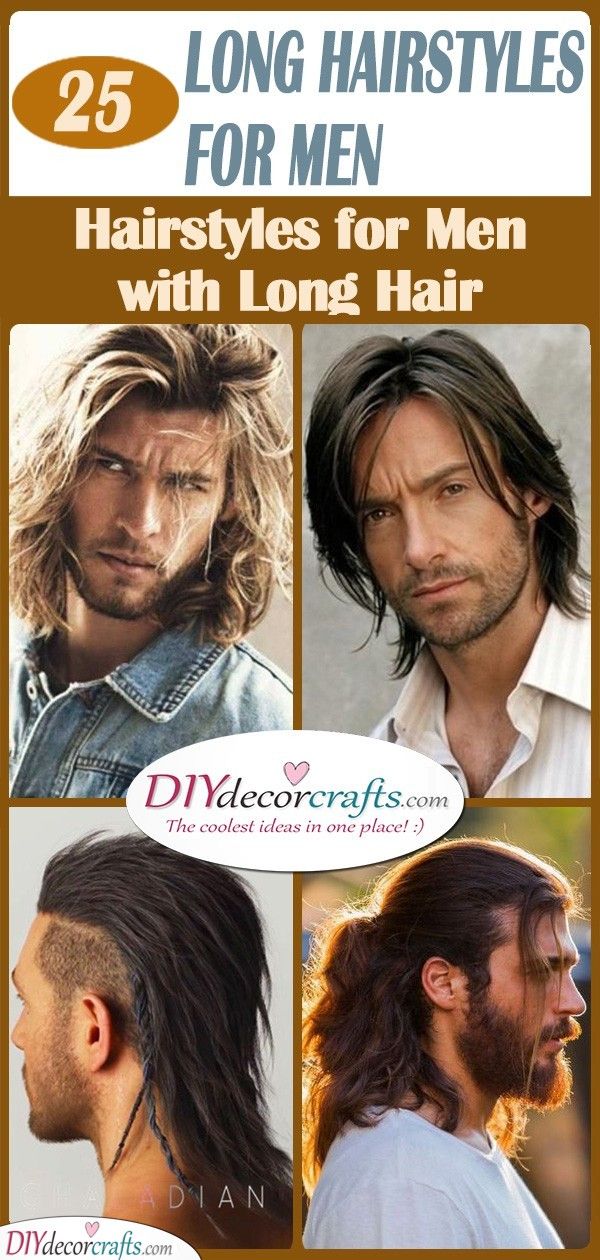 Do you have long and beautiful hair as a man, but you are unsure about how to style it? You will want to find a hairstyle which is a reflection of your personality. Because as you might already know, getting a new hairstyle sometimes shows the world, what sort of personality and style you have. Maybe you would like a long hairstyle which more elegant and refined. Or perhaps you might be looking for a hairstyle that is adventurous and bold. Whatever your style is, make sure to look through our collection of 25 best long hairstyles for men, because you want to look your best. We guarantee you will find something amazing amongst our pick of hairstyles for men with long hair!
1. A Half Up Man Bun – Hairstyles for Men with Long Hair
If you have gorgeous long hair as a guy, make sure to own it! There are so many stunning hairstyles for men who have long hair which you can choose from! An easy and simple way of styling your hair is tying half of it in a top bun. We all know that man buns have become very popular over the years. But instead of tying all your hair up in a chic man bun, only try tying up half of it. This is a great look for an elegant event, for example, if you are going to a wedding, this hairstyle is a must!
2. A Bit Messy – Best Long Hairstyles for Men
Perhaps you have long hair and want to let it out and flowing. If so, you might be in trouble when it comes to where to part your hair for the perfect appearance. A great place to start is by parting your long hair on one of the sides. You don't need to particularly comb out your hair. Just try out a messy hairstyle for men, which will give you a windswept look! Leave a few strands of your hair to fall into your face, for a rugged effect.
3. Long and Layered – Full of Texture
Do you have long hair? Remember that you don't need to get a straight cut. You can get your hair layered! This is an especially great idea if you have thin hair. When layering your hair, it will provide texture to your whole hair and create an illusion of your hair actually being thicker than it is. If you wouldn't mind dying your hair, you can even consider adding a few highlights to your layers! With a hairstyle such as this, you will look as if you've just arrived from the beachside!
4. Creating a Mane – Gorgeous and Manly
A lot of people think that long hair will give them a feminine vibe. But trust us, it's not true at all! Why not try giving yourself a mane, which is long, shaggy and rugged? Long hair such as that will definitely give you a manly look! You don't have to worry about brushing out or combing your hair. Another thing you don't have to worry about is cutting your hair at the exact same length. These will all help provide that weather-beaten appearance.
5. An Awesome Mullet – A Viking Vibe
Maybe you have always been fascinated with ancient cultures. Or perhaps you've seen a movie or a tv series, in which the men characters have awesome mullets with unique braids. Have you felt inspired by these cool hairstyles? Why not give yourself a hairstyle such as this and you might just feel like a Viking warrior? You might even consider shaving one of the sides of your head completely for the full look. And as we mentioned before, you can braid one or two strands of your hair. If you decide to give this hairstyle a try, you are guaranteed to stand out in any crowd!
6. Half a Ponytail – Best Long Hairstyles for Men
Here is yet another great hairstyle for men with long hair! Tie up only half of your hair in a ponytail, while leaving the other half long and flowing. A hairstyle such as this will give your hair more volume and texture. This is a great hairstyle idea whether you have thick or thin hair. So make sure to try out this half up, half down hairstyle! You can't really go wrong with a style such as this!
7. A Flattering Hairstyle – Make Sure to Try Something New
Have you been thinking about letting your hair grow out a bit longer? Adding a few layers to your hair will give it more texture. You might also consider styling the front part of your hair backwards. You can add some hair gel to fixate it, giving you the look of a movie star. Of course, you can let a few strands of your hair fall into your eyes, for a more natural and manly appearance. It's really up to you and your style!
8. The Man Bun – Hairstyles for Men with Long Hair
We have already talked about trying out a half-up man bun. But what about the full deal? Grabbing all of your hair and tying it into a messy and bigger bun? Man buns have become super stylish and popular over the past several years. So if you decide to give it a try yourself, we completely understand! The great thing about man buns is that you don't need to put much effort into creating a beautiful hairstyle! Even if your man bun is messy, it will still look fantastic!
9. Brilliant Beach Waves – A Smoking Hot Look
Every woman fantasizes about meeting a guy at a beach, who emerges from the waves. The man in question usually has beautiful long hair, which curls into beach waves. Try giving yourself this look, which is all about being close to nature and embracing your unrefined and raw self. Soft beach curls will amaze anyone who meets you! If you have considered the idea of giving yourself highlights, they will match your beach waves perfectly! The highlights would add an element of a sunny glow, reinforcing the beach vibe.
10. Back to the Nineties – Mens Long Layered Haircut
Hairstyles from the nineties are becoming super trendy again! So if you have found a hairstyle, which you think would look good on you, it would only make sense to try it out! Instead of going for something very long, try out a midlength hairstyle! This hairstyle is parted at the side of the head. The hair itself is layered, giving the whole hair a boost in texture. The strands of hair at the very back of the head should be longer than the ones in the front! You can include a side fringe for the extra look.
11. Bold and Curly – Opting for a Natural Appearance
We have already talked about how trendy long hair has become amongst men! If you have somewhat curly hair, why not allow your hair to grow out long? Your naturally curly hair will create big and bouncy locks, which will look very luscious and gorgeous. If you have longer hair, there are so many options to choose from on what to do with it and how to style it! Whether you decide to create a simple ponytail, a man bun or a half updo, we're sure anything will look great!
12. Try Out a Feathered Cut – Best Long Hairstyles for Men
Have you ever heard about layering your hair with a feathered cut? Feathered hair creates a unique effect and look! This is an especially great idea for men who have thinner hair, as the feathered layers will create a thicker appearance. You don't have the feather your whole hair, you might only try it out on the ends of your hairstyle. This will help make the ends of your hair thicker! Also, try parting your hair in the middle for a trendy and modern look!
13. Irresistible and Elegant – Fabulous for Guys
Here is yet another one of absolutely gorgeous hairstyles for men with long hair. Part your long hair on one of the sides of your head. Then sweep most of your hair to one side of the head. Another great idea is to add a few layers to your hair, to achieve a more textured look.
14. The Latest Trend – A Messy Hipster Hairstyle
Are you in search of a hairstyle which is super trendy at the moment? Grow out your hair at least midlength then part it at one of the sides of your head. You can mess your hair up a bit, ruffling it up for a messy look! Combine a hairstyle such as this with some facial hair, for a truly stylish appearance. This is another hairstyle, where you don't have to worry about having your hair cut completely in a straight line.
15. Curly and Funky – Long Hairstyles for Men
Another type of hair we have already talked about is naturally curly hairstyles for men. You might consider growing it out a bit, letting curl into all directions. Also, you don't have to grow it out fully long, you might opt for a shorter version.
16. A Sleek Man Bun – Sophisticated and Stylish
As you know, we have already mentioned tying your hair up into a man bun. While we have talked about messy man buns, we haven't mentioned the ones on the more elegant side. For example, if you are going to a fancy dinner and would like to tie your hair up, a sleek man bun is the way to go! You will need to comb your hair out to achieve this look. You might also need to use hair gel to keep all your hair in place.
17. Shaggy and Suave – Unique Haircut Options
If you are in search of a stylish and messy hairstyle, check this out! While this hairstyle is extremely messy, it has a masculine edge to it. You might add some highlights or lighter streaks to your hair for an extra glow.
18. Keeping it Simple and Easy – Straight and Stunning
Here is yet another fantastic hairstyle for men with straight long hair! Let your hair grow out long, then simply part it in the middle. The only problem for men with long hair, is they forget to care for it at times! Make sure to keep it healthy and fresh, by giving it an occasional trim, getting rid of any split ends.
19. Keeping It Stylish – Slicked Back Hair
Whether you have shorter or longer hair, there is an easy hairstyle you can achieve with just a bit of hair gel. It's all about slicking your hair back, so the front of your hair rests on the rest. This is a perfect look for a casual day or for an elegant event.
20. Bold and Beautiful Curls – Long Hairstyles for Men
If you have super curly hair, you can let it grow out to be big and beautiful! It might turn into somewhat of an afro hairstyle, but those look funky and fabulous! A hairstyle such as this will definitely give you a groovy look.
21. Great in Grey – Looking Cool with Silver Hair
Have you noticed your hair is turning grey? Don't worry about it, you shouldn't try hiding it! Especially since grey hair is super trendy at the moment! It also adds an essence of maturity to its wearer! You can try growing your hair longer to pair it with the silver streaks! This may be a fantastic option to try out as a hairstyle idea for old men!
22. Layered and Wavy – Long Hairstyle Ideas for Guys
Here is another long layered and wavy hairstyle! It almost gives you beach vibes with the natural-looking waves. The layering will help add texture and volume to your hair which is always a great idea!
23. A Unique Look – Half Shaved Off
If you are in search of a hairstyle, which will help you stand out of the crowd, then check this idea out! Leave your hair half long, while shaving it all off on one of the sides. This will definitely assist in lending you a unique look.
24. Simply Stylish – With a Bit of Edge
Make sure to take a quick glance at the hairstyle above! It's simple yet super stylish. Parted in the middle with messy hair strands hanging down. This hairstyle is guaranteed to give you a trendy appearance.
25. Natural and Easy – Long Hairstyles for Men
Here is a hairstyle which is perfect for men with thick hair! It's all about leaving your hair to grow out naturally. You can give yourself a fringe, or just leave a few strands of hair naturally dropping into your eyes. This hairstyle is perfectly manageable length! It's not too short, but neither is it too long.
We hope that you found some awesome long hairstyles for men! For other ideas concerning hairstyles, make sure to check out our toddler boy haircuts or curly hairstyles for long hair.