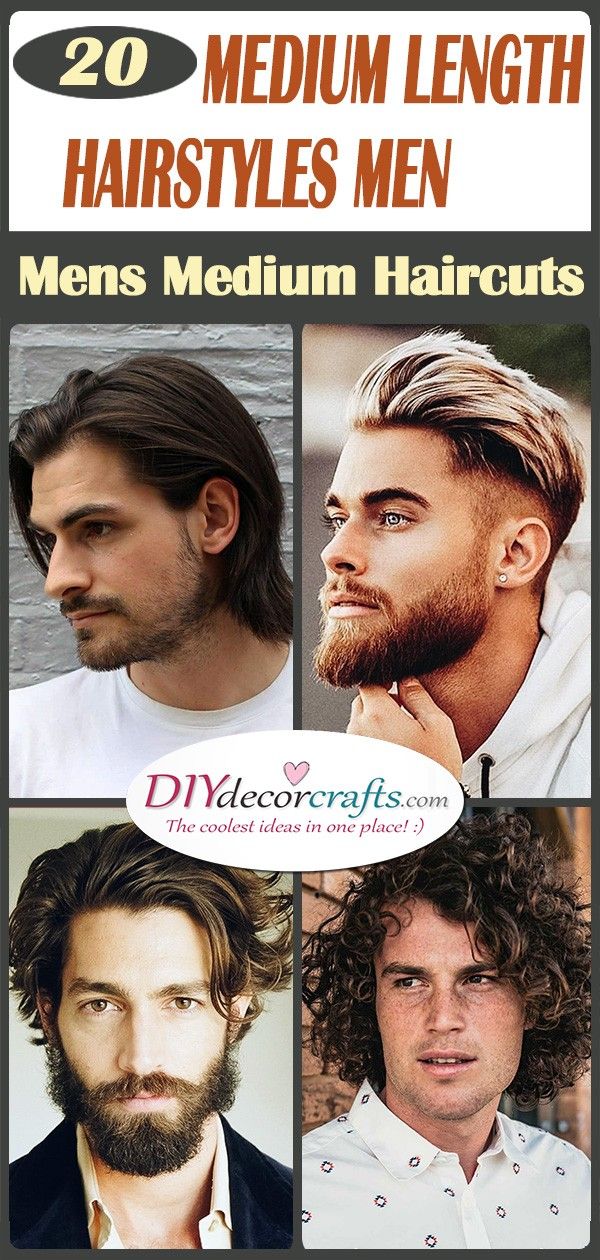 There are a lot of ways to bring out the best of your look! Even if you are a man, there is absolutely no shame in wanting to look your best from head to toe! Besides choosing the perfect outfit or a pair of shoes that will fit your style, one other part of your appearance you'll want to take into consideration is your hair! Depending on what you'd like to exude, picking an amazing hairstyle will help enhance that vibe. If you are in search of medium length hairstyles for men, you'll want to check out our collection! We have gathered 20 men's medium haircuts, in order for you to find some inspiration amongst them! So, get ready to look through them!
1. A Bit Longer – Stylish Medium Length Hairstyles for Men
Have you always wanted to try out men's medium haircuts? After all, wearing your hair longer has come back into trend and is incredibly stylish! Making this a spectacular choice for anyone who doesn't want a full long hairstyle but would prefer to keep it medium-length instead. Naturally, in order to keep your longer medium-length hair looking healthy, you'll have to get it trimmed every now and then. While longer hair does look gorgeous, it is a higher level of maintenance.
2.  A Sun-kissed Glow – Major Beach Vibes
If you are in search of something truly handsome, that will give your whole look effortless beach vibes, try out this medium length hairstyle! This haircut is also a longer type of medium hairstyle, but instead of going for a neat cut, it's all about looking rugged and messy. With a few streaks of lighter hair, the hairstyle will be elevated with a sun-kissed glow. The ruggedness of this haircut and the light streaks of hair are guaranteed to give off major beach vibes! So, if this is what you were going for, give it a try!
3. Volume with Waves – Men's Medium Haircuts
You may be trying to find a hairstyle for yourself, that will be certain to give it more volume and texture in an instant! This is a fantastic idea to try out for anyone who has thin or fine hair, as this hairstyle will boost your hair's volume! You may consider getting a wavy perm for your hair if you have straight hair! It doesn't need to be super curly, just some lazy waves will do the trick as well. But the combination of medium hair and waves are sure to give your hair that volume and texture, you have been looking for!
4. Undercut Sides – With Longer Slicked Back Hair
Here is a haircut that is perfect for any guy out there, in search of something manly and stylish! You will have probably already heard of an undercut. It's when the sides and back of the head are shaved, until the hair is short, sometimes even nearly bald. However, the hair on top of the head is left somewhat longer. An undercut is a modern and manly haircut and is actually quite versatile, due to the fact that you can style the top of the hair in whatever manner you'd like!
5. A Medium Flow – Medium Length Hairstyles for Men
What is a flow hairstyle exactly, also known as the bro flow? You may have seen a few of these hairstyles already for medium-length haircuts for men. The hair is all about flowing in a fluid way, almost creating the look of waves. You will have to have somewhat longer hair for this hairstyle, as it will need to be combed back and styled, in order to really recreate that flowing look! This would be a perfect hairstyle to try out for an elegant event!
6. Parted at the Side – Easy and Effortless
Perhaps you aren't in search of a hairstyle or haircut that is detailed or too sophisticated. You are just looking for an easy and effortless hairstyle that you can wear during any day of the week! If this is the case, then how about sweeping your hair to one side of your head, meaning that you create a side parting? This is just a simple way of giving your hair a somewhat different look. You don't necessarily need to comb it out or comb it back. Leaving it ruffled and messy will look amazing as well!
7. Curls for Days – Curly Men's Medium Haircuts
Do you have curly hair or maybe you've just gotten a perm? Then why not try growing your hair medium-length for a super hip and exciting look? This hairstyle doesn't require practically any maintenance at all, besides the occasional trim, to keep split ends from forming. You can just let your curly hair grow out, wild and free! Not to mention, if your curly hair is long enough, you shall be able to tie it up into a man bun, to keep it out of your eyes!
8. Fashionable and Handsome – Perfect for a Fancy Occasion
Are you going to be heading off to a fancy event? Whether this is a wedding, a birthday party or another type of occasion, you may be trying to find a sophisticated hairstyle for your medium length hair! You may be surprised, that a lot of hairstyles don't actually require a lot of time and effort to create. Part your hair at one of the sides of your head, then using gel or hair spray, you'll be able to style it in an elegant way, or even comb it back to keep it in place.
9. Cool and Messy – Medium Length Hairstyles for Men
As you will have already noticed, there are a lot of medium-length hairstyles to choose from! If you want to opt for a shorter version of a medium haircut, then here is an idea for you! It revolves around the hair being cut somewhat shorter, but instead of styling it in a neat and tidy way, let it fall into your face or messily around the sides of your head. For a trendy haircut, you can have the sides of your hair cut just a bit shorter than the hair on the top of your head.
10. An Awesome Quiff – A Carefree Look
You may have heard about the haircut which is known as the quiff. It is a combination of a few different hairstyles, consisting of the pompadour, the flattop and sometimes even a mohawk. It's definitely a bold and cool look, which will give you a sense of confidence. This is also a haircut which is great for guys who have fine or thin hair. By shaving the hair on both sides of your head to a short length and leaving the hair on top longer, you will make it look as if you have thicker hair! Instead of a short quiff, go for a medium-length quiff!
11. Slicking It Back – Men's Medium Haircuts
We have talked about what types of hairstyles you can try out for an elegant and sophisticated event! Here is just another idea that you can use if you have medium-length hair. It's all about slicking back your hair with a load of hair gel. It would be advisable to comb out your medium-length hair before applying the gel, giving it a neater and tidier look!
12. Windswept and Wispy – Medium Length Hairstyles for Boys
An extremely attractive shoulder length hair for men is the windswept look. Grow out your hair at least midlength then part it at one of the sides of your head. Try to mess your hair up a bit, ruffling it up for that messy and windswept appearance! Combine a hairstyle such as this with some facial hair to make it look even better! Whether this is a beard or just some stubble, it will look awesome! This is another hairstyle, where you don't have to worry about having your hair cut super straight!
13. The Surfer Cut – Medium Length Hairstyles for Men
Here is a haircut to try out for any guy who wants to look like a surfer! It's a haircut that is cut medium-length and parted in the middle. This hairstyle also includes a bit of layering, to help give your hair a lift of more volume! You can feel free to leave the front strands of hair somewhat longer, than the ones in the back. Also, adding highlights to your hair will help in really bringing alive that surfer look! So, how about you give this medium-length hairstyle a try?
14. A Taper Cut – Keeping It Simple
Find the perfect haircut for yourself between short and long hair! How about going for a taper haircut? A taper is when your hair gradually changes from one length into another. For example, the hair on the sides and back of your head may start off at a shorter length, growing longer as you move to the top. This is a great combination of both short and medium hair! Meaning this will give you a casual yet smart look! So, if you are in search of something more simple yet stylish, a taper cut is the way to go!
15. Straight and Shaggy – Men's Medium Haircuts
Get ready to go back to the beginning of the 21st century with a simple and shaggy haircut. This is the sort of hairstyle which all teenage boys used to have for a few years! Have your shag cut to medium-length. Of course, you can add bangs to this hairstyle for the full look. And you can even stick to a messier version of the shag, which involves not brushing your hair each day! Going for a messier and more windswept look will definitely give you a boyish vibe, making this one of many fantastic medium length hairstyles for boys as well!.
16. A Faded Undercut – With Longer Hair On Top
We have already mentioned trying out an undercut! After all, the combination of an undercut and medium hair will really add volume and depth to your haircut! But how about making the undercut a fade as well? This means that the hair sort of "fades" into your skin because it gets shorter and shorter. The hair on the sides and back of your head should be cut short, turning them into fade cuts, while the hair on the very top should be grown out to a medium-length or long.
17. How to Cut the Back – Medium Length Hairstyles for Men
Maybe you are in search of a way to cut the back of your hair in a stylish manner! If so, then this idea may be to your liking! Not to mention, this is perfect for any guy, no matter whether you have long, medium or short hair! Get the hair at the back of your head shaved with a minimal fade. The rest of the hair can be left long on both the head and sides of the hair. It's one of many fantastic hairstyles for medium hair men! 
18. Natural and Curly – Adding Some Layers
For any guys out there with curly hair, here is yet another easy medium-length hairstyle for you! Keep your hair naturally curly, but instead of having it cut at only one length, how about layering it? With some layers, you'll be able to give your hair a boost of fun volume! This is great for anyone who wants to keep their medium-hair simple and easy, yet exciting!
19. Youthful and Refined – Men's Medium Haircuts
Since we are talking about shoulder length hair for men, how about a medium-length taper? This hairstyle embodies a youthful look. At the same time, it also gives off bold and fun vibes. A mid-length taper is all about getting your hair cut somewhat shorter on the sides of your head. Then have the strands of hair on the top of your head left longer.
20. A Textured Cut – Cool Men's Medium Hairstyles
For anyone who has fine or thin hair, you may consider getting your hair textured with layers! Have your hair layered and cut to a short-medium length. It's a simple and easy look, which will prove to be perfect for your everyday. You can feel free to add a textured fringe or bangs to this look! So get inspired with hairstyles for medium hair men!
With the help of these men's medium hairstyles, we're sure you've found some inspiration concerning medium length hairstyles for men! For other ideas concerning haircuts, such as Medium Long Haircuts for Men or Trendy Mens Haircuts, for other fantastic hairstyle options!
Advert