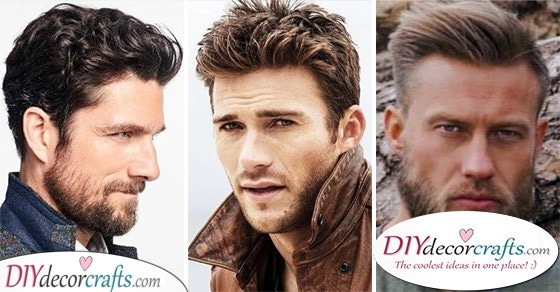 When you are thinking about what sort of message you want to send or what sort of vibe you'd like to channel, an important thing to pay attention to is your hair. This isn't only crucial when it comes to women, but it's the same for men as well. You will want to style and have your hair cut in a way which will help create an image about you. Perhaps you would like a shorter, more practical haircut idea which will exude confidence wherever you go. If so, make sure to look through our collection of 20 short hairstyles for men. After all, there are a lot of options to choose from and it is vital to find something which suits your own style and personality! So make sure to check out our best short haircuts for men!
1. The Skin Fade Haircut – Short Hairstyles for Men
Now here is a trendy haircut for men which has become very popular over the past few years! This is no other than the skin fade haircut. All this means is that with a razor a hairdresser is able to achieve a fade between your hair and your skin. It's kind of a fade between the two colours of an ombre. The hair on the top of your head is left a bit longer, but the rest is quite short. This creates an incredibly unique look for any guy! If you have a tattoo somewhere on your head or scalp, getting short male haircuts like this one will be a great way to show it off!
2. A Tough Look – Best Short Haircuts for Men
Finding the best short haircuts for men can be hard! Find one that suits your style and personality can be difficult at times! That's why we are here to help though. Perhaps you are in search of a shorter haircut, which will ooze a cool attitude. If so, why not try getting a haircut, which is cut shorter at the sides and left longer at the top of your head? Using a bit of hair gel or hairspray, you will be able to comb the top of your hair to one side, creating an amazing look.
3. A Faux Hawk – Unique and Attractive
Perhaps you are in search of something unique and bold. If so, make sure to take a glance at this haircut! Here is a hairstyle which is the definition of an adventure and authenticity. We are talking about a faux hawk. So instead of trying out a mohawk, which might be a bit too much for your taste, try out a downsized version of it. The faux hawk carries a wild vibe with it, so if you have a bold personality, you will definitely work this hairstyle with ease and confidence! If you don't like styling your hair every day, then you should search for something else!
4. A Creative Appearance – A Shaved Line
While you might have said "yes" to the skin fade haircut, you may still be in search of a way to add a bit of extra uniqueness to your haircut. After all, if you are a creative and unique sort of person, you will want your hair to reflect those attributes! An awesome idea which you can add to your skin fade haircut is getting a line shaved all around your head. This will create a wave-like appearance on the sides and back of your head.
5. Looking Your Best – Short Hairstyles for Men
Here is one of many short hairstyles for guys that is perfect for any guys who have thick hair! We're sure you have heard about the pomp hairstyle, as it has been popular for nearly a decade! It's stylish and has an additional vintage glamour to it. What's not to love about it? The hair on the sides of your head will be cut somewhat shorter than the top. The top will be styled to one side, creating an awesome look. You might need to use quite a bit of hair gel to keep it in place!
6. Going Super Short – Keeping it Simple
Are you the sort of guy who wants to keep their hair short and simple? There is a variety of ways on how to achieve this but also throwing in a sense of style and class. We have talked quite a bit about skin fade haircuts since they look absolutely stunning and have become very trendy recently. If you are looking for something shorter than that, you can still opt for a skin fade cut! Just check out the example above to see how great it looks, especially when paired with a beard!
7. Great for Any Occasion – Adding Some Texture
There are so many incredible haircuts out there for guys nowadays! Perhaps you would like something which will really give you a unique look. Try out a french crop haircut! Not only are these haircuts super unique, but they will also give you a stylish look. The great thing about french crops is that they will look perfect for a casual day out, as well as looking smart for work and will also fitting easily into an elegant event! A french crop is a short haircut for men which you should definitely give a try!
8. Adding a Burst of Colour – Dye Your Hair
Here is another french crop haircut, but one which is a bit different! Maybe you are looking for a way to spruce up your look, giving yourself a unique appearance that stands out from the crowd. Perhaps you want to go to a music festival this summer or go out partying a lot! Or simply, you would just like a way of expressing your vibrant and optimistic personality with your hair. A great way of giving yourself a new and fun look is by adding some colour to your hair. If you thought that hair dye and colour was reserved for women only, you couldn't be more wrong! So give yourself a new and funky look!
9. A Layered Crop – Best Short Haircuts for Men
We have already talked about a simple french cut, but why not try out something more unique? For example, the textured crop! This is a haircut, which will add a lot of texture and volume to your hair, thanks to its many layers! By getting your hair cut in a textured crop, you might also want to consider adding a fringe or some bangs. This will complete the look!
10. Spikey and Wild – The Hairstyle of a Rockstar
Are you a huge fan of rock or punk music? If you want to channel that style, you might try spiking your hair up! This will definitely create a bold and fun look, which is perfect for a day out or for going to a concert. You will probably need a lot of hair gel or hairspray to get your hair into place and also for it to stay in place! A great idea for spikey hair is to allow the top part of your hair to grow longer than the sides!
11. The Shortest Haircut – Short Hairstyles for Men
A problem that many men face is going bald at a younger age. Some men feel that they lose a part of themselves, as their hair recedes. However, men should know that with our without hair, they will still remain to be the same great person! When a man's hairline has receded or only a few tufts of hair is left, it's a good idea to cut it all off! Going completely bald will give you a masculine and bold look! You can grow out your beard or facial hair, which will make your overall look even better! Just remember that going bald is brilliant and nothing to be ashamed of!
12. Keep Your Curls – Looking Fantastic and Funky
Are you still in search of the best short haircuts for men? If you have beautiful curly hair, then make sure to show it off to the world! Have your hair cut shorter but leave the curls on the top of your head longer. The great thing about having curly hair for men is you don't particularly have to worry about your hair being evenly cut everywhere. It doesn't really matter if you have a few longer strands sticking out, it is guaranteed to look amazing!
13. A Simple Cut – Elegant Short Hairstyles for Men
Maybe you are in search of a haircut which is short and practical. Something not too flamboyant, instead it should be more on the simple side of hairstyles. If that's the sort of haircut you are looking for, then have your hair cut like in the example above! Just a tad bit shorter on the sides, allowing the longer hair on top to give it more texture and volume. You can comb back the front of your hair, but you don't necessarily have to. These cool short haircuts for men will definitely make you look your best!
14. Slick it All Back – Sleek and Chic
Perhaps you are in search of a shorter hairstyle that will give you an elegant and sleek look. If so, then make sure to give this hairstyle a try. You will have to get your hair shaved shorter on the sides and back of your head. Then allow the hair on top of your head to grow out longer. After this is done, it's super easy. You need to apply hair gel to your hair and comb it back in straight lines. By the end, you should have a stylish wet hairstyle.
15. The Taper Haircut – Best Short Haircuts for Men
Cool short haircuts for men that have become extremely popular over the past few years are no other than taper cuts. It's definitely practical and looks good on whoever wears this haircut! The taper is all about having shorter hair on the sides and back of your head and it gradually gets longer as you head upwards, to the crown of the head. So don't hesitate to try out this fabulous haircut!
16. Short and Shaggy – Chic Short Male Haircuts
Everyone will have seen a few examples of the long and shaggy haircut, which a lot of men decide to wear! Instead of going for long hairstyle for men, try out shaggy and short haircut male haircuts. The messy and unkempt haircut will give you an edge, as well as giving you an appealing look. Depending on the shape of your face, you might decide on adding a fringe to your short and shaggy haircut. 
17. A Side Fringe – Cute and Subtle
A cute addition to any hairstyle or haircut is a side fringe! If you have a face shape, which a side fringe would look good on, why not try it out? You should try growing your side fringe out longer, which you will be able to sweep to one side of your face. Something you might have to use to keep your fringe in place is hair gel or hairspray. Otherwise, your fringe will keep falling into your eyes, which isn't such a fantastic feeling!
18. Cool and Awesome – Short Haircuts for Men
There are a lot of short hairstyles for men which are bound to give you a masculine and appealing look. If that's the sort of hairstyle you are in search of, then check out this example. Hair which is cut evenly and then left a bit longer on the top of your head. Instead of leaving your hair to fall onto your forehead, comb it up creating a small pomp hairstyle. You can add a bit of hairspray to keep your hair in the perfect place.
19. Parted in the Middle – An Incredible Look
Here is another hairstyle that looks fantastic and has become very trendy over the past few years! It's all about letting the front part of your hair grow out a bit longer while having the rest of your hair cut short. Then all you need to do to achieve this effortless look is to part your hair in the middle. Simple and easy!
20. Heightened Hairstyle – Short Hairstyles for Men
Has your hairline started to recede? If so, you might want to try finding short hairstyles for guys that will help make you look fabulous without cutting it too short! After letting your hair grow out, cut the sides shorter and part your hair on one of the sides. Then with the help of a comb and some hair gel, heighten the front of your hair, giving you volume and texture!
We trust that this collection of short hairstyles for men has helped you out in finding the best short haircuts for men. For other ideas concerning haircuts, such as Trendy Mens Haircuts or Mens Haircuts for Fine Hair, make sure to check out our website! 
Advert