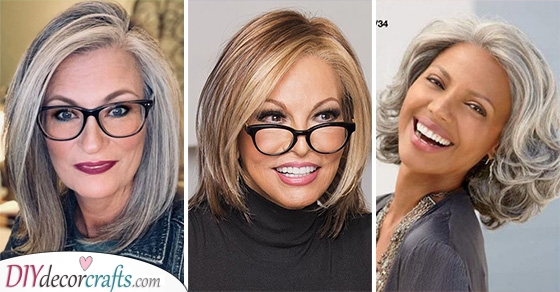 In the world of hair, it doesn't matter how old or young you are! Your hair is an important element of your whole being, so keeping this in mind, make sure it looks great! A lot of the time we find ourselves uncertain about what haircut or hairstyle to choose. If you are a lady over fifty, then you have come to the right place, as we have collected some ideas for you! Check out our pick of 20 medium length hairstyles for women over 50. Hopefully, with the help of these medium length hairstyles for older women, you will be able to find something that fits your style and personality. Get ready to get inspired!
1. A Layered Bob – Medium Length Hairstyles for Women Over 50
As a lady who is over fifty, you might sometimes feel that you shouldn't try out a fun hairstyle. But just because you are middle-aged does not mean that you should settle for a dull or boring haircut. A hairstyle that women of any age can try out is a bob! Bobs are elegant yet filled with fun at the same time! Depending on your face shape and hair type, you can even try out a layered bob! And another option is to grow out a somewhat longer bob than the short ones you may see!
2. You Don't Have to Dye It – Natural and Lovely
A lot of women who start getting grey hair, decide on dying their hair. If you feel somewhat insecure about your grey hair or just prefer a different hair colour, then feel free to dye it! But you don't have to! Be proud of your greying hair and let it grow out naturally. After all, silver and grey hair is coming into fashion these days, as a lot of people dye their hair into these shades. So, if you've been thinking about stopping the process of dying your hair each month or so, let your natural grey hair grow out!
3. Wonderful Waves – Medium Length Hairstyles for Older Women
Maybe you have always loved wavy or curly hair. If this is the case, why not add some to your hair every now and then? Especially if there is a unique occasion coming up and you want to look your best! With the help of a curling iron, you'll be able to add some fun and flirty waves or curls to your hair. Use some hairspray or hair mousse on your hair, this will help keep the curls in your hair, while also providing it with some serious volume!
4. A Layered Cut – Retro but Modern
Over the past couple of years, a lot of trends from the eighties and nineties have come back into fashion. These include medium haircuts for women over 50 as well! This is a perfect sign for anyone who has always preferred retro hairstyles over modern ones. Just one retro haircut is a medium layered cut with the addition of curtain bangs. A layered cut is great for anyone who has thin or fine hair, as the many layers will give your hair volume and definition!
5. Adding Bangs – Medium Length Hairstyles for Women Over 50
If you're looking for a way to give your haircut a boost of youthfulness here is an easy and simple option! When searching for fabulous and youthful medium length haircuts for women over 50, you will find that a lot of them include bangs! Get front bangs or a side fringe added to your haircut. Before getting them cut though, have a talk with your hairdresser about what kind of a fringe would match your haircut, as well as the shape of your face.
6. A Wavy Bob – Fabulous and Cute
Bobs are the sort of haircut that you can't really go wrong with. They come in quite a few lengths as well as styles! This means that bobs are a perfect choice for any age group and that you'll surely be able to find one according to your face shape! While a straight bob brings a sense of elegance and edge with itself, you may decide to curl your strands of hair to create a wavy bob. A wavy bob will give you an effortlessly stylish and sophisticated vibe! It will look amazing for any elegant event that you may need to go to!
7. Fun and Curly – Medium Length Hairstyles for Older Women
You might be thinking about how you can add tonnes of volume and definition to your hair? One awesome way of doing this is to add natural-looking curls to your hair. These will almost give your hair a combination of a windswept look and a beach vibe. Fun and frisky curls are the way to go when it comes to medium length haircuts for women over 50. Especially if you want to rock that youthful and fun-loving style! You can add a fringe or some bangs to this look, according to your preference!
8. A Medium Shag – Modern and Awesome
We mentioned that a lot of shoulder length hairstyles for women over 50 that were considered outdated are actually becoming trendy again. One of these haircuts is none other than a shag. A shag consists of the hair being layered, giving it an overall shaggy look. Thanks to the layers, your hair's look will be enhanced with a newfound volume and texture. This makes it perfect for any ladies who have either thin or fine hair. And as you can see, adding a fringe or bangs will only boost its stylishness!
9. A Tapered Bob – Medium Length Hairstyles for Women Over 50
You will probably have noticed by now that bobs are a fantastic hairstyle to try! As we have made clear before, they come in different shapes and lengths, giving you a variety of options. One type of bob we haven't talked about yet though is the tapered bob! All this means is that the length of the hair is shorter in the back, while it is longer at the front. At the same time, it is also layered to give a "stacked" effect, providing it's wearer with a heap of volume.
10. Layered and Choppy – Flirty and Trendy
Are you in search of a haircut that is guaranteed to give your hair texture, volume and definition? Then look no further, for we have a great option right here! This is one of many shoulder length hairstyles for women over 50. It's cut in a straight line around the shoulders but adds messy layers upon layers upward. Thanks to this, it looks a bit choppy but also gives off an edgy vibe. A textured and choppy cut like this is definitely a bold statement to try out!
11. Unique Layering – Medium Length Hairstyles for Older Women
As you will have noticed, there are dozens of layering techniques when it comes to hair! Sometimes choosing the type of layering you'd like added to your hair is all about the appearance or vibe that you'd like to channel. For a bolder and edgier look, you can go with a tonne of layering. For a more refined and sophisticated look, try out this unique layering technique! Get one larger patch of hair layered in a straight line above the actual length of your hair. It's a simple type of layering, yet will really provide you with an air of elegance.
12. Parted on the Side – Casual and Fashionable
Perhaps you have already gotten a trendy haircut and you're not looking for new medium haircuts for women over 50. Instead, you just want to learn simple ways to style your hair. Well, here is one easy hack that will give you a stylish and a bit more modern appearance during any time of the week! It's all about parting your hair on one side, instead of the middle. While this seems like practically nothing, it can do a lot for giving your face a new sort of angle!
13. A Mid Bob –

Medium Length Hairstyles for Women Over 50
There are so many types of bobs as you will have noticed! Here is just another type of bob that you can try out! This is the mid-length bob, that is longer than your usual, shorter bob. It is cut in an A-line, which means that the strands of hair in the front are left longer than the ones in the back. This type of straight cut will really give your hair definition and a sense of sleekness. So, for a sleek and chic look, give this haircut a try!
14. Effortlessly Elegant – A Few Loose Waves
Are you still looking for some fabulous and glamorous medium hairstyles for grey hair over 50? Well, if you are in search of something elegant, then take a quick look at the example above! This hairstyle revolves around a shoulder-length cut, that has all of the strands of your hair curled into loose waves. Loose waves won't take a long time to create, and you'll even be able to do them at home by yourself! We recommend this hairstyle to any fancy event or occasion!
15. A Carefree Vibe – Medium Length Hairstyles for Older Women
How about you try out an edgy haircut that will really give you a sense of edge and groove? Even if you're over fifty years of age, it doesn't mean you can't try out something youthful and unique! If you want something that really stands out, then consider getting a short and choppy haircut! The layering of a choppy cut will give your hair a messy look and your whole image a carefree vibe!
16. Simplistic and Stunning – An Easy Look
Are you in search of something timeless and classic? As we have mentioned before, you can try out a straight cut. After all, it is a classic and simplistic look that you will be able to style any way you'd like. For example, to give your haircut more texture, just add some layers to it! Another fantastic idea would be to add highlights to your haircut. A shoulder-length haircut that is cut in a straight line, as we mentioned, will be versatile to style.
17. Short Waves –

Medium Length Hairstyles for Women Over 50
When it comes to short hairstyles for women over the age of fifty who have fine or thin hair, it doesn't mean you need to pick something super plain. Feel free and creative to try out new and exciting things with your hair. Just one fabulous idea is to leave your hair chin-length, maybe just a tad bit longer at the back. Then add some natural-looking waves to your hair with the help of an iron curler. This is perfect for anyone who wants a wispy and windswept appearance.
18. Groovey and Wispy – A Gorgeous Look
Get ready to go a bit back in time with a retro hairstyle! Some wispy and layered waves will are a fantastic option! This will look amazing, especially if they are curled upwards. The abundance of these wispy waves will create an illusion that your thin hair is thicker than it looks! Use hairspray to help keep your hairstyle in place!
19. Bubbly and Fun – Medium Length Hairstyles for Older Women
Get ready to go for a hairstyle that is fun and fabulous!  This one of many medium hairstyles for grey hair over 50, is perfect for anyone who has a bubbly personality and wants to express it with their hair! Get your hair cut shoulder-length and have the strands of hair curled into curly waves. Leave the hair on the crown of your head a bit shorter, to give it a shaggy texture! This haircut will absolutely give you that fun-loving vibe!
20. Playful Curls – Looking Your Best
We have talked about curling your hair as well! After all, it's a timeless manner to style your hair, not to mention it looks great on any length of hair! Instead of curling all of your shoulder-length hair, curl only the bottom half of it. This will look beautiful and elegant!
Hopefully, you found some inspiration concerning medium length hairstyles for women over 50! For other ideas, such as Hairstyles for 50 Year Old Woman with Long Hair or short haircuts for women over 50, visit our website!
Advert