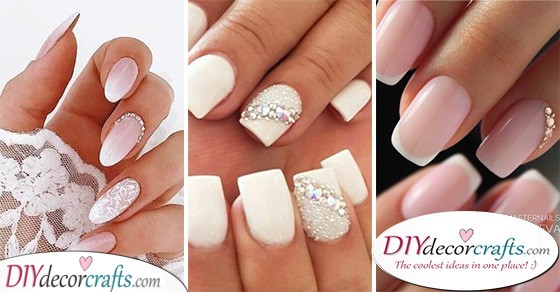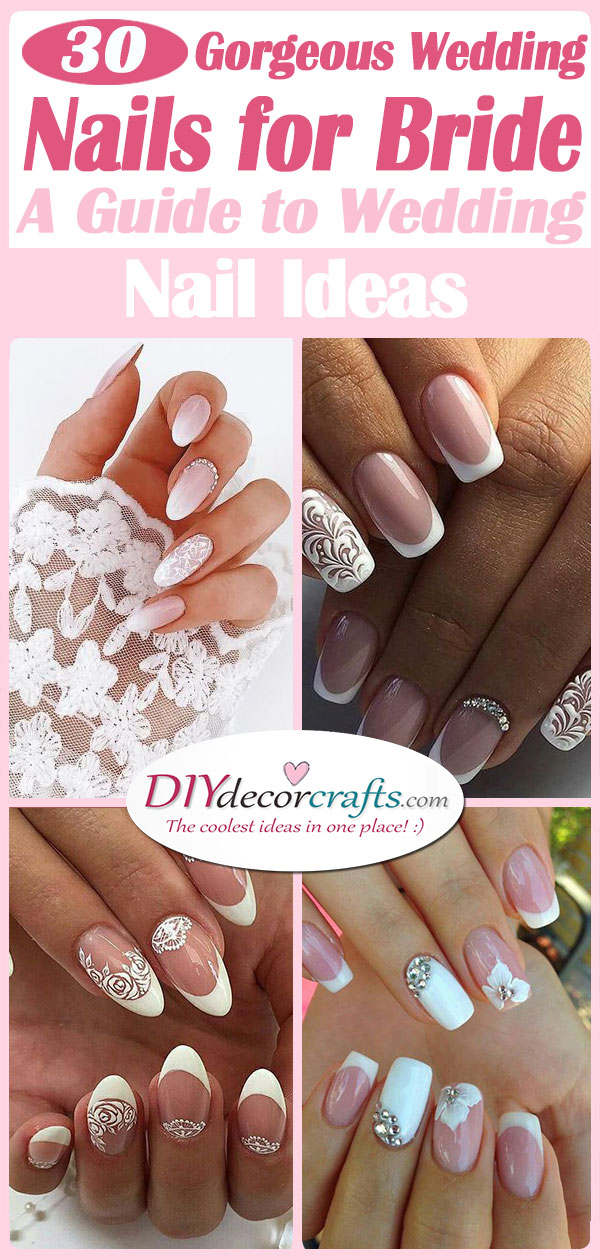 On your big day, you want everything to be completely perfect. From the wedding invitations to the venue's decor, everything should be on point. We don't even need to mention the fact that the bride's appearance is also a major factor. While almost everyone notices the wedding dress or the hairstyle first, there are hundreds of tiny details which the bride has to pay attention to, in order to truly look perfect. One of these important details is the type of nail art she chooses to have. If you're in search of gorgeous wedding nails for your wedding day, take a look at our collection of 30 wedding nail ideas. Find the perfect wedding nails for brides! Also, make sure to look through our pick of wedding ideas.
1. Lace Effect – Wedding Nails for Bride
For your wedding, you would probably like bridal nails that are the definition of elegance and sophistication. Well, here's a perfect choice for you! Get one of your nails painted to look as if it were lace, while another one of your nails can be embedded with small, sparkling jewels.
2. Lace and Roses – Bride Nails for Your Big Day
There's nothing more feminine and appealing than the idea of lace and roses combined. If you like the idea of a french manicure with white details, then you might consider trying out these nails. Roses and lace decorate the lunula of the nail, creating a spectacular image.
3. Bedazzled by Jewels – Sparkles and Glitters
Are you thinking of covering your bridal nails in an ivory lacquer, but you would like to take it up a notch? Have a think about covering a nail on each hand with a multitude of sparkles and stones. If you use stones that resemble diamonds, it will pair beautifully with the overall white look of the other nails.
4. Pink Simplicity – Great Wedding Nail Ideas
If you would like to stick to something more simple, but nonetheless elegant, here's a great choice for you! Pink is the colour of harmony and love, so what better occasion could there be than to use it in some sort of form for your wedding?
5. Glowing Ombre – Perfect Wedding Nail Styles
Ombre as a fashion trend has become increasingly popular all over the world. So it's no surprise that people like not only ombre clothes, but ombre hair and nails as well. Pale white turning into pink ombre nails will add the perfect finishing touches to your wedding look!
6. Orchids in Full Bloom – Floral and Fantastic
Now here is a type of wedding nail art that you will swoon over! Orchids are exotic flowers that bring a natural elegance with them. For centuries, they have been used as a source of inspiration in all types of art. If you like these flowers, maybe you should consider using them as a decorative element on your bride nails!
7. Intricate Details – Delicate Flowers
If you would like to have a floral design on your nails during your wedding, take a quick glance at the picture above! Thin and intricate lines create detailed flowers. Its simplicity and sophistication combined, making it the best choice for a wedding!
8. Pale Shades – Lovely Wedding Nail Ideas
Can't decide on whether you'd like ombre nails or creatively decorated ones? Mix them up and get your own unique combination of the two! We recommend using pale colours for your wedding, as these will complement your wedding dress in the best possible way imaginable!
9. Simple Florals – Decorating Your French Manicure
Would you like to keep things on your wedding simple, but still want a small twist? Get your nails lacquered in a french manicure, and have a few flowers or beads decorating a few of the nails. This will create an exquisite look for wedding nail styles!
10. Matte Ombre Nails – Wedding Nails for Bride
Matte makeup and nail polish have become a huge trend over the past few years. If you're a fan of this trend, try it out for your wedding. With the right colours and technique, you can create something truly beautiful! Our tip is to combine matte nail polish with an ombre technique, this will give you an elegant glow on your wedding day!
11. A Modern Touch – Make Your Nails Pop
If you like chevron white nail art, then this will be perfect for your wedding day! What more could you want on your wedding day? One glittery nail, another with a chevron design and the rest left in a pure white polish. This is a perfect idea if you'd like to add a speck of modernity to your wedding look.
12. A Bridal Picture – Unique Wedding Nails for Bride
Have you been thinking about adding an image of yourself to your nail design? Have a picture of a bride in a lovely wedding with her back turned towards you painted on one of your nails. You can leave the rest of your nails in a simple and natural look.
13. White Swirls – Wedding Nail Designs
Find some amazing wedding nail ideas! Spruce up your simple french manicure with some beautiful swirls! You can get some swirly flowers painted at the tips or the bottom of your nails to enhance the overall look. This is a perfect choice for any bride to be!
14. A Hint of Gold – Sparkling Bridal Nails
A lot of people forget about using the colour gold for weddings, even though it's a colour of glory and celebration. If you're using gold in your wedding accessories already or wedding decor, then why not use it for your nails as well? It will bring a bit of sparkle and shine to your outfit and will make you glow!
15. Seashell Effect – Fantastic Ideas for Your Nails
If you're planning on hosting your wedding on the seaside, then these nails will complement the venue perfectly! Have one nail on each of your hands designed to look like seashells taken out of the ocean. You can also have a small pearl planted in the bottom of your fingernail, enhancing the whole shell effect.
16. Elegant Lace – For a Perfect Look
If your wedding gown and veil is going to be made out of sheer lace, make sure your nails match them! Get a lace effect painted on your nails, which will make your whole lace outfit pop! It's needless to say that this is a perfect nail design for any wedding!
17. Romantic Florals – Wedding Nails for Bride
Get your nails to look like a wedding bouquet! Have some white or silvery flowers painted on a few of your nails, that you can further decorate with some beads. This nail design is great because it's not too simple, but it's not over the top either!
18. A Unique Set of Nails – Fabulous Ideas for Your Wedding
For a more bold nail look, why not decorate nearly every nail with a different pattern? If you can find different designs which complement each other really well, then you should definitely give it a go! Florals on one of your nails, geometric lines on another and a simple pattern on the rest will go perfectly together. Just take a quick glance at the picture above, isn't it marvellous?
19. Breathtaking Flowers – Another Lace Idea
We've mentioned using lace as a design on your wedding nails before, but there are so many ways of using simple lace to create something magical! You can have the tips of your nails painted with a lace effect instead of applying a simple french manicure. You can also include lacey flowers on the other nails of your hand.
20. A Glossy Glow – Beautiful Wedding Nail Designs
If you prefer simplicity and refinement over bold and extravagant designs, then these nails might be the perfect choice for you! Cover your short nails in a glossy and pale shade of pearl, then line one of your nails on each hand with small studded jewels. These nails will look absolutely perfect for any wedding day!
21. Natural Element – Elegant Wedding Nails for Bride
Make your nails look like a painting at an art gallery with this awesome design! Instead of creating intricate flowers on your nails, paint large swirls on them. While they will still bear resemblance to blossoming flowers and leaves, they will have a modern and natural essence to them.
22. Blooming Roses – Pretty in Pink
Would you like your nails on your wedding day to look incredibly spectacular and unique? Then try making them look like roses blooming in the summer! This requires gel nail polish, to form the petals of the flowers. Paint them in a pale shade of pink so that they'll complement your wedding dress!
23. Delicate Wedding Nails – Wedding Nail Ideas
For a glamorous effect use intricate lace details on a few of your nails. Line them with silver beads and stones to make it look even more refined. Leave the rest of your nails covered in a pale ombre polish.
24. Glittery Beauty – Sparkling Wedding Nail Ideas
If you're thinking about having a winter wonderland wedding, these almond-shaped nails will definitely match the theme! Sparkling silver or gold over a layer of icy white will create a beautiful winter atmosphere on your nails. It will look as if snow is falling from the sky! These are the perfect wedding nails for the bride!
25. Jewels and Flowers – A Gorgeous Combination
Have you had trouble in deciding to get either an array of white flowers painted on your nails or have jewels and glittering stones embedded in them? Well, you don't need to make a choice between the two of these, you can easily combine them! Just take a look at the picture above, it's the perfect combination of the two!
26. A Simple Design – Silver Nail Decorations
If you'd like to add a simple design to one of your nails, paint a small branch on one of them with leaves sprouting out of it. You can paint over the leaves with a silver coloured nail polish and paint another one of your nails with the exact same colour. This will give your nails an elegant but natural shine.
27. Ombre with Floral Decor – Natural Wedding Nails for Bride
Try out a natural colour for your ombre nails! For example, a light tone of coffee or nude shade will go perfectly with a pale pearl. You can paint a beautiful floral pattern above it or some winding swirls. This will make your overall wedding look even more beautiful!
28. A Porcelain Effect – Picturesque Flowers
Do you ever find yourself admiring painted porcelain vases? So why not gather inspiration from beautifully painted china and use oriental flowers as a form of decoration on your nails? This will lend your nails a lovely and vibrant look. This nail art is especially great if you are planning on having a wedding with vintage vibes.
29.  A Golden Trim – Wedding Nail Ideas
Give your french manicure a unique twist for your big day! Instead of using white nail polish, try out a sparkling gold for the tips of the nails. It will give your nails a tiny bit of spark, and even a small spark can go a long way! So if you'd like to remain on the more simple side of nail art, but still want a more eccentric element on it, this was definitely made for you!
30. Adorable Design – Heavenly Nail Art for Your Wedding
Here is another great idea if you like studded jewels decorating your nails! For a few nails create a trail of shiny stones with a bigger stone in the middle. Then paint a few strokes of different coloured nail polish, then the base colour, next to it, forming a bow shape. This is perfect for anyone who loves bows or cute nail decor!
We truly hope that this collection of wedding nails for brides has served as inspiration in finding your very own wedding nail ideas! After all, it's important to look absolutely perfect on your wedding day and this includes having your nails on point as well! For more wedding ideas, like Bridal Makeup Ideas or Beautiful Bridal Hairstyles for Long Hair, go to our website!
Advert