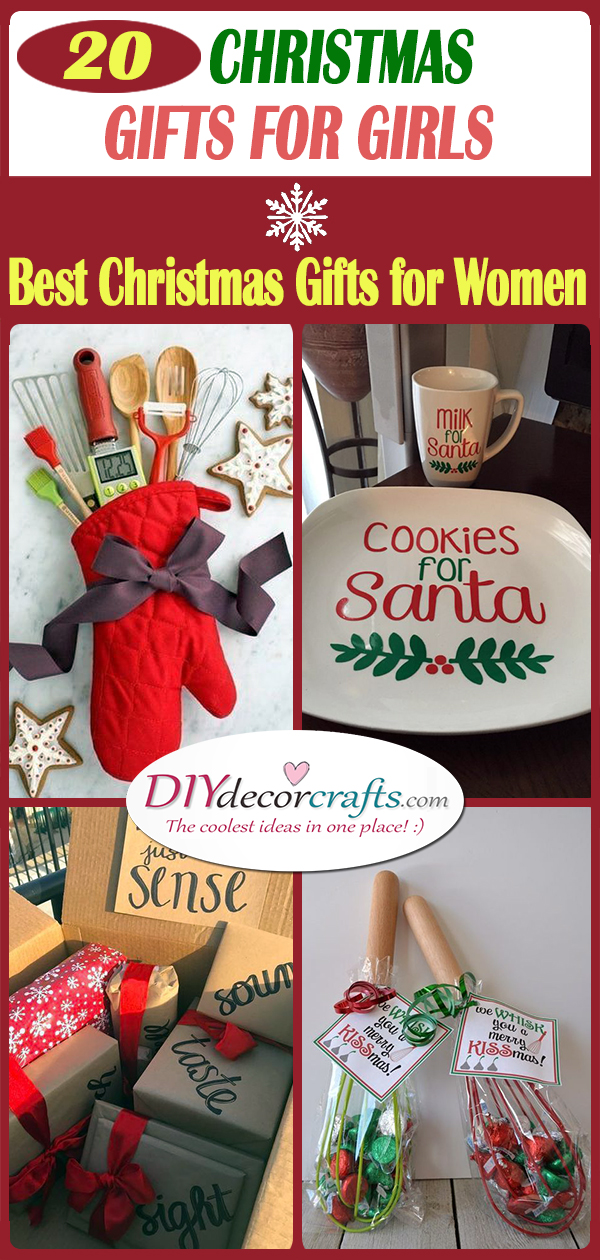 Christmas is quickly approaching and will be here in no time! Which means it's never too early to start thinking about presents. Instead of buying presents for your family and friends this year, why not make a whole collection of Christmas gifts yourself? Handmade gifts will show your loved ones that you put time, thought and energy into creating something truly amazing for them! If you have a special woman in mind, your friend, mother, sister, grandma or wife, make sure you make something fantastic for them for Christmas! We have collected 25 Christmas gifts for girls to help you out! This way you will definitely be able to find the best Christmas gifts for women this year!
1. Cool Christmas Coasters – DIY Christmas Gifts for Girls
A truly beautiful present you can create for Christmas is a coaster! Coasters are practical objects, which you can place your cup or mug on. Use slices of wood for the base of them. Give them a Christmas design, painting on the coasters yourself! For example, paint a snowman on one of them, mistletoe on another and a Christmas tree on a third. This will make an awesome gift for anyone for the winter holidays, as they are not only cute but practical!
2. Delicious Hot Chocolate – In an Ornament
A typical beverage you might drink during Christmas is no other than hot chocolate! These will make the perfect Christmas presents, as they are thoughtful, tasty and also cheap! Put together a hot chocolate mix in see-through Christmas ornaments. turning them into your own homemade Christmas tree ornaments. All your receiver will need to do is pour hot milk over the ingredients and mix it together to get a tasty mug of hot chocolate! You can create any sort of flavoured mixes you'd like, but make sure to only add dry ingredients into the ornaments! This includes cocoa powder, extra sugar, chocolate chips and marshmallows!
3. A Jar of Reasons – Best Christmas Gifts for Women
Christmas is all about sharing giving love to your friends and family! Put together personal gifts for each one of them! A great example of a thoughtful and meaningful gift is this! A jar of reasons why you love the person you are giving the gift to. Write a list of reasons why you love them, including memories or things you have to do together, on slips of paper! Then fold up the slips of paper and place them in the jar. Whenever the lady you give this gift to is feeling a bit blue, all they will need to do is take out a slip and read it! It will instantly put them in a better mood!
4. A Personalised Candle – Christmas Presents for Women
When making someone a handmade gift, make sure to add some sort of memory to it! For example, create a personalised candle for Christmas! Candles are great gifts to give and are great to relax next to. Grab a photo of you and the woman who you are giving the gift to. Follow an online technique of transferring the photo onto the candle itself.
5. A Mitten Filled With Utensils – Perfect for Bakers
If the person you are putting together a Christmas present for loves to bake, then this will be the perfect gift for them! Get them an oven mitten, which will keep their hands from getting burnt when taking things out of the oven. Place a variety of wooden spoons and other sorts of kitchen utensils in the oven mitt. Then simply tie a ribbon around it, creating a bouquet of utensils. You can attach a few gingerbread cookies to your oven mitten as an extra effect! This would make a perfect Christmas present for grandparents if either of them likes to bake!
6. A Jar of Goodness – DIY Sangria
Something you might like to drink during Christmas is a cup of sangria! You might even have a special recipe for it, which your friends and family adore! Place all the ingredients of your sangria in a jar, including all the delicious fruit as well as a bottle of wine. The recipient of this jar will have to place all the ingredients in a pot and bring them to a boil, combining all the beautiful flavours. This is a great DIY gift for Christmas, as it will definitely help the gift receiver get in the mood for winter!
7. Cookies and Milk – The Perfect Combination
When you wait for Santa to arrive from your chimney, what sorts of treats do you place on the table for him? A cup of milk and a plate of chocolate chip cookies? If so, use this as inspiration for your Christmas present. Create a mug and a plate, which both are decorated with a similar pattern. You can use a sharpie to achieve this or ceramic paint. You can write a small message on both the mug and plate to give them true Christmas vibes. For example, "milk for Santa" on the mug and "cookies for Santa" on the plate.
8. DIY Heating Pads – Best Christmas Gifts for Women
Everyone gets cold during the winter season. If you know that the lady you are going to be giving a Christmas present to, is always freezing or feeling cold, why not make her some DIY heating pad? You can sew the small pads yourself, filling them with rice, grains or beans. Add a few drops of essential oil to the grains, to give the whole heating pad a lovely scent. After sewing them together, all you will need to do is pop the pads into a microwave for a minute or two to heat them! Then they will be ready to use!
9. A Gift for Each Sense – Christmas Gifts for Women
Get the lady in question a gift for each of her senses. This means getting her one for each of the following: sound, taste, sight, touch and smell! For example, for the sound you can get her a CD of her favourite music or for the sight, you can paint her something! It's really up to you and your creativity! But we guarantee that this will be a lovely way of showering her in gifts!
10. Whisking You a Merry Kissmas – Creative and Cute
If the person you are giving a Christmas gift to has been having a stressful time lately, make sure to give them something which will help them relax a bit! There are tonnes of tutorials online on how to create bath salts, bath bombs and bath melts at home. While you can buy these amazing products in shops, you can also consider making them at home! This means you can decide on the flavouring of it yourself. These will make great gifts, as you just need to throw them in the bathtub and relaxation is guaranteed!
12. Marble Mugs – Amazing Christmas Gifts for Girls
13. A Multitude of Letters – Personal and Heartfelt
Create a whole set of letters as a gift for Christmas! Write each letter for a different occasion, when the gift recipient has to open them. You can write instructions on the envelopes of the letters on when to open them. This present is completely up to you on what you'd like to write on the letters! It will definitely make a personal and heartfelt gift, which is perfect for Christmas!
14. Mason Jar Candles – Christmas Gift Ideas for Girls
As we mentioned before, candles make fabulous gifts! Create your own scented mason jar candles for Christmas. These are great because you can decide what sort of scents you would like to add to the candles! You can add pinecones as well as sticks of cinnamon or slices of orange to your candles! This is an easy and inexpensive handmade present, can be used as a Christmas party decoration, and these candles don't contain any toxic chemicals! 
15. Snowmen Bath Bombs – Christmas Gifts for Her
Create bath bombs for friends and family for Christmas! The great thing about bath bombs is that they are super simple to put together! If you make bath bombs yourself, you can decide what sort of scent you'd like to give them, as well as knowing that you haven't put any hazardous elements into the mixture. You can decorate the bath bombs to make them look like snowmen, which will give them a Christmassy vibe!
16. Create a Frame – For a Photo
Perhaps you have been thinking about gifting a special lady a photo of the two of you for Christmas! If so, make sure to create a frame yourself in which you can place the photo. Decorate the frame with sharpies, beads and glitter! You can decorate it in a Christmas design!
17. DIY Lip Balm – With Essential Oil
Another awesome beauty products you can create for any lady is lip balm! Lip balm is perfect for Christmas as well as the winter season, as your lips tend to get chapped. Give the lip balm a lovely scent by adding essential oil to the lip balm. These lip balms will make fantastic Christmas gift ideas for her!
18. Gingerbread Sugar Scrub – Great for Your Skin
Here is yet another great beauty product you can make at home as a Christmas present! A sugar scrub, scented to smell like gingerbread, is fantastic! Making it at home yourself will ensure that it is chemical-free and natural! Sugar scrubs are great because they help get rid of dead skin and will leave anyone with a beautiful glow! This is one of the best Christmas gifts for women you can possibly make!
19. Santa's Sleigh – Made Out of Candy
Here is one of many simple Christmas gift ideas for her that you can put together at home easily by yourself! Use candy canes and chocolate to put together a small sleigh. Then place a chocolate Santa on top of the sleigh. Simple, easy and tasty!
20. Using Scrabble Letters – Best Christmas Gifts for Women
Create Christmas ornaments as Christmas gifts for her! Use Scrabble letters to spell out words that are closely linked to Christmas. For example, peace, joy and noel are perfect Christmassy words.
21. Baked With Love – Gingerbread Men
A typical Christmas gift you can't go wrong with is by baking a batch of gingerbread cookies! These will make one of the best Christmas gifts for women! Gingerbread cookies are everyone's favourite Christmas treat! If you decide on baking a batch, place them into small boxes, attaching tags that say "baked with love!"
22. A Pinecone Reindeer – Ornaments as Presents
Another type of gift you can't go wrong with during Christmas are Christmas tree ornaments. Instead of buying them in a shop though, make them yourself! Use an element of nature to create these, no other than pinecones! Attach fuzzy wires to the pinecone, as well as googly eyes and a red pompom for a nose. By the end, you should have a pinecone reindeer as a small Christmas present! You can turn this into a Christmas craft for kids, to get them to assist in making gifts!
23. A Gorgeous Candleholder – Christmas Gifts for Girls
If you have been thinking about making some homemade home decor for a special woman in your life, why not make a candleholder? Grab a mason jar and attach small glass stones around it. These glass stones can be coloured in red, green and white for Christmas vibes! When you place a candle inside of it, it will light up beautifully creating a vivid display of lights and colours! 
24. Snowman Mug – Christmas Gifts for Girls
Create snowman mugs as DIY Christmas presents for women! All you need is a plain white mug and two sharpies. One sharpie should be black, the other orange. All you need to do is create dots as the face of a snowman and add a carrot-like, orange nose to the face. These will make great Christmas gifts for her if you are looking for something cheap and simple to make!
25. A Spice Mix – Wintery Vibes
Make sure to give all your friends and family a taste of your special spice mix for the season! Put together an apple cider cinnamon spice mix, which you can add to mulled wine, pancakes or desserts! Simply place your spice mix in mason jars and use them as small and thoughtful Christmas gifts for girls. Anyone will be guaranteed to love these.
We trust that this pick of 25 best Christmas gifts for women has given you some inspiration! For other Christmassy ideas, besides Christmas gifts for girls, such as Christmas cards or Christmas gift wrap ideas, check out our website!
Advert