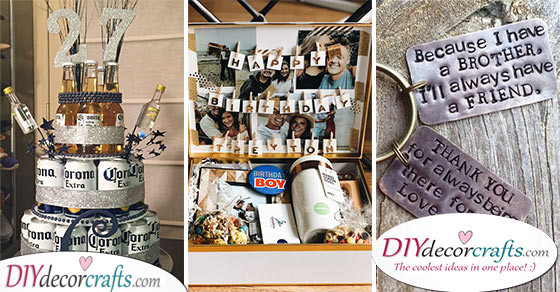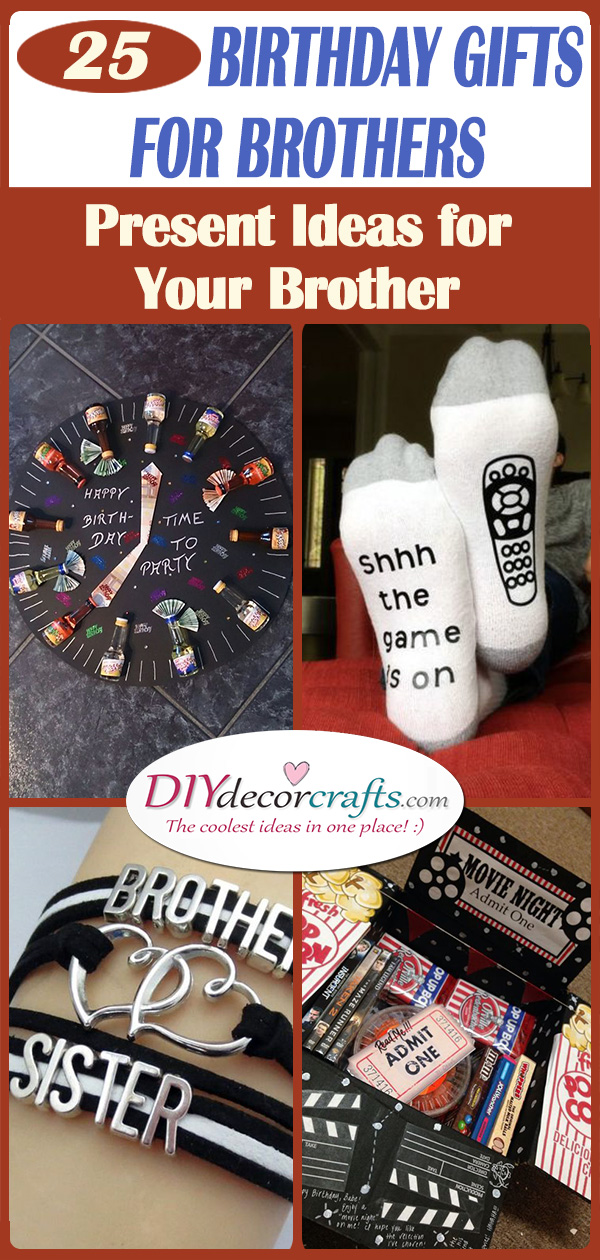 A birthday is always a big milestone in one's life. If it is going to be your brother's birthday anytime soon, make sure that you celebrate his big day properly! Besides throwing him a birthday party, you will have to think about what sort of present you'd like to give him. We recommend making a handmade gift for him! It shows that you put the time and energy into creating something special for him. We have a collection of birthday gifts for brothers below to help you find some inspiration for the upcoming birthday! So take a quick browse through our ideas and try finding something your brother would love!
1. A Message in Candy – Wishing Him the Best
Are you trying to find the right words to send your brother your best wishes and all your love for his birthday? If he loves chocolate and candy bars, use them as inspiration for his present! Write a message for him, substituting some of the words with candy bars. Write the message on a bigger poster or even a whiteboard so it all fits! Then glue the candy bars to the blank spaces for the message. He will love reading your birthday card and then eating parts of it afterwards!
2. A Birthday Box – Birthday Gifts for Brother
It might be a bit hard to pick just one thing as a birthday gift for your brother, so why not gather all of your ideas and place them in a box for him! This can include his favourite snacks, a picture in a frame, a bottle of perfume, some shower gel and a letter. It's really up to you what you'd like to give to him. Make sure you string up "happy birthday" over the inside lid of the box as a special effect.
3. In Case of Emergency – Break the Glass
Here's a hilarious and creative gift! In a frame, place a few things your brother likes consuming during special occasions, this can mean a cigar or two, or a bottle of his favourite alcohol. On the glass part of the frame, write up "in case of emergency, break the glass." If he will really want to drink the alcohol or smoke his cigar, he'll have to find a way to open the frame! This is a funny gift that your brother will be guaranteed to love! It would also be a great idea to give this to him as an 18th birthday present!
4. The Perfect Cake – Birthday Gifts for Brother
Is beer your brother's favourite drink? Then surprise him with a whole cake of it! When we say cake, we mean stacking cans of biers on top of each other, forming tiers. Decorate the "cake" with streamers, a sign which reads happy birthday and the number of the age he turned. So instead of eating a slice of rich chocolate cake for his birthday, your brother will just crack open a beer! If he loves beer, he will be sure to love this cake!
5. A Kind Message – The Best Birthday Card
Was your brother the sort of guy, who annoyed you all the time when the two of you were younger? Create a birthday card with an envelope reminding him of the long-gone days. Write a short message on the note telling him "happy birthday little brother. You're hardly annoying at all anymore." A note such as this one will be sure to draw a smile on his face. After all, becoming adults is all about putting the past behind us and behaving with kindness towards each other!
6. Bottles of Treats – Tasty Birthday Presents for Brothers
Create a set of tasty snacks for your brother's birthday! If you have any empty beer bottles lying around the house, why not reuse them in an interesting and unique way? Pour a selection of his favourite snacks and candy into each empty beer bottle. Whenever your brother has a night in, he can just open one of the bottles and feast on the delicious treats you got him! This is also a great present if he hangs out a lot with his friends. All he will have to do is grab a bottle and take it over to his friend's place, this way he won't arrive empty-handed.
7. Be Quiet – Socks With Instructions
Socks are the sort of gift you can't really go wrong with, especially if they are a reflection of your brother's personality! Get him a pair of socks with a funny message written on them. For example, if he loves to watch sports channels all day on television, then have a remote control printed on one of the socks. On the other sock have a message, such as "shh the game is on" written. This way everyone will know not to disturb him while he's watching his favourite sports!
8. Time for Drinks – Great Birthday Gifts for Brother
A birthday party means you will be celebrating all day! If your brother likes to drink then he will love this handmade gift! Cut a circle shape out of cardboard or wood, coat it in paint and draw small notches around the edges, making it resemble a clock. Instead of writing up the numbers though, stick small bottles of liquor to each hour of the day. You can make the hands of the clock out of folded paper money. This way if it is your brother's birthday, he will have to drink a small bottle of liquor each hour of the day! He will be celebrating throughout the day!
9. A Cake With Booze – Birthday Cake Ideas
Are you someone who loves to bake? If so, why not make a birthday cake for your brother? This is a gesture he will appreciate very much! Make the cake special for him. You can incorporate his favourite type of drink into the cake, for example, whiskey. You can also decorate the cake to make it look like a bottle of alcohol or at least bear a resemblance to the alcohol you use in the cake. Using fondant is a great option for decorating cakes!
10. Time for a Movie – An Array of Snacks
Perhaps you agree with the fact that sometimes giving someone an experience is a better gift than giving them something material. If so, why not plan a movie night with your brother? Let him choose a movie, and all you need to do is buy his favourite treats and snacks which the two of you will be able to feast on throughout the film. Arrange the snacks in a box, which you create yourself.  The box can bear a resemblance to the retro boxes of popcorn you could buy a long time ago.
11. Your Brother Is Your Home – A Thoughtful Mug
Is there a word that defines home for you? A simple word cannot express the feelings and memories you hold dear to you. But one thing is for sure! The people around you can create a home! Your family and friends define your home, which includes your brother! Sometimes you feel like you're in a safe place with a few people from your life, close family members or best friends all belong to this. If you feel this way when your brother is around, make sure he knows he is your home with a cool mug that has the text brother=home written on it!
12. Some Sisterly Love – Gift Ideas for Brother
Do you and your brother like bracelets? There's a saying that you wear your heart around your sleeve. If your brother means the world to you, it would only make sense to get matching bracelets for both of you! Have letters strung up on the bracelets, like in the picture above. You can have two hearts in the middle representing your love for each other.
13. A Definition of Him – Describing Your Brother
Express through a collection of words what your brother really means to you! Gather words that all describe his personality. Then place the words underneath each other on a sheet of paper. Put some letters in bold, which will spell out "brother" vertically. You can put this sheet of paper in a frame, so your brother will be able to use it as decor in his room!
14. A Mechanical Frame – Cool Birthday Gifts for Brother
Does your brother like to tinker things at home and is he a true handyman around the house? Or maybe he is studying to be a car mechanic! If he has a fondness for mechanical jobs and tasks, why not create a special frame for him which really reflects his interest? Using a glue gun stick various tools around a frame, giving it a very modern and mechanical look. Then place a picture of the two of you in a frame and you're already done!
15. A Pillow With a Rhyme – Best Gift for Brother
Everyone has a favourite spot in the living room where they love to sit and watch TV! Your brother must have a favourite place as well! Let's guess, he doesn't like other people sitting in his chair! Get him a pillow which states exactly this, that this chair is his place and everyone else should go find a different place to sit.
16. A Game of Poker – With Beer Cap Tokens
Does your brother love to play card games with the family or his friends? If so, this is a perfect birthday gift for him. Make sure he plays poker or any card game in a safe way, not with actual losses of money! Replace the standard tokens with beer caps, each having a different value according to their colour. This way no one will have to worry about losing the game, as they won't lose actual money!
17. Proud About Family – For the Best Brother
You can't really go wrong with a t-shirt as birthday presents for brothers! Especially if it has a personal message on it. Is your brother proud to have a sibling, like you? Make certain that everyone else knows this as well! Get him a t-shirt which says exactly this, that he is proud to have an awesome sister or brother like you!
18. For a Car Maniac – Great Birthday Gifts for Brother
Perhaps your brother is a car maniac. Find the best gift for brothers for him! If he used to play with toy cars and knows all the car brands and logos, then this gift will match his interests perfectly! First of all, you will need a frame. With the help of a glue gun, stick small car toys around the frame. Place a photo of the two of you inside. He can hang it up in his bedroom after receiving it. He is guaranteed to love this!
19. Cute Candle Holders – Nostalgic Gifts
Does your brother like candles? They are great for relaxation after a long and stressful day. Create a personalised candle holder for him, which he will love! Place pictures of you and your brother on the candle holder. This will give it sentimental value as well!
20. Making Memories – Birthday Present for Brother
Growing up with your sibling means a lot of memories. Moments from your childhood, memories from your teenage years and adult experiences all added up to both of you becoming who you are now! Instead of getting a standard album, why not create an alternative to one? Cut out a cardboard square, you can write a message here for your brother, and with wooden pegs attach your favourite photos of the two of you or bigger life events around it. This is a super personal type of homemade birthday gift to give!
21. A Wish Bracelet – With a Description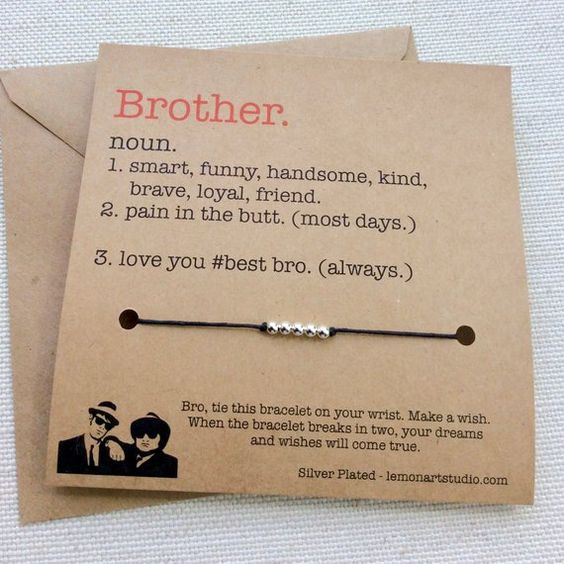 Make one of your brother's wishes come true with a wish bracelet! When it breaks in two his dreams will, apparently, come true! Attach the bracelet to a piece of paper before giving it to him. On the piece of paper, you can write him a short note. For example, you can write up "brother" with a definition of him underneath.
22. An Awesome Keychain – Amazing Presents for Brothers
If your brother has been in need of a keychain for a while now, make sure that's what he gets. A keychain is a great present because you can create whatever you'd like with it. For example, consider getting a small metal slab and have a message engraved into it.
23. Letters for Every Occasion – A Personal Gift
Everyone has crumby days sometimes when nothing seems to go their way. Make sure your brother gets support and positivity on his bad days, by writing him a letter for each occasion! For example, write a letter to him when he is feeling sad or when he is angry. This is very personal and intimate, which would also make a great birthday gift for a sister!
24. A Small Message – On a Keychain
Here is another great keychain, which is also shaped like a guitar pick. So if your brother is in need of a keychain and loves to play the guitar, this gift will be perfect for him!
25. Another Emergency – Tasty Birthday Gifts for Brother
Here is another "in case of emergency, break the glass" idea. If your brother loves chocolate this gift will be perfect for him! Present a stash of his favourite chocolate and candy in a unique way! Place the chocolate in a frame. On the glass part of the frame write "in case of emergency break the glass!" One of these will make a fantastic birthday present for brothers!
Hopefully, this collection of gift ideas for brothers' birthdays has assisted you in finding something great for him! For more ideas, concerning birthday gifts, like Presents for Brothers or Gifts for Men, visit our website!
Advert