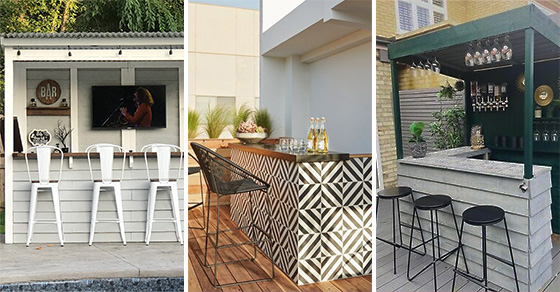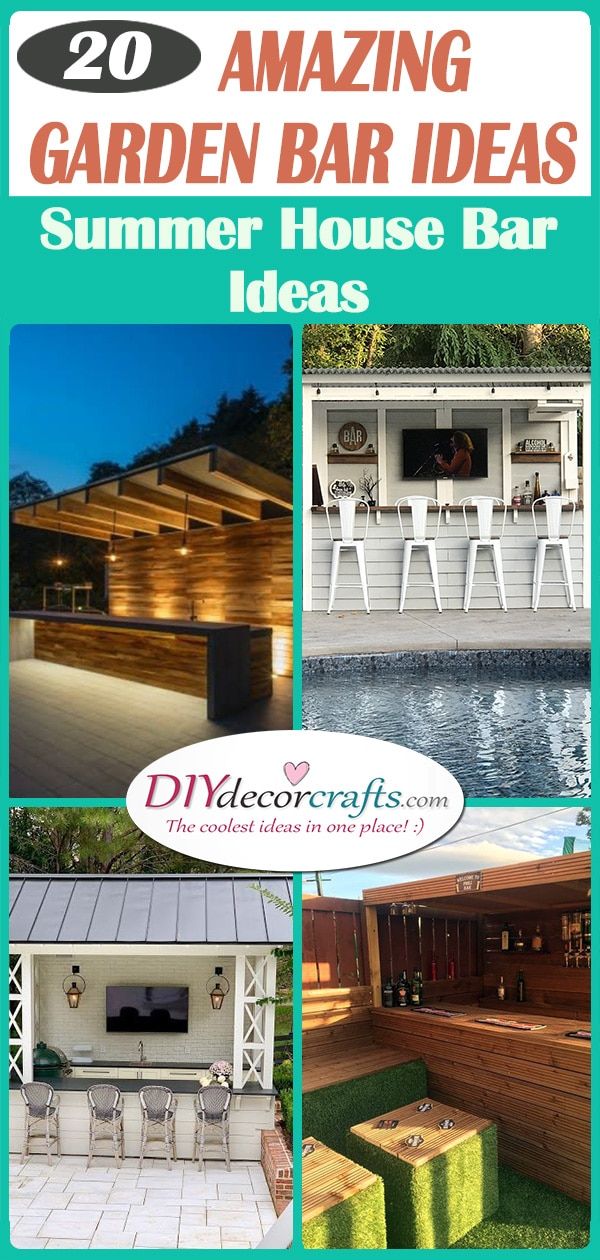 When summer arrives people love to spend a lot of their free time in their gardens! After all, the summer is lovely and warm and it's a fantastic feeling to be outside in the fresh air. Perhaps you'd like to add some functions to your garden and turn it into a space where you can have a small party with guests over. Besides adding a barbeque or outdoor grill, you could look through some garden bar ideas! Having a few drinks with friends or family and just relaxing will be a fun way to spend an evening! How about you check out our 20 summer house bar ideas for some inspiration? Get ready to look through our pick!
1. Modern and Stylish – Garden Bar Ideas
If you want to add any new area to your garden, make sure that it matches the overall atmosphere of the rest of your backyard. For example, if you have used a lot of modern elements in your garden make certain your garden bar design incorporates the same vibe! For a modern and stylish look, think about combining wood with metal to receive an incredibly sleek bar design. After getting your outdoor bar built, don't forget to add some lighting to it! When the evenings or nights come, this will really help in turning it into a cosy space for drinks.
2. A Bit of Entertainment – Add a TV
As the warm weather arrives, you'll be spending more and more time outside in your garden. But what if there's a really good movie on TV that you'd like to watch? Or maybe there will be a sports game that you're invested in. Solve either of these problems with a simple solution, install a TV in your outdoor garden bar. Naturally, make sure that it is covered by a roof, to protect it from any dire weather conditions!
3. Bohemian and Natural – Summer House Bar Ideas
What sort of vibe would you like your garden, including your garden bar, to exude? If you have always loved a bohemian and natural atmosphere, then here's a fabulous idea for you! After your bar has been built, paint over it with deep green, giving it a lush and organic appearance. Then get ready to decorate the rest of the bar! You can add mirrors or small decorative elements to the bar's walls, which resemble a shining sun. But to bring out the natural look, even more, make sure to add some pot plants around or on the bar!
4. A Miniature Pub – Unique and Inventive
Do you and your friends or family love going to the pub? Whether it's for a delicious roast lunch or dinner or a few pints of beer, the atmosphere of an old-fashioned pub is like none other! As an alternative to only building a smaller bar in your garden, why not go for the full package? We're talking about creating a mini pub in your garden? One of these would take your home to the next level, and your friends will be guaranteed to pop around to your place more than once a week! You can get one built at the back of your house if you have space!
5. A Fun Pattern – Garden Bar Ideas
Perhaps you'd just love to install a simple bar table and cabinet with some stools on the other side in your garden. To spruce up this garden bar design, why not add a groovy pattern to the cabinet or table? For example, black and white stripes or zig-zags would uplift the whole vibe in your garden, while keeping the appearance of it refined. You'll be able to open up the cabinet and store all the bar essentials inside of it!
6. An Intimate Setting – Wonderful in Wood
If you are creating a bar in your garden or house, you don't need to go over the top with your design. Sometimes a simplistic style is the best way to go! One easy yet wonderful material to work with is wood! You can create your whole bar using just wood making the building of your bar a cheaper task. Of course, you can still bring an intimate and cozy vibe to your small garden bar ideas with the help of installing the right sort of lighting.
7. A Bar and Barbeque – Summer House Bar Ideas
Of course, you can build a bar in your garden! But why not give it another function or two? If you are the sort of person who loves to go to a barbeque, you can set up an outdoor grill in your bar area! While adding a bar cabinet with drinks and a mini-fridge to your garden bar, you can also think about creating a space for outdoor cooking and grilling! If you decide to add an outdoor grill or barbeque to your backyard, you'll be able to throw some amazing parties with amazing food!
8. Transform an Old Piano – Innovative and Creative
Maybe you have an old piano in your house or shed. If it's unusable and you can't even get it repaired, then why not transform it into something new and exciting? Or if you really love the shape of a piano, you can just build one of these! We are talking about none other than turning it into an outdoor bar! You can place a layer of glass or plastic over the keyboard, turning it into a table of sorts. Install hangers for wine and cocktail glasses on the front board of the piano. There are a lot of other small tidbits to watch out for, while making this bar, such as where the shelves of your cabinet will be built inside.
9. Put Together with Pallets – Garden Bar Ideas
A popular material used for building these days is pallets! They are not only cheap, but they are easy to use! If you already have a small patio or terrace made from pallets built in your garden, why not create one of many small outdoor bar ideas on top of it? Use the same sort of pallets and same style to build your outdoor bar. Then all you'll have to do is add some stools and install a mini-fridge to make the bar area complete!
10. Recycled and Reimagined – Using Recycled Materials
Do you by any chance have a lot of recycled materials lying around in your shed? Then maybe it is time to put them to good use and create something new from them! Whether this is an abundance of wooden pallets or sheets of corrugated metal, you'll be able to put together something without buying any new elements! It's always a great idea to recycle! Not only is it a more budget-friendly option, but it's also environmentally friendly!
11. Cozy and Homely – Summer House Bar Ideas
Maybe you have an outdoor shed that you feel needs a bit of transformation! If this is the case, why not make it into a space for any small gatherings, especially during seasons when the weather is good! So, remodel your shed into an outdoor patio, in which you can create a small bar area as well! Add some comfortable sofas and seats to the patio. Thanks to these additions, you'll be able to enjoy a glass of wine or a pint of beer while talking to your friends or family in your garden environment!
12. Elegant and Sophisticated – For Great Garden Parties
Is your whole garden designed in a rustic and sophisticated style? Then choose some small garden bar ideas that really embody the same sort of elegance! Use simple yet refined shapes and forms for your bar area. A combination of white and grey in the main colors would really help in bringing out the rustic vibe. For decorating your bar, feel free to use a few pot plants filled with flowers on the bar table. As for lighting, you can install old-fashioned lanterns on the walls for that rustic vibe! This is guaranteed to look beautiful!
13. Swings Instead of Stools – Garden Bar Ideas
Are you ready for trying out a new and exciting idea for your outdoor bar? This thought revolves around the seating of small outdoor bar ideas. As an alternative to using normal bar stools for the seating, opt for something unique that has a tropical and playful vibe to it! We are talking about installing a set of swings next to the bar table! This fabulous choice is great for anyone who wants to add a special twist to their garden bar!
14. Wooden Pallets – Combined with Artificial Grass
Perhaps you are trying to look for a combination of two types of materials for your garden bar. Two materials that will create a comfortable and chill environment. Here's an idea to try out! Build your garden bar design using wooden pallets, as well as the seating area and patio from the same type of pallets. Then wrap the floor of the patio and bottom parts of the seating area with artificial grass. This will turn it into a comfortable space, where you can hang out without any shoes!
15. A Beer House – Summer House Bar Ideas
There is a large selection of shed bar ideas out there for you to take inspiration from! This means, that if you have a backyard shed, you can transform it into a completely new space! Besides refurbishing and redecorating your old shed from the inside, you can also consider adding stylish windows and a door to it. Depending on what style of windows and door you choose, you can even give your shed the vibe of a classic pub. You may even decide on placing a large sign above the entrance of your shed, giving your home pub a name.
16. Well Protected – Make Sure Your Bar Is Safe
Wherever you live, you will have to think about how to protect your home and your garden from severe weather conditions! For example, if there is a hailstorm or a hurricane, make sure that your garden bar design is protected and safe from any possible harm! This means adding a roof above your bar area. Also, make sure that the materials you use to build your bar are strong! Add a set of shutters to any windows or doors, to keep the inside of the bar safe as well!
17. A Portable Bar – Garden Bar Ideas
Are you in search of a practical and useful solution for your garden bar? Why not create a portable outdoor bar, that you'll just be able to push out into your garden when you want to spend time outside with family or friends. You'll be able to store this shed in your garage or shed when the weather isn't good. All you need to do is attach wheels to the bar's legs and you can already move it!
18. On Your Porch – Easy and Effortless
Perhaps you are in search of a space in your garden where you can build your garden bar. If you don't have that much space on your lawn, how about you create the garden bar on your porch? Thanks to the roof over your porch, you won't have to build a separate one for the bar. An outdoor bar installed on your porch will be convenient in many ways!
19. The Old Shed – Summer House Bar Ideas
We have already talked a bit about old shed bar ideas. All this means is turning your old backyard shed into a bar area! This is great for anyone who doesn't actually use their shed for anything and wants to perk up their garden with some fun!
20. Next to the Wall – Simple to Build
Here is a simpler and easier way of adding an outdoor bar to your garden! Incorporate and include the walls of your garden for the walls of the bar itself. This will give your bar extra stability, and also, you won't have to use as much material for building it. Just check out the example above as an option for your own garden bar design!
We trust that you found some garden bar ideas! For other garden ideas, besides summer house bar ideas, check out our garden decor for summer or fairy garden houses.
Advert