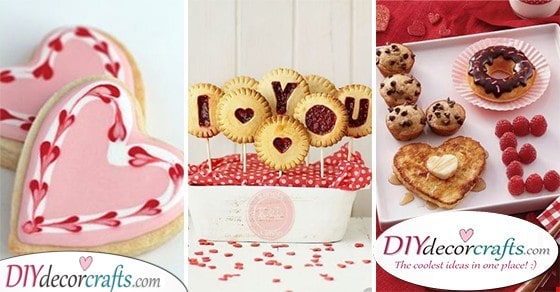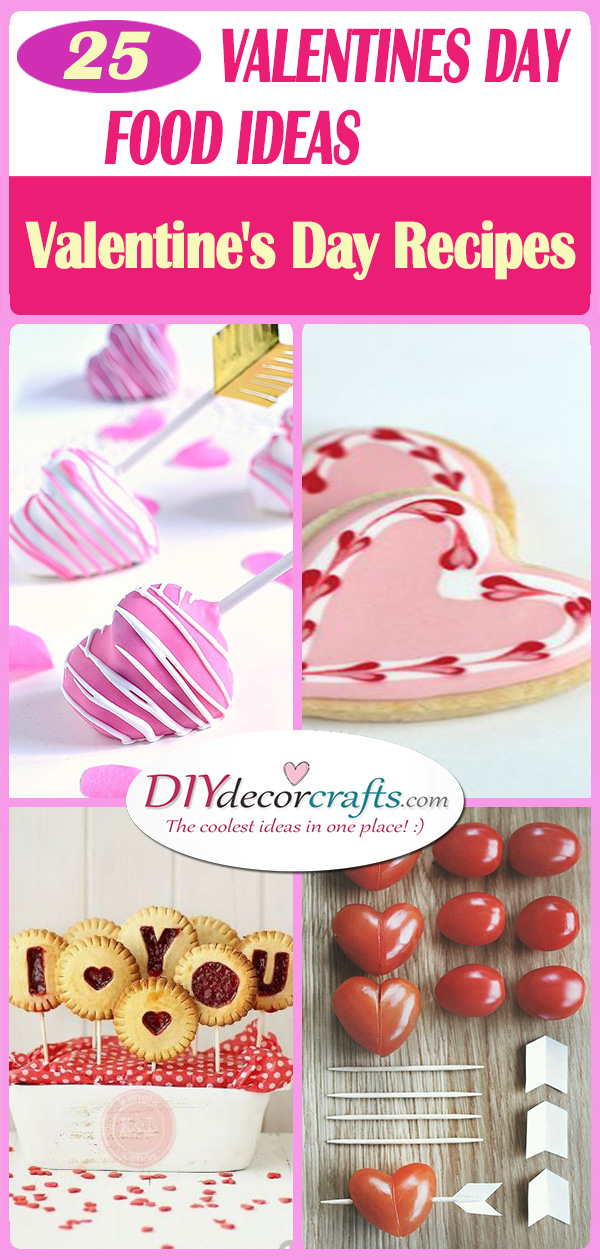 One of our favourite winter events is just around the corner. The festival of love,  romance and passion. This is no other than Valentine's Day. You might be thinking of a way to surprise your partner this year. Instead of going to a store to buy them an expensive gift, why not create something by yourself for them? This doesn't have to be anything big, just a small gesture. A great Valentine's Day idea is cooking or baking for someone. Your significant other will love eating some of your homemade food! Even if you are single, you can still organise a small gathering for your close friends and celebrate the love of friendship! So take a look through our 25 Valentines Day food ideas. We have all sorts of Valentine's Day recipes!
1. A Cupcake Filled with Love – Valentines Day Food Ideas
There's nothing quite like a delicious cupcake or two. Especially when they are baked with love for someone special. Here is a tasty recipe for a chocolate cupcake, which incorporates a few other flavours into itself. After baking the cupcakes allow them to cool completely. Then it's time to decorate them beautifully! You can pipe some cream on the top of them, some buttercream is a great option! Then place a strawberry on top, as well as chocolate, melted into heart shapes.
2. The Perfect Breakfast – Easy and Fun to Make
Have you been thinking about making a plate of breakfast for your significant other and taking it into bed for them? Breakfast in bed is a great way of relaxing a little bit in the mornings and having a chance to talk to each other. Since it's Valentine's Day, make sure to create everything in a heart shape! For example, use a heart-shaped cookie cutter to create a hole in a piece of toast before cracking an egg into it on a frying pan. You can also cut off the ends of frankfurters and stick them together with a toothpick creating another heart shape.
3. A Scrumptious Cake – Valentines Day Recipes
If you are the sort of person who loves to bake, why not put together a scrumptious cake for your loved one? It doesn't have to be too fancy or over the top, you can opt for something on the simpler side. To give your cake a real Valentine's Day feeling though, making sure to incorporate red or pink food colouring into the cake. You can add it to the cake dough itself or to any sort of cream you might be filling it with.
4. Red Velvet Cake – A Valentines Cake
Who doesn't love red velvet cake? It's delicious, rich and luxurious! If you love red velvet just as much as we do, why not make small cakes, which embody this flavouring. You can cut up some strawberries and place them on the top of the cakes as a source of decoration. Depending on your baking style, you might want to make bite-sized versions of the cake, but you might be feeling brave enough to bake an entire one!
5. Hearts Filled with Jam – A Tasty Bite
Do you like eating jam? Well, check out this idea involving jam! Buy some puff pastry and roll it out a bit. Then using a cookie cutter, cut out heart shapes out of the pastry. You will have to spoon a dollop of jam onto every second heart. Then place a toothpick on these jam-spread hearts before placing another heart on top of it. Make sure the hearts are stuck well together before you pop them in the oven to bake. You don't want your jam flowing out of the pastries while baking.
6. Adorable Pie Pops – Valentine's Day Food Ideas
If you are thinking about a creative way to express your love towards someone special through baking, then here is a fantastic idea for you! Bake some pie pops for them! Pie pops are relatively easy to make and don't require long expertise in baking. Pie pops will also allow you to express your love for someone in a creative manner. It's up to you on what sort of pie to you decide to make. If you make a few pie pops, you can even have them spell out a sentence such as "I love you."
7. Love Heart Pancakes – Amazing and Delicious
If there is one food which is perfect for breakfast, lunch and dinner, that is pancakes! Create heart-shaped pancakes for Valentine's Day! Whoever you decide to make these for is definitely a lucky person! Use your favourite pancake batter and if you'd like, add a few other flavours to the pancakes. For example, throw some blueberries or strawberries in the batter or even some chocolate chips! When they are done, feel free to decorate the plate and add some other elements to the pancakes! A bit of whipped cream and some slices of strawberries are a great idea.
8. Spell It Out – Valentine's Day Recipes
Why not spell out the word "love" on a plate for your someone special? For example, using four muffins, create the letter "L". Use a doughnut for the "O" and make a heart-shaped pancake for the "V". Then using an array of raspberries, you will easily be able to create an "E". This plate of love will make a great breakfast in bed and will immediately light up your significant other's day!
9. An Arrow Through Your Heart – Fresh and Healthy
You might just be considering adding a healthy element to your lunch or dinner you are making for your significant other. Or just a fresh snack for the night. If so, check out this idea! Cut cherry tomatoes in half in a diagonal line and place them together to create heart shapes. Stick a toothpick through the tomatoes, to make sure that they will stay in place. Cut out small white bits of paper, attaching them to the ends of the toothpicks. By the time you finish, your tomatoes should look like arrow-struck love hearts. 
10. An Amazing Cake Hack – How to Make a Heart Cake
Have you been contemplating about make a heart-shaped cake for your Valentine? Even if you don't have a heart-shaped cake tray, it's okay! All you need is a square cake and a round cake, which is cut into two halves. You will have to place the two halves of the round cake on the edges of the square cake. This will help create the heart shape which you were looking for. Then it's up to you to add some cream or frosting to it and decorate it with an array of sprinkles or fresh fruit.
11. A Hard-Boiled Egg – Valentines Day Meals
If you are a fan of eggs and are thinking about what Valentines Day food ideas to make this year, take a glance at this food idea! It incorporates squishing hardboiled eggs with a chopstick, to create a funny shape out of it. When you cut through the egg though, a heart-shaped, boiled egg yolk will reveal itself! This is a perfect addition to Valentine's Day breakfast for you and your significant other. It's not only simply adorable, but it's also healthy.
12. A Beautiful Cake Roll – Valentine's Day Recipes
It's time to get all romantic and lovey-dovey now that Valentine's Day is nearly here. So if you are thinking about baking for your special someone this Valentines, then this will act as the perfect dessert for the celebration of love. Create a soft and fluffy cake roll, incorporating a lot of pink and a lot of hearts. Cake rolls are surprisingly easy to make and have a divine texture to them. You can include a few crunchy elements to your cake roll, by creating small chocolate hearts, which can be sprinkled through the pastry.