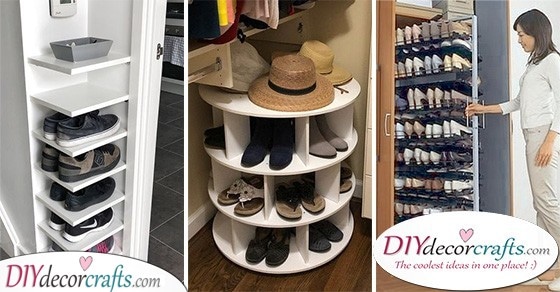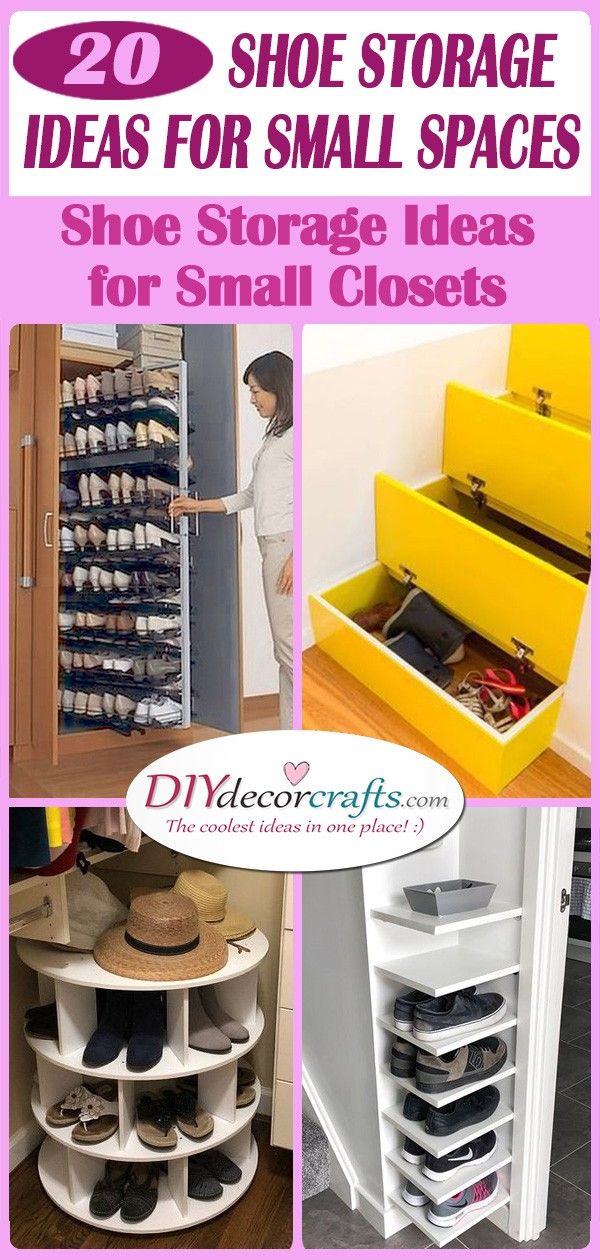 Are you thinking about remodelling or renovating your home? Or perhaps you want to add some new pieces of furniture to a few to the rooms or create some storage space. One thing we often forget about is shoe storage ideas for small spaces. But storing our shoes in creative and unique ways can prove to be a fantastic way of maximising the space you are living in. After all, when you have a tiny apartment, you tend to search for new ways of saving space! So, keeping this in mind, you might want to look through our collection of 20 shoe storage ideas for small closets.
1. A Smart Shoe Rack – Shoe Storage Ideas for Small Spaces
Do you live in a smaller house or apartment, but you have a huge amount of shoes? Then this might tend to cause a problem of where you can store them. How about creating a pull-out drawer, which pops out of your closet? The great thing about a drawer is that they are super simple to store things on. Your shoe rack can be large or small, it really depends on what you need. Thanks to an extra pull-out rack, you'll be able to store your shoes in your closet as well.
2. Spinning Around – Keeping Everything Easy
When it comes to creating some additional storage space, there are hundreds of ideas to help you out! And here is just one of them! Put together a shoe rack, which is made up of several tiers. Get this rack put together so that the tiers can actually spin around when they are moved. A spinning shoe rack will make your mornings a lot easier to get through, as you'll just have to spin around the rack to find the perfect shoes for the day. This is a great alternative to having to rummage through boxes of shoes each day!
3. A Creative Corner – Shoe Storage Ideas for Small Closets
Everyone has one or two corners of their house, which they don't give a purpose. If you have a free corner as well, which you haven't used for anything, then it's time to! You will have to attach some corner floating shelves to the corner of your choice. This will give you an option of placing anything on these corner shelves, including a few pairs of shoes. This is a perfect idea for anyone, who doesn't have much space in their hallway or next to the front door.
4. Underneath the Stairs – Unique and Amazing
While we have mentioned using different sorts of spaces for storing your shoes, how about creating a hidden closet for them? If you have any stairs in your home, you may be able to remodel them, by giving each step a box-like purpose. This means, that you should be able to give the door of the steps a lid-like top, which you can open at any time to pop something in your stairs for storing. Naturally, it's up to you what you decide to place inside, but you'll be able to store your shoes properly thanks to this!
5. DIY Underbed Shoe Organizer – Perfect and Simple
We don't even need to mention, even if you have a smaller home and a smaller bedroom, it is bound to be filled with small places you can use as storage space! A great example is that you create a DIY shoe organizer which you can simply push in right underneath your bed. You will have to attach some wheels to the bottom of your shoe organizer, which will make it super easy to move when you pull it out from underneath the bed.
6. Clever and Clean – Shoe Storage Ideas for Small Spaces
Reinvent the purpose of hanging fabric clothes holders and put your shoes in them instead! Depending on how many shoes you or the family have, you shall be able to buy one or more of these hanging shoe holders and place them in one of your closets. Thanks to a few of these, you will be able to store your shoes in an extremely neat and orderly manner. These hanging shoe holders are also super easy to clean, as you just have to wash them in the washing machine!
7. The Door Rack – All About Shoes
Here is yet one of many fantastic small entryway shoe storage ideas which you will definitely want to try out for storing your shoes! To the door of your closet, attach a rack, on which you will be able to store your shoes. If you can't find the perfect rack, which will fit on your closet door, you can also line it with an abundance of floating shelves. In order to make sure that the shelves on the door fit inside the closet, you might like to attach them to the door at a sharp angle. 
8. Mounted on the Wall – Shoe Storage Ideas for Small Closets
Are you trying to find some small entryway shoe storage ideas? An easy solution is to build your own rack, out of wooden pieces which you may have lying around at home. Create more than just one shelf, making sure that you create enough space for all your pairs of shoes. You might even decide on coating this shoe rack with some beautiful paint and after it has dried, you can mount it on one of your walls. Of course, this is up to you, where you'd like to place your rack, or where you have some additional space!
9. Attaching Wooden Boxes – To Each Other
Maybe you are looking for a cheap way of recycling old materials, to create something new. For example, if you have a lot of wooden boxes or crates, then use them for building a larger shelf for shoes. You can attach them to each other, by hammering or screwing them together, making a tower-like space for shoe storage. Also, fixate slices of wood in the middle of each wooden box, creating even more slits for your pairs of shoes. You can also add some small ornaments to parts of the shelf to give it a lovely ambience.
10. Multi Shoe Rack – Shoe Storage Ideas for Small Spaces
Get creative when building your shoe storage ideas for small closets! Why not build a tower of shoes, one that has an abundance of tiers. It won't even take much time for you to construct this yourself. You can place one of these tall shoe shelves in one of the corners of your entryway. Make sure that you will create enough tiers for this shoe rack so that everyone's shoes fit. You may also consider placing some decorative elements on it, to give it a unique and beautiful look.
11. The Perfect Bench – For Taking Your Shoes Off
Well, here is a fantastic idea, which is not only a great way of storing shoes but also provides a space for you to take them off! This is no other than a small bench, which you can place nearby the entryway of your home. When you put on or take off your shoes, you will be able to sit down, instead of having to stand while doing this. After you have finished taking off your shoes, you can simply pop them on one of the shelves underneath the bench, which is specially made for storing shoes.
12. One for Flip Flops – Shoe Storage Ideas for Small Closets
Maybe you have a whole tonne of flip flops and sandals. If this is the case, here is an easy and simple idea of how you can store your shoes! You will need an array of magazine boxes, which you organize on one of your shelves or inside of a closet. Now all you have to do is stick a pair of flip flops or sandals into each magazine box. This will help in creating a simple manner of storing shoes, not to mention it's a cheap option as well.
13. Another Shoe Bench – An Easy Solution
As we mentioned before, a fantastic idea is to store at least some of your shoes under the bench where you put on and take them off every day. Of course, depending on your home's style and atmosphere, you will want to make sure that this small bench fits right in! For example, if you have a more elegant home, you might get a bench that is built in a refined style. The bench can have a hidden storage space underneath it, which flips open, enabling you to store your shoes inside.
14. Pretty and Practical – Shoe Storage Ideas for Small Spaces
There are so many stylish cabinets you can choose from for storing shoes inside! Depending on how many shoes you have, make sure that you get yourself a shoe cabinet, in which all of them will fit inside. This might mean getting a shoe cabinet which has at least two or three compartments to it. You should be able to flip open the compartments, making your job super easy! Place one of these cabinets anywhere in your home, giving you that extra space you need for organizing your shoes.
15. Making Your Own Shoe Hangers – Handmade Crafts
Perhaps you have a bit of extra space in your closet at home. If this is the case, why not create your own shoe hangers, on which you can attach shoes and then hang them in your closet. You can make these shoe hangers out of old clothes hangers, which were originally made from wire. Cut the clothes hangers, turning their ends into spirals, on which you will be able to place your shoes. These sorts of shoe hangers are suitable for lighter shoes, not so much the heavier types.
16. Reusing Pipes – Shoe Storage Ideas for Closets
If you're in search of shoe storage ideas for small closets, then check out this idea! Why not try finding a DIY shoe rack, which you can create by yourself at home? Do you have any PVC pipes at home? If so, then use them to construct a cool shelf, stacking them on top of each other and fixating one to the other. When placed on each other, the pipes will give your home a groovy and modern look. If you'd like, feel free to paint the pipes in different and unique colours before creating your shoe shelf. This is especially fantastic if you want to add some colour to the new shoe rack.
17. Simple and Clean – An Entryway Bench
Here is another take on a bench, on which you can sit down to put your shoes on or take them off. But you can also store your shoes on this shoe shelf rack. This is the perfect sort of furniture to place in your entryway, somewhere close by the front door. Thanks to a bench such as this, your mornings might be spent more comfortably, instead of standing next to the front door trying to pull your shoes on.
18. Stunning Shoe Slots – Shoe Storage Ideas for Small Spaces
If you are in search of something truly cheap and easy, grab yourself some shoe slots, which you can use as storage space. Each shoe slot should have two racks on it, allowing you to place the same pair of shoes in each holder. These shoe holders come in various colours, so depending on what style and colours your home incorporate, make sure the shoe holders match the overall atmosphere.
19. A Fantastic Hack – Organized and Tidy
Do you have an old closet that you are preparing to transform into a shoe cabinet? Place some metal wires and rods inside of this old closet, creating places on which you can place your shoes. This is definitely a neat and organized way of putting your shoes away while you aren't using them. Think clever when it comes to storage space for small bedrooms!
20. A Metal Rack – Shoe Storage Ideas for Closets
How about using a simplistic metal rack, on which you can put your shoes? At first glance, it might look like a coat hanger stand, but it is in fact a stand for shoes. Again, this is just another fabulous way of organizing your shoes, creating a less cramped feeling in your entryway.
We hope that this collection of shoe storage ideas for small spaces has helped you find something awesome! For other ideas, besides shoe storage ideas for small closets, such as small bathroom storage ideas for small spaces, just visit our website!
Advert