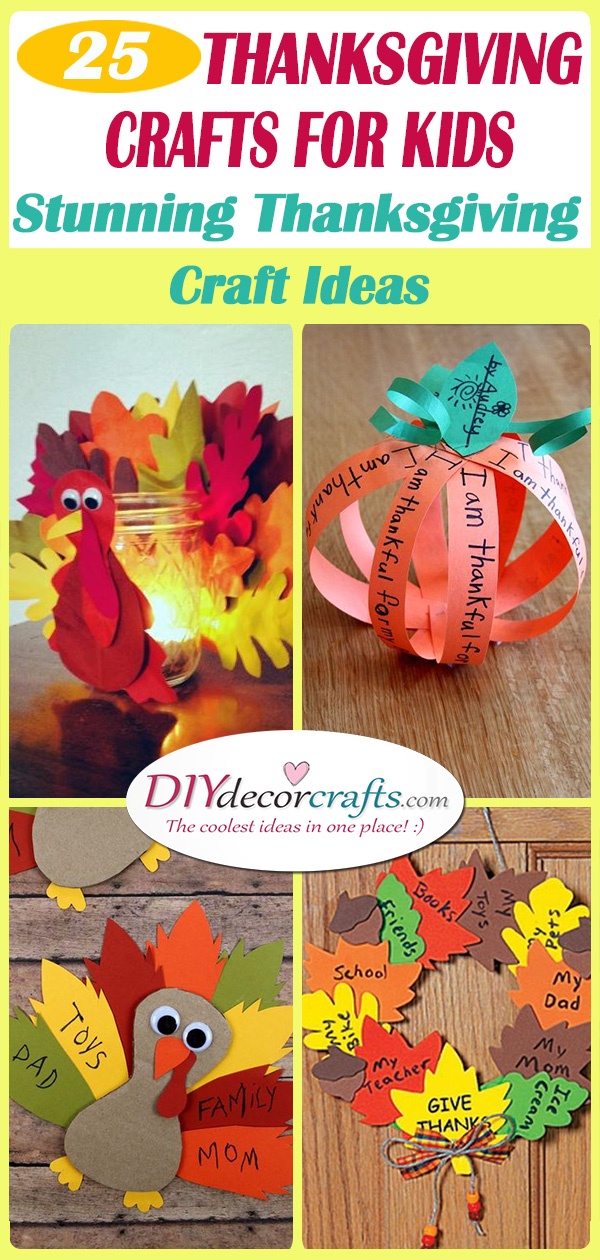 Autumn is just around the corner! The season of apple-picking, misty mornings and chilly nights is nearly here. The fall is also a season packed with holidays, including Halloween and Thanksgiving. As the days get shorter and the nights get longer, it's a great time to spend time inside with the family. You can get the kids involved in creating some autumn craft ideas! For example, why not start making Thanksgiving craft ideas with the children? This way, they will be able to unleash their creativity! We have collected 25 Thanksgiving crafts for kids, to help you in finding something fun and awesome! Make sure you and your children have heaps of fun, as that's what crafting is all about!
1. Pinecone Turkeys – Easy Thanksgiving Crafts
So, have you been in search of cute and simple Thanksgiving crafts? Well, check out these pinecone turkeys! Gather a few pinecones in your garden, a park or a forest with your kids! First of all, paint each scale of the pinecones in autumn colours. This includes yellow, orange, red and brown. Secondly, glue pompoms on the top of each pinecone, attach googly eyes to them. You can also add a beak to each turkey, using a triangle of orange felt for this. This craft is super cheap to create which is great if you don't want to spend much money!
2. A Wreath of Leaves – Thankfulness and Gratitude
Thanksgiving is a holiday when you can reflect a bit on the past and what you are thankful for! Teach your kids that gratitude is important in life by creating this Thanksgiving wreath with them! Cut out leaves out of coloured paper. Have your kids write down one reason on each leaf about what they are thankful for. Finally, make your kids stick the leaves on a large paper ring, this way creating a wreath.
3. A Turkey Candle Holder – Thanksgiving Crafts for Kids
When you think of Thanksgiving, what image pops into your mind immediately? Is it the mouthwatering picture of a roast turkey? If so, make sure to incorporate turkeys into your Thanksgiving crafts! For example, create turkey-shaped candle holders. All you need to do for this is to cut out the shape of this bird. You can use any sort of paper, but make sure it's colourful! Finally, you will need to stick the pieces of paper onto a simple candle holder or a mason jar. This will prevent the paper from lighting on fire.
4. A Thankful Pumpkin – Paper Arts and Crafts
Here is another one of many cute and easy Thanksgiving crafts for kids! Cut orange paper up into strips, and out of green paper, create the shapes of leaves. Have the kids write reasons why they are grateful on each strip of paper. Then attach the strips of paper to each other, glueing them together to form a small ball. The reasons for gratitude should be placed on the outside. Then simply staple a green leaf onto the top of this ball of orange paper. And voila! A Thanksgiving pumpkin that is filled with thankfulness!
5. The Thankful Turkeys – Lovely and Sweet Idea
Thanksgiving is all about teaching kids about the beauty and joy of gratitude. Create these thankful turkeys with them! This is a perfect craft for Thanksgiving, as it also teaches children to be thankful in life! Cut the bodies and feathers of the turkeys out of cardboard and stick them all together. Try using colourful autumn colours for the feathers! Then get your kids to write down one thing they are thankful for on each feather. So give this a try as Thanksgiving arts are crafts!
6. A Spoonful of Thanks – Thanksgiving Craft Ideas
Reimagine and reuse any spoon lying around your house, which you don't need anymore! Use these spoons for turkey crafts for kids and create turkeys out of them! Using coloured paper, cut out the shapes of feathers, the shape of a snood and finally, a beak. All you will need to do now is stick the cut-out shapes onto the spoon, creating the image of a turkey. Add some googly eyes for an extra effect! This is just one of many great thanksgiving crafts for kids. It's not only easy to make but inexpensive as well!
7. A Pumpkin Pie – Reasons for Gratitude
Something you are bound to eat during a Thanksgiving lunch or dinner is pumpkin pie. This delicacy is famous all over the world! Instead of baking one with your kids, create a papercraft using pumpkin pie as inspiration. On a paper plate, cut and paste orange slices of paper. These slices of paper will represent the slices of pumpkin pie. Have your kids write down a reason for what they are thankful for underneath each slice of pie. After removing each slice of pie, you should have a whole list of things that your kid is thankful for!
8. Bubble Wrap Ideas – Thanksgiving Crafts for Kids
Bubble wrap is actually a fabulous way of decorating things in a unique and beautiful way! Dip bubble wrap into a small pool of paint and press it on paper. After the paper has dried, cut feathers out of it. Out of another piece of paper, cut out the body of a turkey and attach the bubble wrap feathers to the back of it. Immediately you will give your Thanksgiving turkey crafts for kids a unique and creative look. Your kids are guaranteed to have a tonne of fun with this craft!
9. An Array of Hands – Get the Whole Family Involved
Thanksgiving is definitely a time to spend with family and your close friends. It's all about showing them love and gratitude! So it only seems proper to get the whole family involved in making a Thanksgiving craft! Have each member draw the shape of their hand on a colourful piece of paper, then cut it out! Also, cut out the body of a turkey. Now all you will need to do is attach the hands behind the body of the turkey, this way giving it feathers. Place the smallest hand in the front and the largest hand in the back. This is a perfect craft for the whole family!
10. Front Door Decor – A Leaf Wreath
Have your kids create a Thanksgiving wreath for the front door. Cut out the shapes of leaves using colourful paper, mainly autumn shades! Then get your kids to write down the reasons they are thankful and grateful for. One reason on each leaf! Then paste these on a cut-out ring, to create the wreath itself. Add a ribbon or two onto the fall wreath and hang it on the front door! They'll love these Thanksgiving crafts for toddlers!
11. Stone Turkeys – Cute Ideas for Thanksgiving
As we have discussed beforehand, turkeys are a fantastic source of inspiration when it comes to Thanksgiving crafts for toddlers. Create a stone turkey, which means you use a stone for the turkey's body. Then cut the feathers and the head of a turkey out of paper and glue them on the stone. This craft is simple and cute!
12. Adorable Thanksgiving Turkeys – Egg Carton Ideas
Instead of throwing out your egg cartons, use them for your Thanksgiving crafts! Cut up your egg cartons into smaller parts and paint each one in a different, vibrant colour. The egg cartons will act as the bodies of the turkeys. Now all you need to do is cut out the head, feathers, beak and feet out of paper. Attach these to the stone itself and you will have a cute turkey by the end of it!
13. A Turkey Wreath – Thanksgiving Crafts for Kids
Here is another beautiful wreath idea, which you will be able to hang on your front door! Twist all sorts of warm coloured ribbons around your wreath, creating feathers at the back. Then use a foam sphere as the head of a turkey, attaching googly eyes and a beak to it!
14. Small Gift Bags – For Any of Your Guests
If you are going to be hosting a Thanksgiving party, make sure to present your guests with cute gift bags! Get the kids to decorate the gift bags, by making them look like turkeys! You can write reasons for being grateful on the turkey's feathers for that Thanksgiving vibe.
15. Sweet Thankful Turkey – Thanksgiving Craft Ideas
An easy craft to make with your kids is a simple cutout turkey. Print out the parts of a turkey, which your kids will have to cut out and stick together. On each feather get your kids to write down something they are thankful for! After all, the point of Thanksgiving is to give thanks!
16. A Pocket Full of Thanks – Turkey Inspired
Create a small pocket in which everyone can place a note of gratitude inside! You can have the kids create this pocket themselves. Glue two paper plates together and cut off half of one plate. This way you will be able to create a small pocket for the Thanksgiving notes. You can also stick the cutout shapes of the turkey's head and tail feathers to the plates. This is one of many great Thanksgiving arts and crafts.
17. Paper Bag Craft – Thanksgiving Craft Ideas
Here is yet another one of many turkey-inspired Thanksgiving crafts for kids! Have them draw the shapes of their hands on colourful pieces of paper. Then make them cut the hands out. Attach them to the bottom of a paper bag, create the feathers of a turkey. Then add eyes, a beak and a snood to the paper bag. This will be a great fall craft for kids to try out!
18. Turkey Leaf Lanterns – Thanksgiving Crafts for Kids
A great way of illuminating your Thanksgiving dinner in a glowing light is with a few lanterns! Create lanterns out of mason jars and place candles in them. In order to give them a Thanksgiving vibe, add some turkey shapes to them! Create the shapes of turkeys out of autumn leaves and stick them on the mason jars. Use googly eyes for the turkeys' eyes!
19. Use Fabric Scraps – Creating a Turkey
If you have scraps of fabric leftover from other crafts, why not create a cute turkey decor out of them? It will light up your whole Thanksgiving decor! Create the body of the turkey out of cardboard or a thicker type of paper. Add eyes, a beak, feet and a snood to the body. Then use the scraps of fabric for its tail feathers! This turkey is guaranteed to look fabulous!
20. Using Their Footprint – A Quirky Turkey
Let your kid's creativity run wild when they make arts and crafts! Instead of cutting out a body for a turkey, why not get your kid to dip their foot in some paint and then press it onto a sheet of paper. After the paint has dried, cut out the footprint and add some googly eyes, a snood and a beak to the footprint. You will have created your turkey, now all you need to do is add tail feathers! This is an easy and simple craft, perfect for kids.
21. Popsicle Stick Craft – Scarecrow Thanksgiving Craft Ideas
A simple craft you can create for Thanksgiving or autumn is this one! Use popsicle sticks to put together the face of a scarecrow. You can add some googly eyes to your scarecrow and draw a stitched mouth on it!
22. Pumpkin Lanterns – Cute for Autumn
While these pumpkin lanterns bring a Halloween vibe, they will be perfect for the other seasonal holiday, Thanksgiving! Create pumpkin lanterns out of orange paper and hang them up on a string. This is one of many fabulous Thanksgiving craft ideas!
23. Thumbprint Turkey – Painting for Thanksgiving
There are so many ways to get your kids into a creative mood and mindset! For example, thumbprinting is a perfect example of this. Have your kids dip their fingers into different coloured paints to create the body and tail feathers of a turkey. Use this as a piece of decor during Thanksgiving!
24. Another Leafy Wreath – Thanksgiving Crafts for Kids
Here is a cute craft put together out of foam! Cut out the shapes of autumn leaves out of colourful foam as well as acorns or chestnuts. Then glue these foam shapes together to create a stunning autumn wreath! This will look beautiful on your front door for Thanksgiving!
25. A Turkey Planter – Thanksgiving Craft Ideas
You might be thinking about gardening a bit this autumn. Create cute planters with your kids, which will give off a great Thanksgiving ambience! Cut the head, the feet, the tail feathers of the turkey out of foam. Then glue these to a simple clay pot planter. This will be absolutely perfect for the holiday!
We hope that this collection of 25 Thanksgiving crafts for kids has helped you find something awesome for the holiday! Check out other crafts for kids, like Fall Crafts for kids, check out our website!
Advert