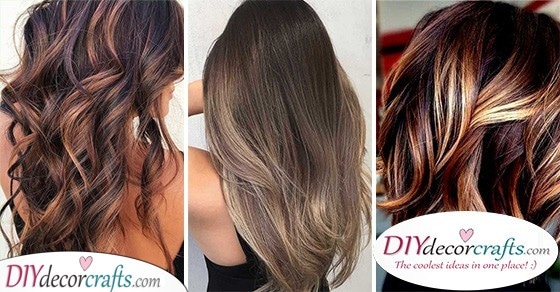 Summer has finally arrived. The season of lovely warm weather, going to the beach and heading to all sorts of music festivals. That's what summer is all about! Wherever you do end up going, you will want to make certain that you look amazing from head to toe. This doesn't only include your clothes, but your hair as well! So, keeping this in mind, make sure that you try out an awesome hairstyle idea as well as trying out some sort of new hair colour. If you want to try out brown why not check out our pick of hair colour ideas for brunettes for summer? After all, brown comes in so many shades, so it is important to express yourself. Take a look through our summer hair color ideas for brunettes and find inspiration!
1. Caramel Balayage Highlights – Summer Hair Color Ideas for Brunettes
If you feel like your brunette hair is dull and boring, then make sure to add a bit of spark to it! How can you achieve this easily? A fantastic idea would be to add some highlights to your brown hair. Instead of going for an intense blonde, try out a shade such as caramel. This will fit right into your brown locks of hair and seem completely natural instead of looking out of place. Not to mention, a sun-kissed glow for your hair will be perfect for summer!
2. Raspberry Bourbon – Hair Color Ideas for Brunettes for Summer
Depending on what sort of look you'd like to channel, you can get your hair dyed in that way! Perhaps you are in search of elegant and refined hair colours, if so, then try out a deeper shade of brown. For example, why not try out a luxurious chocolate brown? Deep and rich browns will channel that elegance you are in search of. Naturally, feel free to add some highlights to your hair, which will add volume and texture to it. A type of highlight which will go beautifully with chocolate brown is no other than raspberry bourbon!
3. The Perfect Ombre – Fading Out to Light
If you are sick and tired of your old hair colour, it's time to spruce it up! A fabulous idea with what you can accomplish is to have your hair dyed in an ombre. Ombres have become incredibly popular during the past decade which should come as no surprise. The ends of the hair and dyed, creating a slow and gorgeous transition between the roots and the tips of your hair. If you have brown hair, instead of trying out a blonde ombre, how about going for a light brown for your tips?
4. A Bright Balayage – Summer Hair Color Ideas for Brunettes
As we have already mentioned, a balayage is a perfect way of uplifting your hair. It is a bit different than an ombre, but will look just as brilliant! A balayage is all about adding highlights to your hair. They don't necessarily have to start from the roots of your hair, starting them from the middle of it is a fabulous idea. You might be thinking about what sort of colour to use for your balayage? Since it's summer, you might want to show off a sunny glow, so how about opting for caramel?
5. Light Golden Brown – Stylish and Chic
Have you had enough of your old hair colour and would love to try out something new this summer? Then check out this dazzling brunette shade which will look perfect for the new season. It's all about dying your hair with a shade of golden brown. Instead of going for a colour which has warm tones, why not try out one with cool tones? Of course, you can leave your natural hair colour to shine through your overlapping, new highlights, in order to create more volume and contrast. This will definitely look amazing for summer!
6. Stunning Highlights – Hair Color Ideas for Brunettes for Summer
Perhaps you have shoulder-length hair and you're afraid that a new hair colour won't add much to it. Well, let us reassure you, that you can make your shorter haircut pop just as much, by adding some highlights to it! Depending on what your natural hair colour is, make sure that the highlights you choose don't overpower the rest of your hair. After all, you will want everything to look natural. Adding a few golden highlights to your hair will make it shine for the summertime!
7. Try Out Rose Gold – Unique and Ethereal
There are numerous beautiful brunette hair colours which you can try out for long hairstyles for women. If you are in search of something truly special and unique though, how about you give a subtle shade of rose gold a try? Rose gold has become a huge trend and it also looks great on all skin tones and face shapes. This colour all about giving your hair a blushing shade. Naturally, you can go for a bolder shade of rose gold, but a subtle one will look just as fabulous. So if you're looking for hair colour to perk up your look for summer, this is it!
8. Rich Chocolate – Summer Hair Color Ideas for Brunettes
Chocolate brown hair is rich hair colour, which won't only look beautiful during the season of summer, but all year round! The colour itself really does resemble that of actual chocolate. It is smooth and lush, not to mention, there are quite a few shades of chocolate you can choose from. Just like there is dark chocolate and milk chocolate, this brunette hair colour comes in more forms! Depending on what suits your skin tone, eyes and face shape best, you can choose which shade of chocolate you'll go for.
9. Mushroom Brown Hair – A New Favourite
A new hair trend that has emerged is mushroom brown. We're sure you have heard about trying out cooler shades of blonde, instead of trying warmer hues. For example, this is achievable by using purple shampoo. The same is true when it comes to mushroom brown hair. Instead of playing with warm colours, which you might find in chocolate or chestnut brown, mushroom brown is all about using a cool brown. Feel free to include an ombre, with your hair turning lighter towards the tips.
10. A Combination – Of Blonde and Brunette
You might decide on going for a bolder choice this summer. No matter if your hair is short, medium-length or long, why not create a combination of darker brown and striking blonde? If you have naturally brown hair, all you will have to do is get some groovy highlights for your hair. This will definitely create a bold and daring look and is guaranteed to look amazing in any hairstyle you try out. So why not give this hair colour a try? As we mentioned before, this will look perfect for short, long or medium-length hairstyles!
11. Copper and Black – Summer Color for Brunettes
Now, here is another gorgeous idea for an ombre hairstyle! This one is perfect for anyone who has naturally dark hair or would like to dye their hair darker. The roots and the top of your hair should be dyed either raven black or a very dark brown. Since we are talking about an ombre, you will want the ends of your hair to be dyed in a different colour, creating a transition between the two colours. We would recommend that you try out a copper brown for the ends. This will help in forming a unique and pretty look for your hair. Make sure to try this one of many hair color ideas for brunettes for summer!
12. Lovely in Light Brown – Fabulous and Natural
When searching for new hair colours, you may be afraid that they won't match your complexion. Or that it won't bring out the colour of your eyes. A big problem with dark browns is that they can overpower your whole complexion, making you look too pale and unhealthy. Of course, this isn't the case with everyone, but it's important to choose a colour which will suit your skin perfectly. A great example would be to try out a lighter brown, adding a few natural highlights to it. Light brown looks good on practically anyone and the highlights will give you that summery vibe!
13. Golden Strands – Summer Hair Color Ideas for Brunettes
Do you have fabulous curly hair? If so, you might be looking for ways on how to uplift your look and give it a new appearance! Perhaps you have decided on dying your hair brown or if your hair is already a natural shade of brown, you might want to add that extra fun to it. An easy solution to your problem is to dye some strands of your hair in a lighter shade of brown or blonde. It will look as if the sun faded it out!
14. A Smooth Transition – Stunning and Splendid
Find a perfect summer color for brunettes! Check out this stunning ombre, which really does transform from one colour into a completely different shade. Leave the roots of your hair in a shade of brown. Then have your hair turning lighter with each step as you head downwards. The tips of your hair might be coloured in platinum blonde, creating a huge contrast between the roots and ends. This ombre will look great during summer, especially if you are planning on going to some sort of festival or concerts!
15. Cute and Cool  – Hair Color Ideas for Brunettes for Summer
If you have longer hair, then make certain that you give this idea a try! Leave the roots and top of your hair in a natural brunette shade. As you head down, add some caramel highlights and also have the ends of your hair dyed. Thanks to these highlights and ombre, your hair will have more volume. You may be unsure about how you can style your hair after having it done. A simple yet beautiful idea would be to simply curl the ends of your hair.
16. The Best Balayage – Glamorous and Fabulous
We have already talked about trying out a balayage for your hair. After all, it's not only stylish but it is guaranteed to look amazing! This cute summer hairstyle is perfect for anyone who wants to mix it up a little and try out a new look for their brunette locks. If you use blonde highlights for your balayage, you are sure to give your hair an astounding and bold look. They are great summer hair ideas for brunettes!
17. Caramel Chestnut – Summer Hair Color Ideas for Brunettes
Give yourself a quirky and unique look when you choose a new hair colour! In fact, you might decide on choosing two different colours to bring together an interesting combination. A great example of this would be combining two different shades of brown, such as chestnut and caramel. While you can use the chestnut for the base of your hair you can use caramel to create some highlights. This is a perfect way to dye your hair, no matter what its length is!
18. Another Ombre – Hair Color Ideas for Brunettes for Summer
Here is yet another ombre, which incorporates a darker, chocolate brown for the top and uses golden or sandy brown for the bottom. This is definitely a beautiful way to dye your hair for summer, not to mention it is sure to turn heads wherever you go. Hair that has an ombre dye can be styled in so many ways to give it an even more fantastic look!
19. Mahagony Streaks – Bringing Some Fire to It
Maybe you are thinking about adding a fiery look to your hair. While leaving the base of your hair brown, you can consider adding some mahogany streaks to your hair. To add brightness to your hair as well, you can also add some highlights to it. A combination of deep red and golden hues will look absolutely beautiful!
20. Deep and Lush –

Hair Color Ideas for Brunettes for Summer
Do you have dark brown hair? You might be considering adding some sort of highlights to them, which look natural. If this is the case, then why not use a colour that is just one or two shades lighter than your hair for the highlights? This will give your hair a subtle shine and glow, which is what you might be looking for when it comes to summer hair ideas for brunettes!
We hope that this pick of 20 hair color ideas for brunettes for summer has helped you find something! Perhaps you need some summer pedicure ideas or inspiration for Crimped Wavy Hair, besides summer hair color ideas for brunettes. If so, make sure to visit our website!
Advert