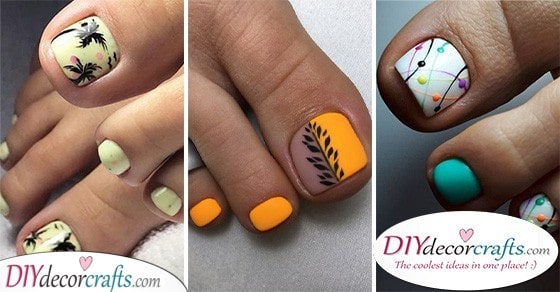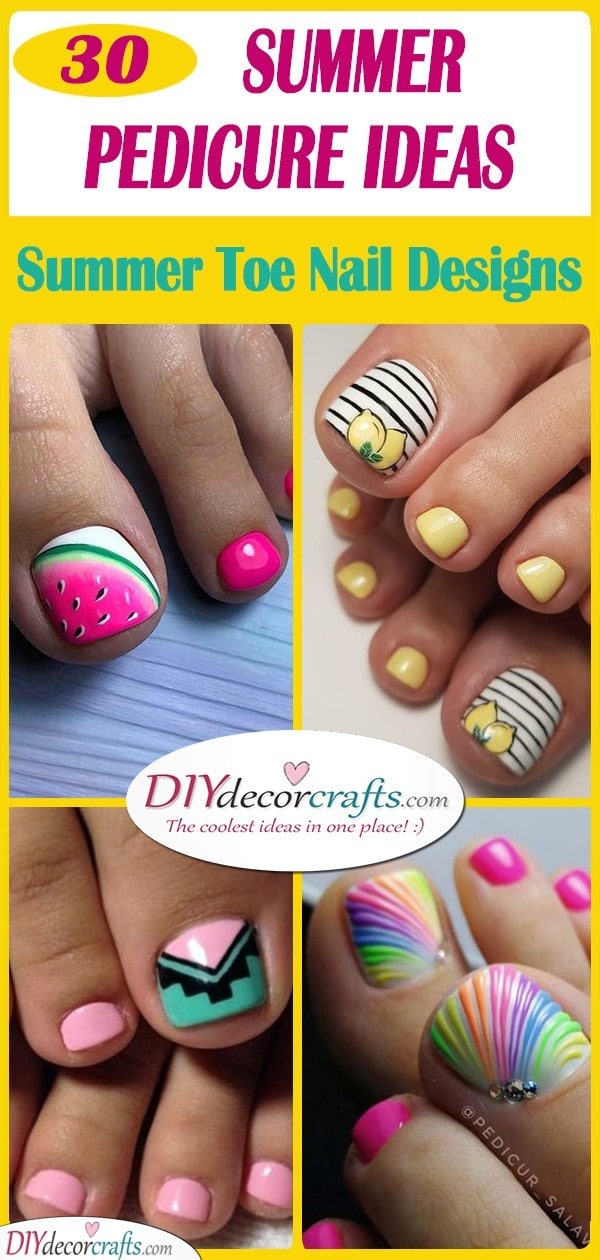 Summer has just arrived and so has the lovely hot weather. When summer is finally here, you might have a lot of programs. You may be thinking about spending time at the beach or going on a hike. Or you may be heading off to all sorts of summer music festivals and concerts. No matter how you'll be spending the season, you might be considering sprucing up your look with summer ideas. A simple way of achieving this is by giving toenails a makeover! There are so many amazing summer pedicure ideas to choose from and we have brought you 30 of them! With these summer toenail designs, you will be sure to look your absolute best!
1. Cute Palm Trees – Summer Pedicure Ideas
When you think of summer, maybe the image of palm trees swaying by the beach will pop into your mind! So why not include the shapes of palm trees on your toenails? For example, you can use yellow or pink as the base coating for your toes. Then using black nail polish, you can create the shapes of the palm trees. These summer toenail ideas will look perfect for the summertime!
2. Tribal Patterns – Add Glitter as Well
If you want to channel a chic bohemian look, how about trying out tribal patterns for your pedicure? This pattern would also look amazing as summer nails! You can use any sorts of colours for this design. Besides creating a tribal design on most of your toes, you coat one or two of them in some sparkling glitter. Combining the wild, geometric patterns together with glitter will look amazing!
3. Abstract Art – Dots and Lines
Maybe you are in search of truly unique summer toe designs for this summer. If you've always found abstract art beautiful, then it's time to create some on your toes. Firstly, coat your toes in a layer of white paint, which will serve as the base of your toe art. Then create small colourful dots with lines running through them in an abstract manner.
4. Life Gave Me Lemons – Summer Toenail Designs
A fruit you might consume a lot of during the summer is lemons! After all, it's the perfect fruit to freshen you up on a long summer day. Keeping this in mind, why not use lemons as inspiration for your pedicure? You can coat most your nails in lemon yellow and even paint some small lemons on a few of them! They are guaranteed to look super cute.
5. Pretty in Peach – A Lovely Colour
Sometimes you might have trouble choosing the perfect nail polish colour for your pedicure. You will want to use a colour which exudes the essence of summer. Peach would be a fantastic choice. It's a bright shade which looks bubbly and stylish, making it one of the best colour options for summer.
6. Tiny Polka Dots – Adorable and Effortless
One sort of toenail design you can't go wrong with is polka dots! You can coat some of your nails in a simple colour. Then using this colour add polka dots to the rest of the nails which are coated in a different coloured base. Polka dots are the sort of pattern anyone can create, so even if you aren't great at nail art, you'll be able to recreate these summer toe designs easily!
7. Crazy About Cherries – Summer Pedicure Ideas
Another one of everyone's favourite summer fruit is cherries! These vibrant red berries are not only delicious but look stunning! So it would only make sense to use them in your toenail designs this season. You can coat a few of your nails in cherry. For the rest, decorate them with miniature cherries!
8. Stylish and Stunning – Try Out a Delicate Pattern
Find some awesome pedicure designs for summer. Paint all your nails except for one on each foot in a warm yellow. For the toe, you left out, only paint half of it yellow. Then, create a delicate pattern running down the middle of that toe. It can be something like a vine or a flower. Just check out the example above!
9. Keeping it Simple – Summer Toenail Designs
You don't have to choose anything too fancy or extravagant for your toenail design. Keeping it simple is sometimes the best option you can stick with. So, taking this into consideration, you can create a combination of white and grey toenail designs. You can add some golden streaks, to separate a grey part from a white one.
10. Stripes and Palm Trees – Summer Vibes
We have already mentioned using the shapes of palm trees for your summer toenail designs. After all, the palm trees really channel that summer vibe that you might be looking for. Before adding the palm trees to your toe though, make sure to give the background a unique look, by painting pink, blue and white stripes across it. After allowing this to dry, then it's time to paint the black shadows of the palms.
11. Clean and Cute – Summer Pedicure Ideas
You will have been bound to hear the saying "less is more." So, keeping this in mind, you don't have to overdo your summer pedicure! If you coat your toenails in a simple shade, for example, white nails, we're sure it will look amazing! A great choice is trying out a bright and summery colour.
12. Dazzling in Jewels – Elegant and Fashionable
A fantastic idea on how to decorate and design your toenails would be to add some unique jewels and nail stones to them. You can even try to create gorgeous patterns using these small stones. Feel free to get creative with pedicure designs for summer!
13. Perfect Purple Flowers – Summer Toenail Designs
There are so many ideas on how to create a beautiful toenail design for summer. One of these ideas includes using flowers as inspiration for decorating. Use purple nail polish to create flower petals. You might let the purple petals flow together with the base nail polish to create a gorgeous effect.
14. Sending Lots of Love – Red and White
How about creating a fun and flirty toe design for summer? Use a combination of red and white for the base of the nails. On the white nails, you can paint small red hearts or even try creating lipstick marks. This will look super cute for the season!
15. Elegant and Refined – Summer Toenail Ideas
Perhaps you prefer an elegant and sophisticated nail design over something edgy or cute. How about trying out a combination of pale pink and black for the bases of your toenails? Then you can add small, floral patterns to one or two of your nails. Don't be afraid to add some gold stones as further decoration!
16. Rainbow Shells – Unique and Colourful
Here is another fabulous idea to try out! Have acrylic nails done on your big toes, creating the shapes of shells. Then you can coat the shells in an array of colours, painting them in a complete rainbow. Cover the rest of your toenails in a simple shade of colour, this way making sure that the rainbow shells stand out!
17. Wonderful Watermelon – Summer Pedicure Ideas
As you will have noticed, we have talked about gathering inspiration from summer fruits for your toenail designs! Watermelon is just one of several summer fruits, so why not use its colour and shape for your toenails? It will look wonderful and fresh, which is perfect for the summertime!
18. Delicate Flowers – Sweet and Incredible
Using a floral pattern for your spring nail design for your toes will give it a delicate and feminine look. You might decide to paint small flowers on just one of your toenails, leaving the others coated in a simple polish.
19. Cute Cherries – Summer Toenail Designs
Are you going to be feasting on cherries all summer? Then use this delicious fruit as inspiration for your toenail design. You can paint some cherries on a few toenails, then coat the others in deep red.
20. Blue, Peach and White – A Groovy Combination
Try out a groovy toenail design for summer! Use a combination of white, blue and peach for the colours of the design. You can create an abundance of polka dots on your toenails for a funky look. This will look bubbly and youthful, which is perfect for the season.
21. Beautiful in Blue – Summer Pedicure Ideas
Maybe you'd like your toenail design to symbolise the ocean or the seas. If so, make sure you paint your toenails blue. You can add some glittering jewels to a few of your nails as if rays of the sun were dancing on the waves of the water.
22. A Brilliant Butterfly – The Best Nails for the Season
A beautiful animal you can add to your summer toenail design is no other than a butterfly! Paint one on both of your big toes for a gorgeous look. Make sure that you use warm summer colours for the wings of the butterflies, as well as the rest of your toenails. Using butterflies as inspiration for your nails will look fabulous during the upcoming season.
23. Fantastic in Floral – Fresh and Simplistic
For anyone who is looking for something simplistic, yet delicate and elegant, you might have just found an amazing idea! Naturally, we are talking about trying out a floral design for your toenails. This toenail design would look amazing as an idea for spring nail art as well! Paint small and minimalistic flowers on the big toenails of both your feet. Remember, it doesn't need to be large and flamboyant, you can opt for something simpler. Coat the rest of your toenails in white or light grey polish.
24. Funky in Neon – Summer Toenail Designs
Perhaps you are in search of a nail design for summer which is funky and fun! If this is the case, you might consider using neon colours to create your summer pedicure. Choose two neon nail polishes. For example, one can be neon yellow, the other neon pink. Coat your nails in either of the two shades, mixing them up. Then speckle the yellow nails with pink dots and add yellow dots to the pink nails. This is another easy and fresh toenail design for summer!
25. A Nautical Style – Anchors Away
When it comes to summer, what do you feel inspired by? Perhaps it's the ocean or the boats sailing on the seas. If so, why not use a blue and white striped design for your nails? You can then paint some symbols on some on your nails, such as an anchor or the wheel of a ship. This will look amazing, especially for the summer!
26. Tribal and Wild – Summer Pedicure Ideas
Check out this amazing tribal toenail design! You can use groovy colours to achieve a super stylish look. An awesome combination of colours would be pink, black and turquoise. Create unique geometric patterns on a few of your toenails, to bring that tribal look to life! Try out a toenail design such as this for a summer festival!
27. Creative and Artistic – Beautiful and Stylish
There are so many incredible summer designs you can choose for your toenails. Don't be afraid to get creative and artistic with it, drawing small earthy patterns. You might include random spirals, leaves or petals to create something special and different.
28. Blue Hearts – Great Summer Toenail Designs
Centre your summer pedicure around the colour blue. A fabulous idea would actually be to coat nearly all your nails in shades of blue. Then cover the two big toenails in white. After allowing it to dry, you can paint giant blue hearts on them. Combine a few shades of blue for a unique heart!
29. Modern and Geometric – A Gorgeous Option
Maybe you prefer modern and minimalistic designs over something which is fancy and extravagant. A simple solution for a toenail design is to add a geometric pattern to one toe on each nail. It can simply be a few triangles overlapping each other.
30. A Happy Hibiscus – Summer Toenail Designs
Give your feet a tropical look for the summer, by using a typical tropical flower in the nail design. A great example is to use the shape and form of a hibiscus. This will immediately channel a summer vibe on your feet, which is what you are going for!
We hope that this pick of summer pedicure ideas has helped you in finding something amazing! For other nail designs, such as white nail designs or Nail Designs For Summer, just visit our website.
Advert