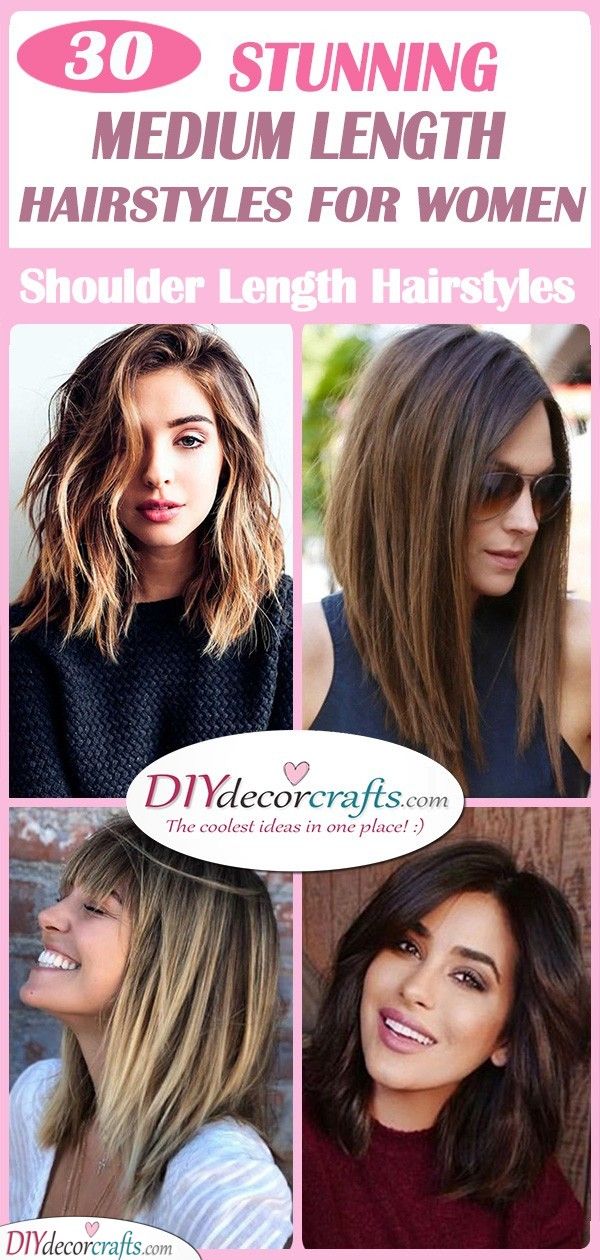 It can be a bit tricky trying to style medium length hair. It's neither short nor is it long. We have gathered a variety of ideas, concerning hairstyles, hair colours and haircuts which can all uplift your look. Whether you are in search of an elegant hairstyle for a fancy dinner party or a casual hairdo for a day out and about in the city, we have all the best shoulder length hairstyles! So take a browse through our collection of 30 stunning medium length hairstyles for women, to find great hairstyle options for any occasions!
1. An Angled Bob – Medium Length Hairstyles for Women
Have you ever found yourself admiring the classic bob hairstyle? But at the same time, you haven't found the courage yet to cut your hair short for it? If you have long or medium length hair, you can always try out a medium length bob. It lends its wearer a look of elegance and sophistication.
2. Wavy Locks – Beach Vibes
Here's a cool look that will make you look youthful and fun-loving, perfect for any season of the year! Use a hair straightener or hair curler and twist your hair into bouncy locks. You will look as if you've just come from the sandy shores of the beach!
3. Waves with Bangs – Hairstyles for Medium Length Hair
If you've been looking for a new and bold look, why not try out bangs? Getting bangs is like making a statement and expressing yourself. You give yourself a warm and cute appearance, not to mention if you're in the mood for partying you can also make your hair look edgy and fun. Curl the rest of your hair into loose waves for a super cute look!
4. Ginger Hair – A New Colour
If you're thinking about creating a bold look for your medium length hair, why not try out a new colour? Dying your hair red or ginger will give you a unique glow and will be sure to turn heads! Then it's up to you how to wear it! Giving it waves or leaving it straight, both are sure to look fantastic!
5. A Shaggy Medium Haircut – With a Few Highlights
Are you going for a more natural and shaggy look, that will be perfect for summer festivals? How about cutting your hair medium length and adding some highlights to the ends of your hair. Remember to go for a more natural colour so the highlights match your natural hair tone. Then curl the rest of your hair into messy waves and you're done!
6. An Inverted Bob – Elegance with a Wild Side
As we mentioned before, bobs are always a great look, because you can wear it for an elegant event, but it's also perfect for parties as it has an edgy side to it. If you have decided on sticking with a bob, consider getting bangs with it. You can also try out an inverted bob, which means the tips of your hair curl inwards instead of outwards. Try a brunette hairstyle for the summer!
7. Choppy Layers – Awesome Shoulder Length Hairstyles
If you would like your hair to be full of texture and volume, consider going for a choppy cut. Layers always add dimension to the hair, not to mention they make your hair look a lot thicker than it actually is. This is a great and youthful look for any time of the year!
8. Chin Length Bob – A Quirky Look
Have you been considering cutting your hair and bringing a drastic and unique style to your look? Then maybe a chin-length bob is the way to go with bangs! It's a timeless look that is easy to style, making it easy to work with.
9. Long Layers – With a Curtain Fringe
Have you always dreamt about having windswept hair with romantic layers? Then here's a great choice for you! Adding layers to your hair and curling the strands of hair individually will add some texture and volume to your hair. You can also try out a curtain fringe, which looks super good with hairstyles for medium length hair.
10. French Bob – Beautiful Shoulder Length Hairstyles
We've talked about bobs, but not French bobs. French bobs are definitely a bit on the messier side, they aren't perfect and straight, a few strands might be a bit longer than other ones. French bobs are guaranteed to give you a lively and youthful vibe, making them perfect for casual events or summer festivals.
11. Loose Waves – Hairstyles for Medium Length Hair
Are you into hairstyles that are more casual and simple? Then give your medium length hair loose waves! Use a hair curler or straightener to achieve this, and use a bit of hairspray to make your waves stay in shape. Natural-looking waves will give you a lovely glow!
12. Layers and Bangs –

Medium Length Hairstyles for Women
Do you have thick hair and have trouble styling it? Here's a simple haircut that will add a bit of texture and volume to it! The trick is to add longer layers to your hair, giving it a bit of life. Don't be afraid to try out bangs either, as they have become extremely fashionable again!
13. A Bold Colour – Unique and Daring
Bright yellow is a very unique colour, especially when it comes to hair, so if you've been thinking of trying out a bold colour for summer, then here's the opportunity to do it. If your natural hair tone is a rich brown, then this colour will go perfectly with it! Dye the bottom half of your hair bright yellow, giving it a daring and fun glow! This will make a perfect medium-length hairstyle for teens!
14. A Layered and Cute Haircut – Shaggy and Trendy
Are you looking for a somewhat retro hairstyle, that isn't on the sleek, safe and straight side? Get an abundance of layers cut in your hair, and don't forget to include bangs! Go for messy and shaggy hair, this is perfect for an everyday look, to which you can add a headband or a cute bow.
15. A Long Bob – Stylish and Sleek
Are you in search of a haircut that will be great for not only work but fancy events and parties as well? Go for a long bob, it's sleek and stylish. You don't necessarily have to part it in the middle, you can part your hair on one of the sides and add a side fringe!
16. Retro Glamour – Hairstyles for Medium Hair
Do you ever watch TV series or movies made in the retro period and do you ever find yourself admiring the glamorous and feminine style of the actresses? Why not have your hair cut in a retro, slightly messy bob? This is great for women who have fine hair, as it adds a bit of volume to your hair!
17. Long Bob With Full Bangs – Shoulder Length Hairstyles
Here's a glamorous and fabulous look, perfect for any day of the week! A long and sleek bob with full bangs will definitely be a hairstyle to catch all eyes. This is a great choice if you already have straight, thicker hair, you feel as if it's lifeless and boring, and you're not sure what do to with it.
18. Emo Haircut – With Some Purple
Everyone was obsessed with the emo style, whether it was cool checkered clothes or those awesome hairstyles. If you still love this style of fashion, why not go for a hairstyle which is reminiscent of it? A shorter haircut with layers and a side fringe. You can spice it up with a unique colour, for example, purple.
19. Straight and Sophisticated – Shoulder Length Hairstyles
Get an immaculate and stylish haircut, that will make your hair look healthy and elegant! Part your hair in the centre and have your hair cut evenly at your shoulders. This is a great hairstyle if you have straight and thick hair!
20. A Messy Bun – Hairstyles for Medium Length Hair
Everyone loves high buns, but what about a low bun, which brings a sense of elegance and sophistication with itself? If you have shoulder length hair, then you can easily twist your hair into a refined low bun, this is perfect if you're going to a classy event or to work.
21. Great Hairstyle for Thick Hair – Unique Ideas
Thick hair can be a bit hard to play around it, it's hard to style and sometimes looks a bit lifeless. So breathe a bit of life into your hair, and get an edgy haircut! Have your hair layered somewhat, mostly towards the ends. Then get full bangs for a beautiful glow! If you don't want to leave it straight and sleek, give your hair a few natural waves with a hair curler, and elevate it with hairspray.
22. A Rockstar Look – Shoulder Length Hairstyles
Are you looking for fun and youthful haircuts for medium hair? This one exudes rockstar vibes! Have your hair cut at shoulder length and layered a bit in a fun and messy way! Part your hair at the side, and create a side fringe as well. To give it volume backcomb your hair a bit and blow some hairspray on it.
23. Natural Waves – For a Natural Look
If you have shoulder length hair and would like to spruce it up a bit, use a hair straightener or curler to add some natural-looking waves to your hair! It will look as if you've just come from the beach! If you want to add a bit of glow and colour to your hair, get some highlights as well, or try out an ombre style of dye!
24. An Angled Bob – Medium Length Hairstyles for Women
Are you thinking of bringing a bold and drastic change to your hair? Why not have it cut in an angled bob? This means that at the back it's shorter and at the front, your hair is longer. You can also try dying your hair in an awesome and daring colour, for example, eggplant is becoming trendy!
25. A Long Angled Bob – Fashionable Haircuts for Medium Hair
Getting a bob doesn't necessarily mean going completely short! If you have long or medium hair, you can still get an angled bob, which will give you a sense of elegance and class. It's a perfect hairstyle to any event and you can play around with it, put it up in a bun or braid it.
26. Cool Ginger – Fabulous Medium Length Hairstyles for Women
In search of a daring and exciting new hair colour? How about the colour of fire? Get your hair dyed ginger or red, this will definitely give you an edgy and unique look! This hair colour will look awesome with medium length hair!
27. Shades of Purple – Unique Colours
Another awesome hair colour is purple! It's not something you usually see around on the streets, so it will be guaranteed to be eye-catching! You can try out a variety of purple shades to get an array of uniqueness!
28. Icy Blue – Cool Hair Colour Ideas
Another great hair colour is blue or turquoise. Of course, this is a rather bold choice, but if you like to express yourself with your hair, this might be a great choice for you. It's perfect for festivals and summer, giving you a fun and lively vibe. This will make a cute summer hairstyle!
29. A Retro Look – Shoulder Length Hairstyles
Here's yet another awesome and messy bob for anyone who is in search of hairstyles for medium hair which screams retro and youthfulness! Part your hair at the side and make sure to have a side fringe cut as well to go with this retro look!
30. Backcombed Bob – Medium Length Hairstyles for Women
To lift your hair a bit and give it some texture and volume, use a backcomb and some hairspray! No matter if your hair is shoulder-length, longer or shorter, backcombing your hair is the trick to making it look more thick and groovy!
We hope that these stunning medium length hairstyles for women have been able to give you some inspiration on how to style your own hair!
For more ideas on hair, for example, Hairstyles for Medium Length Hair or Medium Length Haircuts for Thin Hair, go and take a look at our website!
Advert