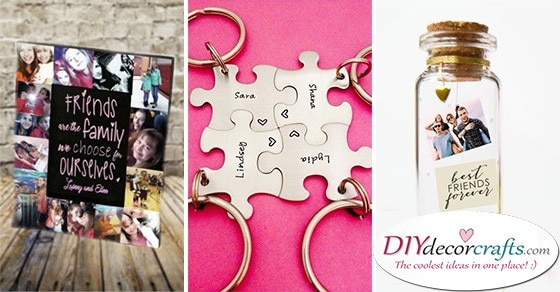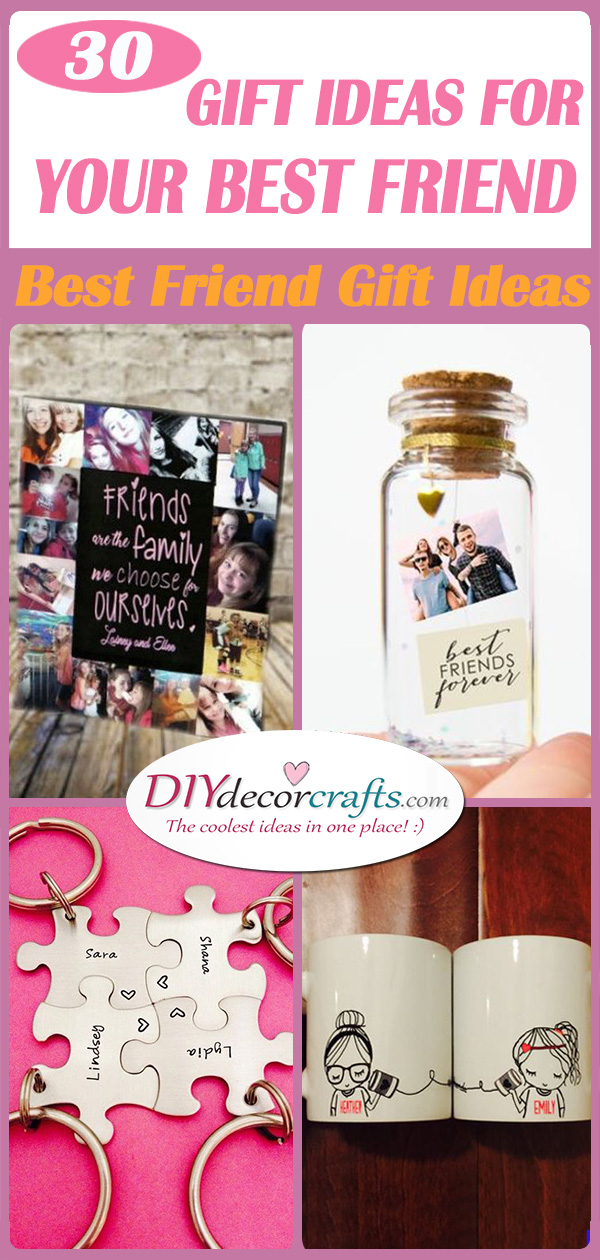 There's a saying that best friends are like four-leafed clovers, hard to find, but lucky to have! We have to agree with this quote because without our best friends, we wouldn't be able to get through the hard times of our lives and we wouldn't have anyone to share the best moments with either! It's important to let your best friend know how much you love them and care for them! Sometimes giving them a small gift, showing that you thought about them will completely brighten up their day! We have collected 30 present ideas for your best friend, so if you're thinking about expressing your love and gratitude towards them, don't hesitate and find them the perfect gift!
1. Polaroid with a Quote – The Best Gift Ideas
Best friends deserve the best sorts of presents! Let your best friend know how much they mean to you. Create a picture which has a scrapbook feeling to it. Stick a polaroid on it of the two of you, a few stickers, write a quote, it's really up to you how creative you'd like to get! Then stick this in a frame and present your friend with it! They will be able to put it up on their wall or bedside table!
2. Adorable Mugs – Great Gift Ideas for Your Best Friend
There are so many ways you can lighten up your best friends day. How about gifting them a mug, which has a drawing of the two of you on the front of it? You can have a quote or one of your sayings written up on the back of the mug, just to make it even more personal!
3. Friends Inspired Board – Gifts for Friends
If you and your best friend grew up on Friends together, make sure you use the TV series' logo as inspiration for the present! You can design and decorate a wooden board, with a picture of the two of you and a few supportive words.
4. A Jigsaw of Keychains – Matching Gifts
Here's a super cute idea, especially if you have a close-knit group of best friends. Get jigsaw keychains for everyone, making sure if they are all together, they fit perfectly with each other! You can have everyone's names engraved in the pieces of the puzzle, this way everyone will have matching items!
5. A Scrap Book – Filled with Memories and Nostalgia
Scrapbooks are an awesome gift to give, no matter what the occasion is! It takes a long time, to put everything together in a scrapbook. Collecting pictures of fun times, gathering motivational quotes and sticking all sorts of decorative papers and stickers inside are just a few of the things you need to do to create a scrapbook! Even though it takes a long time to make, it's completely worth it, because by the end of the process it will be a book of your friendship, a timeline of your relationship!
6. Snacks for Movie Night – For Any Occasion
If your best friend has had a bad day or is feeling a bit down under the weather, make sure you cheer them up! This can be with a simple gesture, taking some snacks over to their place and watching a movie together! Get all their favourite snacks, maybe include a few of your baked goods in there as well. By the end of the movie, your friend is guaranteed to be feeling a lot better!
7. Brighten Up Their Day – An Array of Snacks
If your best friend is having a bad day, make sure to bring a bit of sunshine into it! Arrange sweets and snacks, wrapped in gold or yellow paper, in a mason jar. You can attach a note to it, which reads "a little something to brighten your day." Then all you need to do is give it to your friend! This will definitely put them in a better mood!
8. A Bath Bomb – For a Bit of Relaxation
Bath bombs make a great gift for anyone who seems to have stressful days! All they need to do is throw the bath bomb into a hot tub of water and the gates of relaxation have opened in front of them! You can tie a small tag around the bath bomb that reads "you're the bomb!" This gift will be much appreciated by anyone who needs a bit of time to themselves!
9. A List of Reasons – Personal Presents for Your Best Friend
If you're thinking about giving your best friend something more personal, you'll love this idea! Cut out small slips of paper. The point is to write down reasons why you love your best friend, and why you're grateful for their being in your life. Write up as many reasons as you'd like, then arrange them to make it look like a small booklet!
10. A Deck of Cards – With a Twist
Here's another great idea for how to write up reasons why your best friend is your best friend! Use a deck of cards, writing short messages or things you'd like to say thanks for on each card. Then arrange these in a small booklet, so your friend will be able to flip through it easily!
11. A Real Treasure Box – Filled with Memories
A great gift idea is to present your best friend with a box filled with shared memories. You can string polaroids across the top of the box, and fill the inside with quotes, short messages or just some fond memories which you have shared over the years of your friendship. This is something your bestie will be sure to love!
12. Friends are Our Family – Presents for Your Best Friend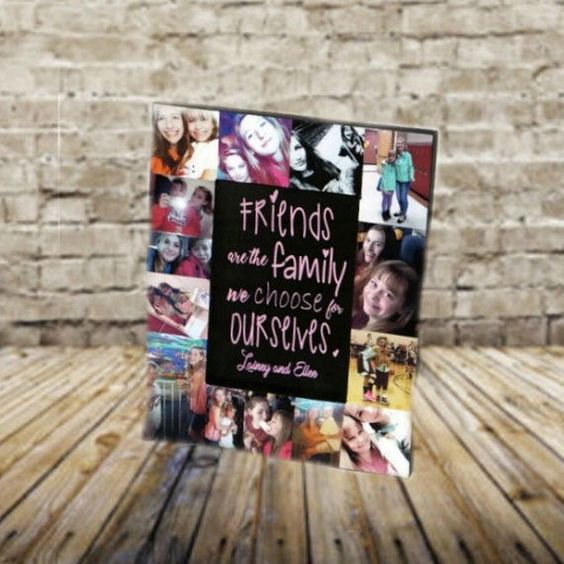 Friends are the family we choose for ourselves! Write this in the middle of a frame, while you decorate the edges with pictures of the two of you! Your best friend will be able to put it up in her room and use it as a great source of decor.