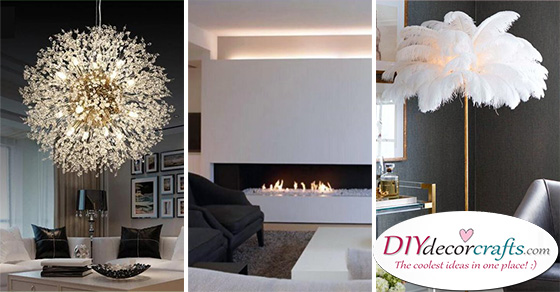 Are you considering renovating or refurbishing your home? One crucial detail you will have to think about is lighting! Lighting installations will assist you in being able to see clearly during the evenings and nights. But it will also set the mood! So, if you are in the middle of redesigning your living room, don't forget about the lighting installations! You may be looking for something simple and clean or lighting that brings an elegant ambience to the whole room. Naturally, you will want to make certain that the lighting fits the style of the room as well! Keeping everything in mind, check out our pick of 20 modern living room lighting ideas. With the help of these modern chandeliers for living room installations, you should be able to find some inspiration for your home!
1. Innovative Indirect Lighting – For the Ceiling
You might have heard of indirect lighting! It has become a very trendy way of adding lighting installations to a home! Indirect lighting consists of the source of light being hidden behind something, such as a fireplace design. The light is reflected from areas close to it, hence it's named, indirect lighting. Thanks to the reflection, the light is dimmer and more ambient. These are the perfect sort of modern living room lights to use around your space. Especially if you'd like to highlight, for example, the area between a ceiling and a shelf.
2. An Art Deco Chandelier – Modern Chandeliers for Living Room
If you have always adored art decor style in home design, then here is a source of lighting you'll love! A modern chandelier that uses classic shapes to achieve a stunning new look. This chandelier is put together of three tiers, with an abundance of glass or plastic pendants hanging down. The shape of the chandelier will definitely lend your living room a unique sort of atmosphere. If the light of your chandelier isn't bright enough, you can make certain to add a few other sources of light. This can consist of spotlights or some lamps placed around the living room.
3. Illuminate Important Areas – Stunning and Stylish
While it is important to find the right design of lighting for your living room, there is something else you'll have to take into consideration. This is no other than the area you'd like to illuminate in a pool of light. Find the areas of your living room which are the most important. For example, this may be the seating space with the addition of a coffee table. Or it may be some bookshelves that have decorative elements on them. Either way, make certain that you direct some sort of lighting towards these areas!
4. The Wagon Wheel Chandelier – Modern Living Room Lighting
Here is a gorgeous lighting design for anyone who would like to incorporate a rustic element with a modern twist on it. Install a modern chandelier hanging from the ceiling that is made in the shape of a wagon wheel. Made of metal, the hoop will have flameless candles arranged on top of it. These flameless candles will provide a bright glow for your living room. A wagon wheel chandelier, such as the one above, will definitely become a centrepiece of your living room! It would also look beautiful as a bedroom lighting installation!
5. A Ball of Light – Amazing and Intricate
Maybe you are in search of a source of lighting, that will draw the gazes of guests to itself immediately! You will be able to achieve this in no time with a stunning lighting instalment, such as the example above! A ball of light, with led lights carefully placed in plastic or glass branches spurting out from the sides. The glass or plastic branches will carry the glow of the light with itself, creating an even brighter and magical image! So, if you'd like to give your living room an enchanted look, then give this light design a try!
6. The Modern Farmhouse – Living Room Light Fixtures 
Are you trying to find sources of lighting that will fit right into your living room, that embodies a modern farmhouse style? For your lighting to complement the rest of your living room, you will want to find something made in a similar design. Farmhouse decor or furniture is usually quite simple and will most likely remind you of an actual house on a farm. So keeping this in mind, you might just want to install a few metal wall lights on one of your walls.
7. A Fantastic Combination – Floor Lamps and Spotlights
When you are choosing the lighting instalments for your living room, you don't necessarily have to stick to only one kind. A few types of lighting arranged carefully in your living room will help in highlighting all the important areas. As well as shining light towards spaces which you use regularly and would like to be able to see while sitting or standing there. A great idea would be to use a combination of floor lamps and spotlights across the room. Spotlights are an incredible way of directing intense light wherever you'd like. Floor lamps are fantastic because you can move them at any time you need.
8. Fan or Light – A Practical Solution
Do you live in a region that gets hot and humid over the course of summer? It might even feel like those long summer days are unbearable, thanks to the heat. Well make sure that you don't only install a good source of modern living room lighting in your home, but a fan as well! While circulating the air in the room, a fan with a light installed in the middle of it will ensure that you keep cool and refreshed even during summer. As well as illuminating the room in the light!
9. Wonderful in Waves – Modern Chandeliers for Living Room
There are a number of unique designs of led lights. Perhaps you are in search of a way to spruce up your room or give it a modern touch with the help of lighting. So instead of opting for a plain design when it comes to lighting, go for something groovy! For example, you can install a ceiling light in your living room, that has waves of led lights encircling its base. A light such as this will be sure to catch anyone's attention who steps into your living room!
10. Fun and Fabulous – Getting Creative with Lighting
As we mentioned before, you don't have to use only one sort of lighting throughout your living room. Try mixing and matching things for a fun and fabulous vibe! Of course, you will want to make sure that the lighting instalments match the whole vibe of the living room. So if you decide on choosing wall lights or standing lamps for living rooms, make certain that they fit the ambience! Or you may choose to add some candles around the room, placed in gorgeous lanterns for a cosy atmosphere!
11. Bursts of Colours – Modern Living Room Lighting
One certain way you may think about trying out is the colour of your lights. Nowadays, thanks to modern technology, you will be able to install lighting that has lightbulbs that can change colour. Depending on what sort of mood you're in, or what sort of ambience you'd like to set in your living room, you can choose the colour for the lights with a simple click. This may come in the form of indirect lighting, ceiling lights or wall lights. Whatever you choose, we're sure your living room will look fantastic!
12. Redesign the Whole Ceiling – Amazing and Awesome
A tendency we seem to commit to is that we forget about our ceilings. We leave them looking completely plain, without adding any sort of decoration to them. But instead of only installing one ceiling light, how about you go for a whole design of lights? You can add a set of indirect lighting to your ceiling in unique shapes. For example, you can form geometric patterns with the lighting on your ceiling! Trust us, by installing lighting such as this, your whole living room will gain a different and unique look!
13. Floating Pendant Lights – Magical and Serene
If you'd like to channel a bit of magic in your living room, then check out this idea! Install a set of pendant lights, hanging from your ceiling. But instead of choosing plain lighting or simple light bulbs, use ball lights instead. An abundance of ball lights hanging in the middle of your living room will look like stars floating in the night sky! Living room lighting such as this will make the space feel almost ethereal!
14. Circular Ceiling Light – Modern Living Room Lightings
There are so many types of living room light fixtures. But maybe you aren't in search of something super fancy that is too decorative for your taste. So, you might be looking for a light source that is more on the simple side of designs. Here is one idea that will help you out, not to mention it will also provide sufficient light in the whole room. It's a simple and circular led light installed on any ceiling. This would also be a great choice for a home office design! Depending on how big your living room is, you can get either a smaller or larger circle ceiling led lighting.
15. Bohemian Environment – Modern Chandeliers for Living Room
Is your living room designed to channel a bohemian vibe? Maybe you have a lot of bohemian decorations laid all across the room. If so, you may be in search of something a tad bit more simple that will fit the environment nonetheless. How about installing a simplistic chandelier, that isn't extra at all. You will be able to place candles in the arms of the living room chandelier, or for a safer option opt for flameless candles!
16. A Contemporary Floor Lamp – Modern Living Room Lighting 
We've already talked a bit about adding a floor lamp to your living room! The great thing about lamps is that you don't actually need to install them in your wall or ceiling, you just have to plug them in and they'll light up. And if you feel like you need to change and mix up your surroundings, you'll be able to move your floor lamp at any time you'd like, to wherever you'd like. In conclusion, using a floor lamp is easy and simple! Just make sure to find one that fits the vibe of your living room!
17. Modern and Refined – Modern Chandeliers for Living Room
Maybe you have been looking for a type of lighting that will bring an essence of elegance with itself. Especially, if your living room is already designed in a refined and stunning style. How about trying out a modern version of a chandelier? It doesn't have to resemble old-fashioned chandeliers at all, it can use contemporary yet sophisticated shapes. You can try finding a modern living room chandelier, that is made out of polished metal, as this will emphasise the elegance of the living room.
18. Marvellous Multicolours – A Vibrant Design
Perk up the mood in your living room with some colourful led lights! You can use light strips to place them underneath your coffee tables or on the ceiling, to create a source of indirect light. If you get smart led lights, you'll be able to change the colours of lights at any time. Thanks to this, you'll be able to change the mood of the room immediately.
19. Full of Funk – A Boa Floor Lamp
Are you in search of some funky and sensuous standing lamps for living rooms? Get yourself a boa floor lamp! The feathers on top of the lamp will definitely help create a unique sort of light in your living room. This is a perfect choice for anyone who wants to spruce up their modern living room lighting a bit with a groovy vibe!
20. A String of Lights – Modern Chandeliers for Living Rooms
For a welcoming and inviting atmosphere, you may consider adding a string of lights to your living room. String them across one of your walls or around furniture. This will definitely create an adorable way of lighting up a room! Not to mention, it's an easy and effortless piece of decor for your apartment living room, not only a source of light!
We trust that this pick of 20 modern chandeliers for living room has helped you find something amazing! For other home designs, besides modern living room lighting ideas, such as modern home bar ideas or kitchen cabinet lighting, just visit our website!
Advert