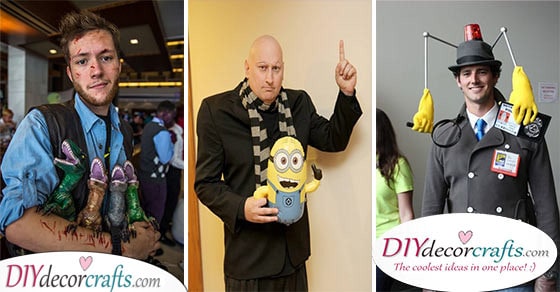 The season of Carnival is just around the corner! It's a period of time which is filled with fun and all sorts of games. Carnival is an event, which is especially popular in Europe. People get dressed up in various costumes and go on amusing parades or go to exciting parties. Perhaps you have been invited to a Carnival event. This means you will need to find an outfit. If this is the case, then don't worry about not being able to find the perfect costume! Look through our collection of 30 Carnival costumes for men! This way you will be sure to find some Carnival costume ideas for any guy out there!
1. The Invisible Man – A Unique Idea
Are you in search of a unique and interesting costume? If so, make sure to check out this invisible man idea! The trick is to cover your whole body up in clothes, pulling a pullover over your head. You will have to stuff your shoulders with some sort of material, lengthening the shape of your body. Another thing you will need to do is attach a thin stick coming out of your neck. You should be able to attach a pair of glasses and a cap to it, creating the "invisible" touch.
2. Become a Royal Baby – Funny Carnival Costumes for Men
Become a royal baby for Carnival season! This costume is super easy and simple to create. You will need a cut-out paper head of a member of the royal family, which you will attach behind your head. Then, place a baby carrier on the front of your body, with a doll's legs sticking out but your head popping out! This will create an illusion, that you are in the baby carrier, while a member of the royal family is carrying you.
3. Cut in Half – Create an Illusion
Freak out a few people at Carnival by juping into this "man cut in half" costume! You might be looking at this picture, trying to figure out how this costume is put together! If you like it, why not try it out for Carnival season? We're sure you will stun a whole lot of people! There are loads of tutorials online on how to create this, so it will be fairly easy to find something!
4. Harry Potter and Dobby – An Overload of Cuteness
Dress up as Harry Potter for Carnival! If you have a kid that will be even better! Dress them up as Dobby and hold them in your hand! This family Carnival costume is cheap and easy to create. You will need a pair of round glasses, a red lightning bolt running across your forehead, a wand and a black cloak serving as the uniform.
5. Chef Linguini – Inspired by Ratatouille
Did you love the movie Ratatouille? Then make sure to use it as inspiration for your Carnival costume! Dress up as chef Linguini from it! Then place a cut-out figure of the rat, Remy, in your chef's hat. By also placing a string of fairy lights inside the hat, you will be able to light up the cut-out figure. This way, creating a silhouette of the master chef rat!
6. Standing on Boxes – Great Carnival Costumes for Men
If you are a tall guy, then why not use your attributes in a hilarious way? Create a costume for Carnival season, which will make it look as if you were standing on two boxes, trying to look tall. You will have to attach the boxes right below your knees and also place some shoes on the boxes, right where your knees are!
7. A Piggyback Ride – Fun and Hilarious
Want to go on a piggyback ride? Then make a Carnival costume which creates the illusion that someone is carrying you! You will need a pair of stuffed legs coming out at the sides of your actual body, as well as a torso of doll which will appear to be giving you the piggyback ride.
8. Half Man and Half Woman – Unique and Artsy
Now here is a spectacular costume which will look perfect for Carnival season! Dress up half as a man, and half as a lady. This doesn't only include the clothes you wear, but also the makeup you put on and the way you style your hair. A costume such as this will prove to be a difficult task to put together, but it's totally worth it!
9. Jurassic Park – Carnival Costumes for Him
Feeling like a character of Jurassic Park? Then make sure to create a Carnival costume, which will look like you are a part of the dinosaur world. You can grab a few plastic toy t-rexes to hold in your arms, which will accentuate the whole dino look.
10. A Gru Costume – Perfect for Carnival
If you are bald, don't worry about it! There are so many fantastic costumes you can pull off without any hair! For example, the supervillain Gru, from the movies Despicable Me, is a perfect choice to dress up as! It's easy to put together as you only need black clothes and a striped scarf! You can also hold a Minion plushie in one of your hands.
11. Launching Off – Jetpack Idea
Create a costume which is all about launching into the air! This is the jetpack costume, which is about creating an illusion with your feet. Add layers of fiery coloured fabric to your feet, which will look like fire coming out of the jetpack. You will have to add a pair of stuffed jeans or pants to the front of your costume. This will help add to the illusion that you are launching off into the air!
12. Taking Care of the President – Cute and Funny
Are you still in search of a creative costume for Carnival season? Then check this one out! Dress your baby or toddler up as the President, while you, the dad, can dress up as a bodyguard. This means wearing a suit and some cool sunglasses, while the baby's Carnival costume should be in a stylish suit! You can even create a small box to place your baby behind as if they were preparing to say a speech.
13. Wonderful as Woody – Easy and Creative
Become the Toy Story character no other than Woody! Dress up as a cowboy, getting the yellow-red checkered shirt and a vest which has a cow-skin pattern on it. Also, make sure to get a cowboy hat to complete the look! You can write "Andy" on one of the soles of your boots as a finishing touch.
14. The Flintstones – Carnival Costumes for Men
Everyone loves the Flintstone family! If you adore them as well, why not choose a prehistoric character from them to dress up as? The costumes are fairly easy to make. Just try finding a tutorial online to help you create them by yourself! You can include your girlfriend or wife in it by getting her a Carnival costume for women.
15. The Baby – And the Grandma
Here is another creative costume that creates an illusion of being something different than it actually is! Create a grandma carrying a baby on her back. Place a baby's bonnet on your head, attaching a stuffed onesie of a baby on your back. Check out a few online tutorials on how to create this funny costume for Carnival!
16. Going Home – With E.T
You might be familiar with E.T, a movie which has become a huge part of pop culture! If you like this movie, use it as inspiration for your Carnival costume! All you need to do is hop on a bike in a red hoodie, and put a plushie of E.T inside the front basket of the bicycle.
17. Censored with Pixels – Funny Carnival Costume Ideas
Perhaps you are in search of a last-minute costume for Carnival? Then make sure to take a quick glance at this idea! It's super easy to put together! All you need is a piece of cardboard which you will have to hold in front of yourself. Paint small squares on the cardboard, creating a pixelated effect. Use only nude colours for this! When holding it in front of your body it will look as if you were naked and censoring your body!
18. Blown Away – Creative and Unique
It can sometimes prove to be a difficult task to find the perfect costume. After all, you'd like something creative which is funny at the same time. We recommend trying out a man who is blown away by a storm. Hold an umbrella which is turned inside-out. You can sew a few strips of fabric to the costume as if the storm were blowing pieces of trash onto your clothes.
19. A Hot Priest – Looking Divine
Here is another great Carnival costume! Dress up as a priest! Wear a cassock costume, which is the clothing worn by the clergy. You can hold a Bible in one hand, adding that final touch to your costume.
20. Ace Ventura – Funky and Vibrant
Here is another fabulous Carnival costume you can recreate! Dress up as Ace Ventura, the animal detective. Wear the same sort of vibrant and vivid clothes he would! Also, make sure to style your hair in the same way!
21. A Slimy Slug – Leaving a Trail
Become a slimy slug for Carnival! Wrap yourself up in a towel or some sort of brownish fabric. Then create the two eyes of the slug, attaching them to your head. You can fixate a plastic bag to the bottom of your costume, creating the image that you are leaving a trail behind yourself.
22. The Calendar Costume – Carnival Costumes for Men
Become the sexy fireman you see on calendars every year! Attach a calendar to your head, using the body of a sexy fireman on the calendar as your own body. Just check out the example above on how to do this!
23. A Detective – Fantastic and Fabulous
Here is a cool detective costume for Carnival! Dress up in a sophisticated jacket, adding gloves and a fedora hat to your whole look. Attach metal or plastic hands reaching out from your hat. The ends of the rods should have rubber gloves on them, one holding a magnifying glass while the other hand should be holding a police badge.
24. A Present from God – Hilarious and Clever
Make sure everyone has a great laugh during Carnival by wearing a hilarious costume! Put yourself in a box, covering it with wrapping paper and ribbons. You should cut out a space for your neck, your legs and your arms. Then add a tag to the front of it which reads "to: women, from: God."
25. Filtering Your Photos – Carnival Costumes for Men
Are you trying to find a costume for couples? This one is easy and extremely funny! Have you and your girlfriend dress up in the same clothes. Then simply attach a board to both of your bodies. The one on your girlfriend should say "#filter" and the one on you should say "#nofilter." This will definitely draw a smile on anyone's face who sees the two of you!
26. A Game of Twister – Have a Good Laugh
Become a board of twister for Carnival! This will create a funny situation to get people to touch you! Attach big twister dots onto your white clothes to create this look! It's easy, simple and fun!
27. The Tooth Fairy – Humorous and Odd
Dress up as the tooth fairy for Carnival! Wear all white clothes, a tulle skirt and a white t-shirt that has a tooth drawing on it. You can include a pair of wings in your costume as well as a tiara and a wand! This is a great Carnival costume for guys.
28. Keep off the Grass – Stoned and Happy
Now, this costume is only for guys over the legal age! Dress up as a pot plant, the pot plant containing marijuana. The main colours your costume will have to incorporate are brown and green!
29. One Night Stand – Carnival Costumes for Men
Here is another hilarious costume, which is a play on words! Dress up as a one night stand! While we all know what this means, take it literally, dressing up as a nightstand! Your head can function as the lamp on the table. 
30. Stick Figures – Easy and Simple
Dress up as a stick figure! If you dress up in all white, you will be able to create a stick figure out of yourself. Use duct tape to create the lines of your body and also create a mask for your costume, just like in the picture above.
We hope that this pick of Carnival costumes for men has inspired you! For other ideas concerning dressing up in costumes check out our Carnival costumes for kids or face painting for parties ideas.
Advert