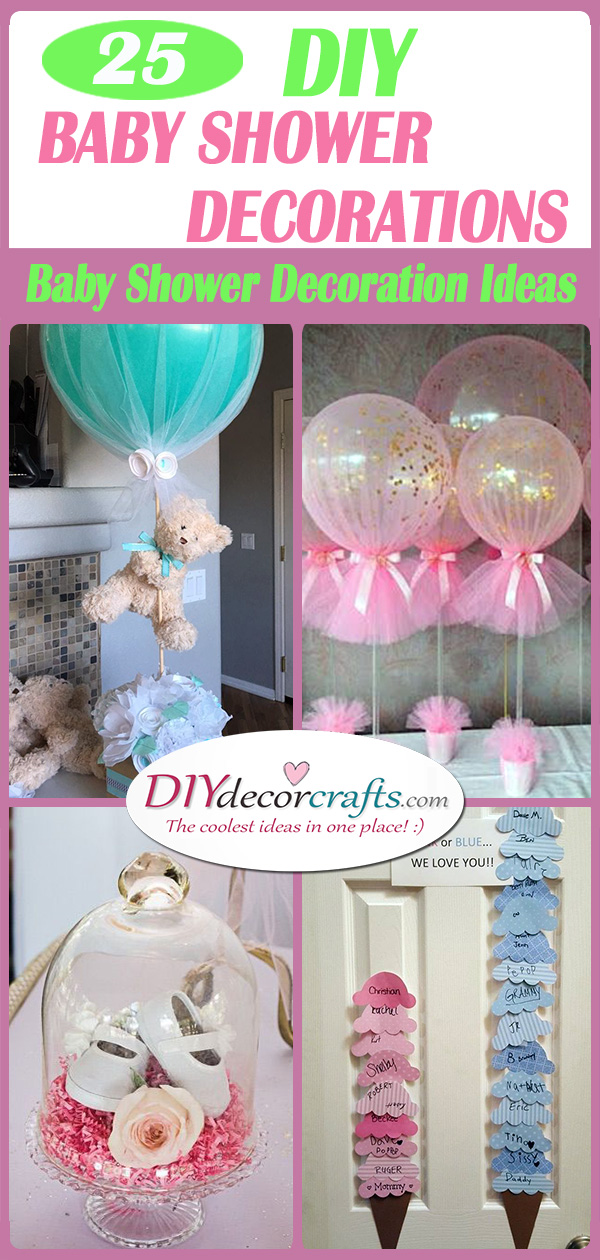 Are you getting ready to throw a baby shower? This celebration is one of expecting a new life, which makes it all the more special! There are so many elements you have to pay attention to while planning a baby shower. Not only is the cake important and the theme of the party, but another thing you have to look out for are the DIY baby shower decorations. Depending on what theme the party will embody, you will want your decor to match that. We have gathered 25 baby shower decoration ideas, to make your job a bit easier, in finding the perfect decor! So take a look through our pick of ideas!
1. A Multitude of Balloons – Fun and Gorgeous
If it's a party, it calls for a whole multitude of balloons! Besides getting your standard set of balloons, which you can string or attach to other elements of decor, why not consider getting letter balloons? You can spell out something with letter balloons, for example, the name of the soon-to-arrive baby or just simply "baby." According to what gender the baby is going to be, make sure your balloons are coloured in either a shade of blue or pink tones.
2. Hot Air Balloon – Up and Away
Here is a super cute idea that is perfect for any baby shower! Create hot air balloons out of blown-up balloons, which are covered in some thin fabric. Attach the balloons to a stick, which stems out from a small box. To take it up another notch, attach a teddy bear to the stick as if it were enjoying a ride on the hot air balloon. Naturally, you can colour code this piece of decor, according to the gender of the baby is going to be. But you can keep them as unisex baby shower decorations as well!
3. Baby Shoes – Breathtaking Centrepiece for Your Shower
Take your guests breaths away with this beautiful centrepiece, which is a perfect ornament for any baby shower. Fill a glass case with small vibrant streamers, which may be coloured according to the gender of the soon-to-arrive baby. Place a few flowers in this glass case as well, finally topping it all off with a pair of baby shoes. Use these glass cases as table centrepieces for your baby shower. They will be sure to create a beautiful atmosphere.
4. An Array of Sweets – Baby Boy Shower Decorations
If you are expecting a baby boy, make sure to colour everything in shades of blue! This also includes a variety of sweets and snacks you will be serving your guests. If you love to bake, you will be sure to make a lot of tasty food for the baby shower. Use blue food colouring for the baby shower cake or any sort of cream or glaze you might be piping on cupcakes and cookies. These outstanding blue treats will make your guests certain in the fact that your baby is going to be a boy! This is a great idea if you are holding a gender reveal party!
5. Pretty in Pink – Beautiful Balloons
If you are hosting a party, one piece of decor you will need to include are balloons. A party without balloons is not a party! Don't stick to plain balloons though. Decorate them with a few ornaments to make them glow. Wrap and cover them in sheer fabric, tying a ribbon around the end. Then attach them to small pots or weights, this way your helium-filled balloons won't fly away! Place these anywhere around the venue of the baby shower.
6. Adorable Elephants – Baby Shower Decoration Ideas
If you are looking for cheaper solutions on how to decorate your baby shower's venue, look no further! Maybe you have been thinking about decorating your shower in an animal theme. If so, why not create small and adorable paper elephants? You can easily make these at home, not to mention they really are super cheap! All you need to do is find a cool patterned paper, and cut out figures of elephants. Attach these paper figure to sticks, and place them in mason jars or vases around the venue. You can combine them with flowers, which will give your decorations an additional spark.
7. A Bit of Rain – Perfect Ideas for Baby Showers
Create a bit of a play on words. If you are giving your guests goodbye presents, write up on each bag one letter of "baby shower." Above this set of gift bags create big fluffy clouds, out of cotton wool or balls of ripped paper.  From the clouds, stream down pieces of paper, which resemble raindrops. This way, you will be creating an actual shower of rain. This way your baby shower will be an actual shower of goodness and fun!
8. Floating Rubber Ducks – DIY Baby Shower Decorations
Here are fabulous unisex baby shower decorations concerning rubber ducks! Little kids love to play with rubber ducks in their bathtubs, it's amazing for them to see something floating on water. Combine this idea of rubber ducks floating on the surface of the water with an idea for an ornament! Fill up a glass bowl with water, adding a bit of blue dye or food colouring to it for that more vibrant glow. Then simply place a few rubber ducks inside the bowl, so they can float around in circles. This is an especially great idea if you have already decided on using ducks in your baby shower decor!
9. DIY Tutu Cake Stand – Cute Decor Ideas
If you are expecting a girl, you will want to have a similar style of decor to match the gender of the soon-to-be-born baby. Perhaps you are planning on serving some cake to your guests. If so, don't hesitate to make a cake stand for it! Create a tutu cake stand, out of a simple white box. All you will need to do is attach a tutu or some tulle fabric to the top of the box. This is a great idea especially if you would like a ballerina theme to be present at the party.
10. Gender Reveal Moment – With the Help of Balloons
Here is yet another hot air balloon idea! Attach balloons to sticks, which are placed in vases or mason jars. Reveal the gender of the baby with the help of balloons. Besides either colouring them blue or pink, also have the tidbit of information written on them that "it's a boy" or "it's a girl." This is a perfect way to reveal the gender of the baby to your guests!
11. Decorate the Cutlery – Baby Shower Decoration Ideas
If it's a party, you can't forget about organizing the cutlery in an adorable and appealing way! If you are expecting a boy, tie napkins in shades of blue or green around the knife and fork. You can create the look of a bowtie with them, which is absolutely perfect if you are expecting a little boy!
12. A Starry Atmosphere – Beautiful Setting
There's a new and popular theme for baby showers known as the Twinkle Twinkle Little Star theme. This includes using all sorts of stars for decor, as well as clouds and moons. All these pieces of decor combined will make your whole baby shower theme look like an enchanted fairytale!
13. A Cupcake Pram – Great Cake Ideas
A lot of people decide on making cupcakes instead of an actual cake for their baby shower. It's simple to pull apart, easy to eat and also not so difficult to decorate! It's completely up to you what sort of shape you would like to create out of your cupcakes, we recommend a pram.
14. Notes from Guests – Animal Themed Shower
A great activity for your guests as well as a beautiful source of decor is this! Have all your guests write messages on pieces of paper, wishes for the baby and the family. If you have been planning on creating an animal-themed baby shower, then use shapes of animals for the messages! Hang these cheap baby shower decorations up on strings on a wall.
15. A Cute Cot – DIY Baby Shower Decorations
When designing and decorating a venue for a baby shower, remember to use items that a baby actually uses! You can use simple objects like baby bottles or pacifiers to spruce up your party. Another great idea is to place a baby cot inside the venue as well. Depending on what the gender of the baby is going to be, use either blue or pink as the colour of the cot.
16. Decorate the Onesie – Leave a Message
Another great piece of decor, as well as an activity for your guests, is to decorate a onesie. Buy a plain, white onesie. Place fabric pens and markers next to it and have each of your guests write a message on it. You can place this piece of art in a frame after everyone has signed it. It will be great for your baby to look back at in a few years time!
17. Sweet as Can Bee
Bees and honey provide so much inspiration for a party! So, why not use them for your baby shower as well? Use hexagon shapes as decoration, symbolizing honeycombs. Naturally, since we are talking about bees and honey, also place flowers in jars around the venue. Use a variety of yellow and gold coloured balloons. You can also cut out the shapes of bees, and stick them on tables or walls.
18. Flying High – Baby Shower Table Decorations
We have talked about hot air balloons being great DIY baby shower decorations. Here's yet another idea! Instead of using a balloon as the balloon, use a paper lampshade. This will make your hot air balloons look more unique! Hold it in place with sticks that are attached to a mason jar. Place a small flameless candle on top of it the jar, making it truly resemble a hot air balloon. These will make amazing baby shower centrepiece ideas!
19. Bears and Treats – Cute Decor Ideas
Another way to uplift your baby shower's decor is with small decorative treats lying around the venue. Make small bags or boxes resembling bears and place a multitude of candy inside them. These baby shower party supplies will be mini surprises for your guests. If you are planning a gender reveal as well, make sure your bear boxes are either blue or pink.
20. Gorgeous Floral Centrepiece – Baby Shower Decoration Ideas
If you are in search of baby shower centrepiece ideas, which state that the gender of the baby is going to be a girl, look no further! Create small paper flowers. Pin them into a larger foam ball. If you have completely covered your foam ball with flowers, all you need to do is place it on a glass stand. These beautiful floral balls make perfect centrepieces!
21. Adorable Onesie Garlands
Here's an adorable and cheap source of decoration, which you can easily put together at home by yourself! All you need to do is cut the shapes of onesies out of patterned paper, and attach them to strings. String them down from the ceiling, creating a shower of onesies!
22. Collecting Names – Cheap Baby Shower Decorations
Are you still in search of a name for the yet-to-be-born baby? Ask your guests for some help! Create two ice cream cones out of brown paper and stick them to a wall or door. Then cut out scoops of blue and pink paper ice cream. Your guests will have to write name ideas on the scoops, girl names on pink, boy names on blue. Then they will have to stick them on the cones. This will be a great activity as well as unique decor!
23. Flying Far Away – Cute Teddy Bear
If you've run out of ideas on what sort of baby shower decoration ideas to use, teddy bears are always great for inspiration! They fit the theme perfectly and you can use them in all sorts of context. For example, attach a few floating balloons to their hand, as if they wanted to fly away. This will look really cute!
24. Wishes for Baby – DIY Baby Shower Decorations
A newborn baby's mother will need a bit of advice! Have your guests write wishes for the baby and advice for the mum. Make your guests place their letters in envelopes and hang them up on a board or strings.
25. Platters of Pink – Baby Shower Decoration Ideas
The food you serve at your baby shower also counts as baby shower party supplies. Depending on what the gender of the baby is going to be, you can fill bowls and jars with either blue or pink coloured food. This is a great idea for a gender reveal party.
We hope we have been able to assist you in finding awesome DIY baby shower decorations. If you are still searching for other ideas concerning baby showers, besides baby shower decoration ideas, like baby shower cakes or baby shower party ideas, just visit our website.
Advert