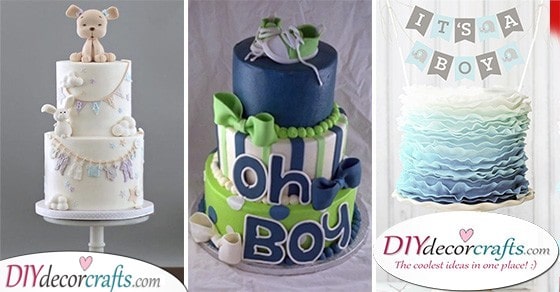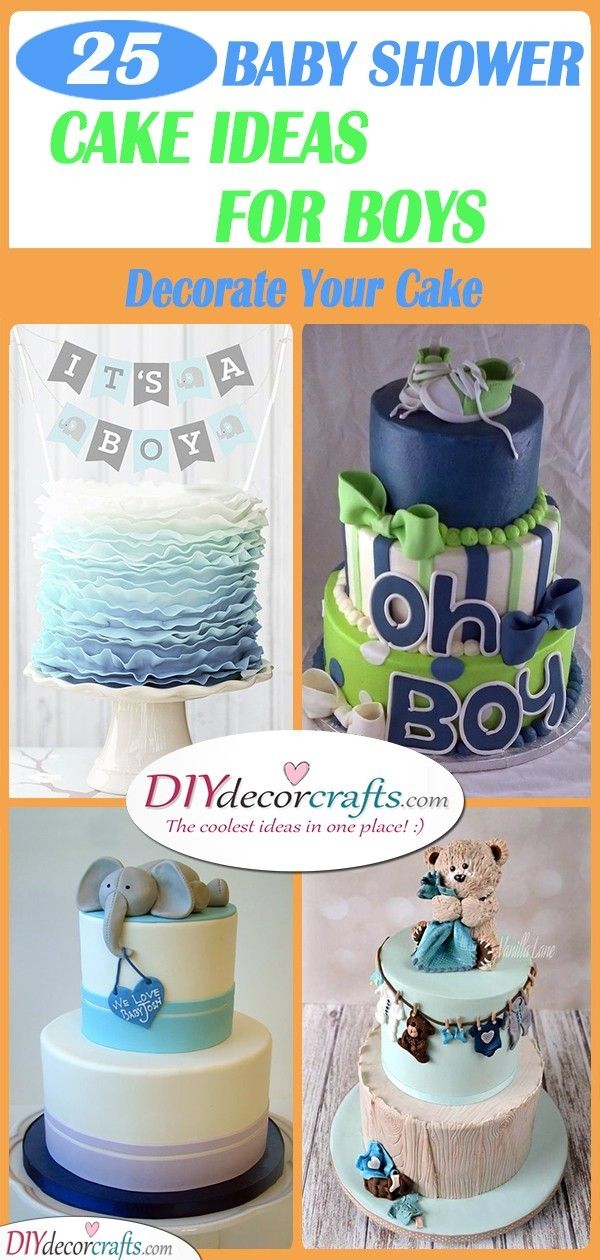 There are hundreds of small details you have to look out for when you are getting ready for your baby shower! Having the right sort of decor, fun games and activities for your guests and food for the shower are just a few of the things you need to pay attention to. Another important factor of a baby shower is the cake which you serve to your guests. Not only should your cake be tasty, but you might also like to have your cake decorated according to the theme or the decor of the party. If you already know the gender of the baby and want to reveal this to the guests at the baby shower, make sure you decorate the cake in a boyish or girlish manner. So, if you are expecting a boy, we have collected 25 baby shower cake ideas for boys. Also, make sure to look through our collection of baby shower ideas.
1. Baby Feet – Scrumptious Baby Shower Cakes
Using fondant as an element of decoration for your cake is a great idea! It's easy to use and it gives a cake a new definition. If you are expecting a baby boy create two baby shoes and the figurine of a baby out of fondant, Place the baby inside one of the shoes, as if it were his cot. Place the tiny baby shoes on top of your cake. You can also create small fondant pearls which you stick around the cake itself.
2. Oh Boy – Shades of Green and Blue
Now, here's a cake which looks absolutely fantastic! If you are expecting a baby boy, you will want to decorate your cake in boyish colours. Blue and green are perfect colours to use for a baby shower cake for boys. Naturally, it's up to you on how many tiers you'd like to create for your cake and there are limitless ways to use these two colours to make your cake look fabulous. Something funny to further decorate your cake with is creating letters out of fondant which spells out "oh boy." Not only does this reveal the gender of the baby, but it also stands for the big adventure of raising a child.
3. Washing the Clothes – Adorable Cake Decoration Ideas
The arrival of a baby in the family means a lot of things! Besides bringing joy, the baby boy will also bring new responsibilities and tasks with himself. One of the few ways of taking care of the newborn is by making sure that his clothes are always clean. The best way of picturing this on a cake is by creating small baby clothes out of fondant, and sticking them on the sides of the cake. It will look like the clothes are drying on a clothesline. You can create a bib, a onesie or a diaper out of fondant.
4. Animals and Clothes – An Overload of Cuteness
Here is a cake which immediately screams baby shower! The usage of animal figurines, made out of either marzipan or fondant combined with the imagery of baby clothes hanging on a clothesline is a perfect combination. If this isn't a statement for a baby shower, we don't know what is!
5. Lovely Teddy Bear – A Baby's Best Friend
A tree stump as the bottom tier, baby clothes drying in the blue sky and a teddy bear on the very top of the cake creates a gorgeous cake. Using tones of blue and brown are perfect for a baby boy's shower. To give your baby shower cake a bit of an edge, make sure you place a few fondant clothes on the plate itself as if they fell off the clothesline and tumbled down to the ground. Teddy bears are always a great source of inspiration for baby showers, as they are a baby's best friend!
6. A Blue Pacifier – Baby Shower Cakes for Boys
One object you are guaranteed to see around a baby, probably in their mouth, is a pacifier. So, using a pacifier as inspiration for your cake design makes complete sense. Since we are talking about a baby boy, make sure that you use mainly shades of blue for the colouring of the cake. Create the pacifier out of fondant or marzipan and place it on top of the cake.
7. A Suit and Tie – Dressed to Impress
Having a baby means dressing them up for whatever occasion you are going to. If you are going to a more elegant event, then you will have dress up your baby boy as well. A suit and tie designed for a baby boy is a perfect outfit for a more elegant occasion. If you like these cute outfits, then make sure you use them as an idea for a cake. Create a few tiers for your cake, making them look like parts of a suit. You can form buttons, a bowtie and shoes out of fondant, to make the outfit complete!
8. Nautical Inspired – For a Little Sailor
There are so many cute cake ideas you can use if you are expecting a baby boy and here is just one of many! Maybe you are planning on hosting a nautical-inspired baby shower. If so, make sure that the cake is designed in a similar way. Blue and white stripes, a bit of rope and a few marine animals will give your guests a feeling of setting out and sailing on the sea.
9. A Good Night's Sleep – Cute Teddy Bears
Newborn babies need a lot of sleep. You might already have their cot set up in their room, with a few plush toys waiting for them! Create a cake for the baby shower, which symbolizes their need for sleep. You can shape clouds, stars and the moon out of fondant, carefully placing them on the tiers of the cake. Also consider creating teddy bears out of either fondant or marzipan, which are sleeping, eating out of a baby bottle and sucking their pacifier. Place them on the tiers of the cake for an adorable effect!
10. A Moon and a Star – Time for Some Sleep
Soon enough, your baby boy will arrive and will be sleeping soundly in his cot! Create a cake made of a few tiers, cutting the top layer into the shape of a star. Cover it in blue fondant or icing, sticking fondant stars all over it, creating the image of a starry sky. Cut another a piece of cake into the shape of a moon, covering it fully with fondant. Place this moon on top of the other layers of cake. This way the cake will truly look like a magical night sky.
11. Blue Layers of Ruffles – Gender Reveal Cake
Are you planning to make your baby shower a gender reveal party as well? Cakes are a great way to reveal the gender of the baby. If you are expecting a baby boy, make sure you use shades of blue as an overall theme for your baby cake. You can cover your cake in blue ombre ruffles of icing, creating an amazing look.
12. Buttons and a Bowtie – Baby Shower Cake Ideas for Boys
There are thousands of great ideas on how to design a cake if you are expecting a baby boy! Here's a simple, but super cute idea for you! Firstly, create a baby shower cake made up of a few tears, covering them in white fondant. Then, decorate them with a lot of blue ornaments. For example, blue fondant buttons and a fondant bowtie.