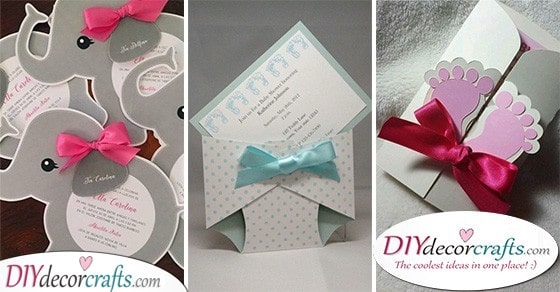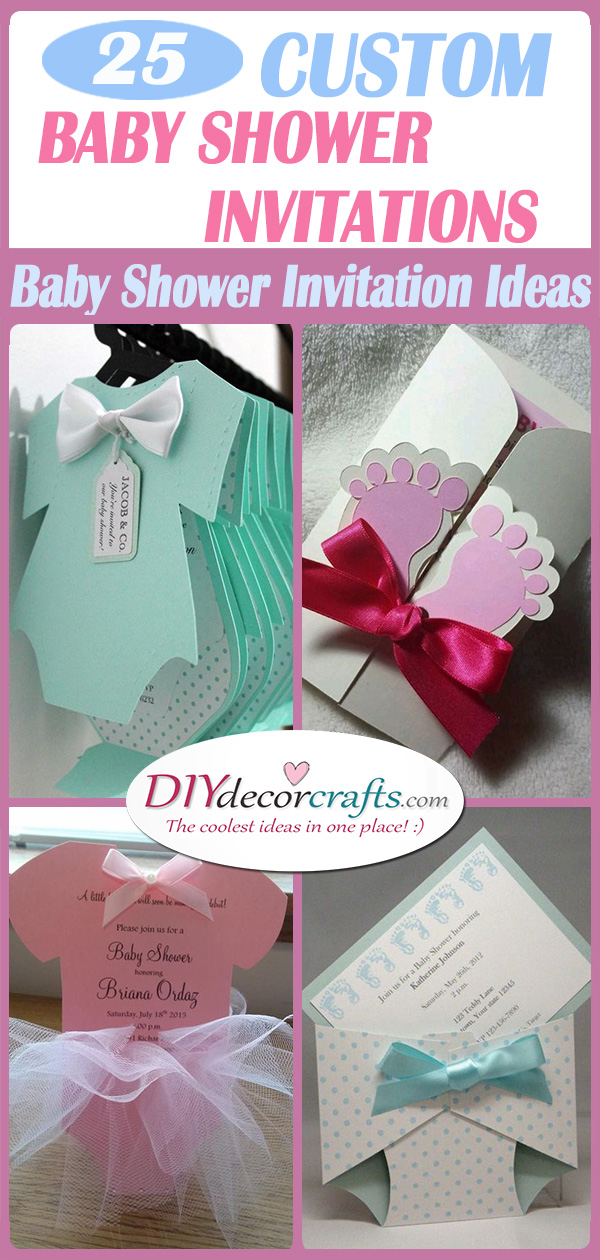 The anticipation of waiting for your baby to be born is an amazing adventure. Giving life to someone, who you haven't even met but know you will deeply love, is an incredible feeling. Getting ready for the newborn baby to arrive comes in so many forms, buying new furniture and toys for the baby are just a few of the things you need to do. Of course, the time for a baby shower comes as well! Baby showers are great parties when all the members of the close family and friends gather around waiting for the baby. If you are planning on hosting one of these events, you will need to gather some baby shower invitation ideas. We have a great pick of 25 custom baby shower invitations waiting for you!
1. A Cute Onesie – Unique and Awesome Cards
We can't think of a better way to invite guests to your baby shower, than with a card which screams baby! You can create or buy cards which look like onesies. Onesies are a typical type of clothing which babies wear so it only makes sense to use them as inspiration for your baby shower invitation cards. Depending on what gender the baby is going to be, colour the invitations in either blue or pink! Write the information for the guests inside the onesie, this way they have to open it!
2. Baby Bottle Cards – Baby Shower Invitation Ideas
Another cute idea you can incorporate into your custom baby shower invitations is baby bottles! In their first stage of life, babies can only eat and drink via baby bottles, so using them as inspiration is a great way of embodying a baby's needs. Naturally, you can announce the gender of the baby with these personalised invitation cards, designing and decorating the cards in either a turquoise blue or pastel pink. This is a great idea for any sort of baby shower!
3. A Folded Diaper – Adorable Invitation Cards
Here's a great idea if you are into origami or paper crafts! First of all, find a tutorial to make a folded diaper. Using a decorated and thicker paper, create this baby diaper. On a separate card write up the information about the baby shower, for example, when is it going to be exactly and where is it going to be held? Then stick this separate invitation card into the folded baby diaper before sending it out to guests. You can further decorate the card itself with some cute baby patterns, for example, small footprints.
4. Flying Away – A Whole Trail of Information
If you've always loved the idea of hot air balloons, make sure to incorporate them in your baby shower invitations! Cut out the shape of a hot air balloon and some clouds, attaching them all to the same string, the hot air balloon at the very top, while the clouds are floating underneath it. On the hot air balloon you can write a simple word, such as "baby", while on the clouds you write the tidbits of information your guests will need to know, in order to get to your baby shower!
5. Tiny Baby Feet – Custom Baby Shower Invitations
Another cute way of inviting your guests to your baby shower is with a pair of tiny and adorable baby feet! Fold a card, so that the front pages meet in the middle. Then stick two cut-out drawings of baby feet on both sides of the front page. You can tie it up with a ribbon. Write up all the details of the baby shower in the inside of the card.
6. A Bit of Honey – Bee and Honey Themed Cards
Your baby is definitely going to be as sweet as honey! Make sure your guests know that as well! You can cut out the shapes of honey pots. If your guests lift up the lid of the honey pot they will be able to pull up the invitation cards, which will contain all the information about the baby shower itself. You can decoration this card with some small cut-out bees or by attaching a honey ladle to it. Place this intricate invitation card in an envelope before sending it out to guests.
7. Excellent Elephants – Simple and Adorable Card
If you have been searching for an invitation card to your baby shower, which is on the more simple side, here's a great option for you! Have them coated in a simple mono-coloured paint. On one side draw up an adorable elephant with a small quote above it, on the other side sum up all the details of the baby shower, for example, when and where it's going to take place.
8. Sophisticated and Floral – Baby Shower Invitation Ideas
Here's another invitation idea for baby showers if you are expecting a girl! Coat the background of the card in just one colour, for example, a black will make it look sleek and sophisticated. Then add an array of vibrant flowers blooming at the top of the card, which matches the black but brings a bit of colour to it. For the text use a light pink or white. Flowers are always a great way to spruce up anything, including baby shower invitations!
9. A Rustic Vibe – Perfect Baby Shower Invitations
If you've always loved a vintage or rustic theme, make certain to plan your baby shower in this same style! Invitations are important because they give guests a small insight into what the party itself is going to be like. So if you are planning a rustic baby shower, make sure your invitations are designed to give off that same sort of vibe! A simple brown card with an elegant text will give your guests a sense of simplicity and rusticness.
10. Tutu Inspired Card – Pretty in Pink
Are you expecting a baby girl? Well, here's another fantastic baby shower invitation idea! Use a pink paper to create a onesie, which will be the card itself. Write the details inside of the onesie. Then cut some pink tulle and wrap some around each card. This small addition will give your invitation cards an effortless look!
11. Gender Revealing Party – An Awesome Invitation
Are you thinking about making your baby shower a gender revealing party as well? If so, here's a creative and unique idea on how to decorate the invitation cards! Leave one half of the card a deep blue, the other half pink, sort of symbolizing that it's a fifty-fifty chance whether the baby is going to be a girl or a boy. Use a gold text for the details of the baby shower, to make it look completely fabulous!
12. Cute Animal Prints – A Feeling of the Jungle
Here's another adorable invitation idea which is more on the simple side and incorporates an animal design. A simple and minimalistic animal, like a giraffe, a bear, a lion or an elephant are just a few of the great ideas you can print or draw on each baby shower invitation. Naturally, include the details of the party next to the drawing.