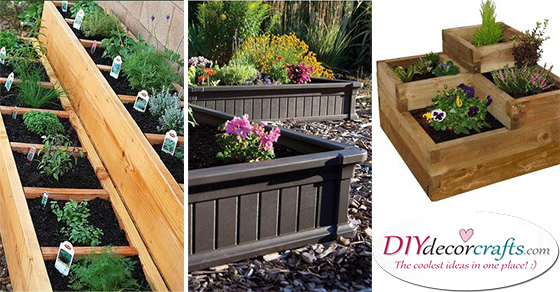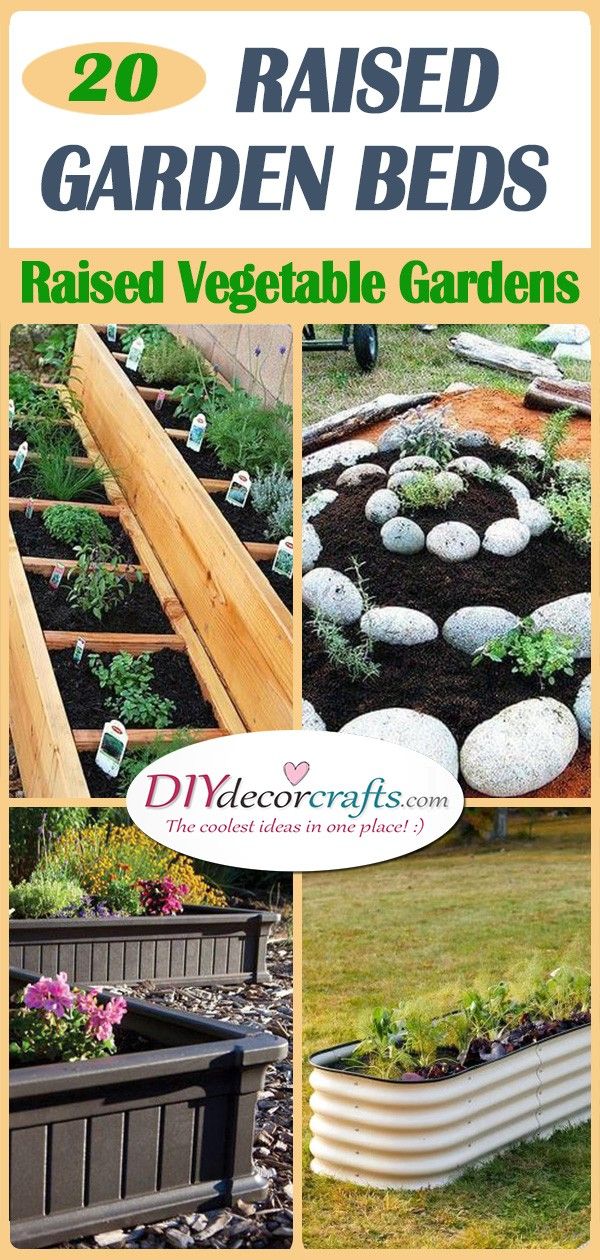 Are you in the middle of renovating your home? If you have a garden, don't forget to spruce that up as well! Maybe you are in search of ways to perk up your garden a little. Have you ever thought about creating a raised garden bed? They are a great way of adding dimension and volume to your garden, giving it a more unique look. Naturally, you don't only need to plant flowers in these garden beds. You can grow ferns, cacti, herbs and even vegetables in them! So, if you are in search of ideas check out our collection of raised vegetable gardens. We're sure you'll find some inspiration amongst them!
1. A Unique Colour – A Lovely Raised Garden Bed
While you may have already chosen a design for your raised garden bed, don't forget to decide on a colour that suits your garden. After all, no matter if it is made out of stone, bricks, metal or wood, giving the garden bed a perfect colour is essential! Of course, you can leave the material all-natural, without coating it in a shade of paint. But if you would like to bring out a unique and exciting vibe in your garden, then colouring it is the way to go!
2. Creating a Miniature Garden – For Planting Veggies
Are you in search of something a bit bigger and grander? A raised garden bed that has been cleverly and practically built? Then how about creating a whole miniature garden out of these raised beds? These are absolutely great for growing vegetables! Have them created from wood, each part separated from each other, in which you are planting a new type of herb or vegetable. If you are afraid that your garden will be ambushed by your house pet, who would be eager to dig it up, surround it with a fence to keep it out!
3. Make It Yourself – Raised Vegetable Garden
Perhaps you are the sort of person who loves to build and create new things in their house and in their garden as well! If this is the case, you might have thought about building your own raised vegetable garden. You may just be in search of ideas on what type of materials to use for it. A great material to use would be concrete blocks! Not only are they cheap, but they will provide stability that will keep the raised garden together and in place! Not to mention, you can use them in a lot of ways, making unique and creative designs.
4. A Keyhole Garden – Beautiful and Stylish
You may have heard of the term "keyhole garden." What does it mean exactly? Well, the shape of this raised garden resembles a large keyhole, giving it a very whistful and beautiful look! If you have fallen in love with this design, how about bringing it alive in your own garden? Due to the fact that two parts of the raised garden are separated, it will make your job a lot easier, when you need to water the plants or fertilise the soil!
5. Small Pockets of Plants – Raised Garden Boxes
When it comes to raised garden beds there is such a huge selection of what type you can install in your own garden! Maybe you have been considering planting a variety of herbs. After all, if you love to cook and bake, then using fresh herbs will really bring out the flavours of your food! Instead of just planting a whole heap of different herbs in a large planter, how about creating small boxes? This way you can plant each type in a separate box, making it easier for you to find them! Feel free to add labels to each box, specifying what sort of herb is growing inside of it.
6. Superior in Stone – Grand and Gorgeous
Does your garden embrace a graceful and classic style? If so, then make sure that your raised garden bed brings the same atmosphere to your backyard! Use large stone blocks, to create a multi-tiered garden bed. You can try a circular shape, but separate the different tiers of beds with wave shapes. Using stone as the main material for your raised garden bed will really help in exuding a timeless elegance, which is what you might be going for!
7. A Spiral of Stones – Raised Vegetable Planter
When you are creating the design of your garden bed, then don't limit yourself to plain ideas! Especially if you really want your garden to look individual and different! How about creating a spiral out of large and rounded stones? Fill the space between the stones with soil, enabling you to plant vegetables or herbs inside of it! A spiral planter is a perfect solution for anyone who has a smaller garden, but would love to plant some of their own plants all the same! These garden beds don't take up much space, so they really are a great option!
8. For the Corner – Smart Way of Using Space
Whether you have a smaller or larger garden, there might be a few parts of it, where you're not sure about how to design it. For example, the corners of a garden can be a tricky spot. If you'd like to give them a stylish look, while also giving them a new use! A corner raised garden bed is fantastic for anyone, who doesn't have any space in the rest of their garden. You can have the vegetable planters rounded at the side!
9. Keeping It Simple – Elevated Garden Beds
You don't necessarily have to go overboard and super fancy with your garden bed designs. A good material to use as the base of your raised garden beds is no other than wood pallets. This is cheap and easy to use, meaning you'd even be able to put it together yourself, with the help of a hammer and some nails!  There are lots of designs to choose from if you are using wooden pallets. A simple yet awesome option is to create a multi-tiered raised garden bed. This will not only look fabulous, but you'll be able to plant more flora inside!
10. Time to Recycle – Galvanized Tub Idea
Do you have a lot of old items waiting to be thrown out into the trash? As an alternative to throwing them out, why not recycle what you can? Maybe you have some galvanized tubs in your garden. If so, why not take them out into the garden. Coat them in a fresh layer of paint, to give them a fun look. Then fill them up with soil and plant whatever you would like inside of them!
11. Lining with Wood – Raised Vegetable Planters
You will have noticed that there are dozens and dozens of ways to create a unique type of garden bed. Just one of these ideas includes lining the border of the raised garden bed. Line it with smaller slices of wood, just like in the example above, giving it a simplistic yet chic style. Using this technique is not only easy, but it is also quite cheap! So, if you are a bit short on money at the moment, this is still something you can try out! This would also be a great design to use for any sort of garden edging!
12. Another Keyhole Design – Making Gardening Easier
We have already mentioned using a keyhole design for your raised garden bed. You may ask why? Keyhole designs make the whole garden bed easily accessible! All this means is that you will be able to do your gardening more proficiently, as you will have more space. You'll be able to water the plants in the middle. Or if you're planning on planting vegetables, then you'll be able to take care of them better! There are quite a few designs of keyhole raised garden beds, so we're certain you'll find something to your liking!
13. A Small Square – Raised Garden Bed
If you don't have an incredibly large garden you'll be willing to opt for a smaller garden bed! Take a look at the raised garden boxes above! It's small and square, put together out of wooden panels. You'll be able to fit this into a small garden! Even if your garden is paved out with stone, this planter will still be an amazing way of bringing a bit of nature into it! You can have this raised garden planter built with more than just one tier!
14. Cool Steel Edging – A Unique Material
Steel is a material that you may see as being used mainly for building. But it also looks great used for other sorts of functions! When it comes to garden edging and creating raised garden beds, steel might just make a great choice! Not only is it inexpensive, but it is also easy to use and provide stability. You will have to bury part of them into the ground, in order to keep them in place. We would recommend using metal edging if you'd like to achieve a modern style in your garden.
15. Try a Fabulous Shape – Raised Vegetable Garden
For a truly beautiful look, why not go for a breath-taking design? A raised flower bed or vegetable planter doesn't have to be created in a simple shape. You can have it built in a unique shape, that will enhance the whole look of your garden. For example, you can use wood to create floral or mandala shaped raised planters. Get the raised garden bed installed with multiple tiers, as an alternative to just one level. If this doesn't perk up your garden, we don't know what will!
16. Adding a Mini Trellis – Great for Climbing Plants
Have you always loved the look of climbing plants? Then what's stopping you from adding a trellis to your garden and letting the plants grow upwards? If your garden isn't big enough for a large trellis, then why not include one in your raised garden bed? It's easy to install and after you are finished, all you have to do is plant your favourite type of climbing plant inside and wait for it to grow! These raised vegetable gardens will look amazing in any garden!
17. Brilliant in Bricks – Raised Garden Bed Ideas
Here is a type of garden design, including raised garden beds, that is guaranteed to exude classic and refined taste. It's perfect for anyone who really wants to bring timelessness and elegance alive in their garden. Turn all of the flower beds into raised garden beds. Create their barriers out of bricks, then fill them up with soil right up until the top of the bricks. Scatter gravel between the islands of the raised flower beds, creating an easy path for you to walk on when taking a stroll through your garden.
18. Weave it Yourself – A Natural Look
Maybe you have been trying to find a garden bed design that incorporates a natural vibe. If so, why not try weaving your own walls of your raised flower beds? You will need branches of flexible and strong wood, as the base material. Making a few of these types of elevated garden beds will really give your backyard a natural atmosphere!
19. Geometric Shapes – Raised Vegetable Garden
Another simple and easy way to create a raised vegetable garden is like this! All you will need are some wooden pallets, out of which you create geometric shapes for your garden planters. Whether you decide on squares, rectangles, triangles or trapezes, we're sure whatever you choose will look incredible!
20. A Wooden Wagon – Giving it a New Purpose
While this idea won't be an option for everyone, but if you have an old wagon or wheelbarrow, give it a new purpose! Transform it into a flowerbed, making it as pretty as a picture! It will look amazing as an old item of transport has been turned into a place for growing gorgeous flowers!
We truly hope that this collection of raised garden vegetable ideas has helped you in finding something special for your own yard! For other gardening hacks, like easy garden paths or garden edging ideas, check out our website! 
Advert