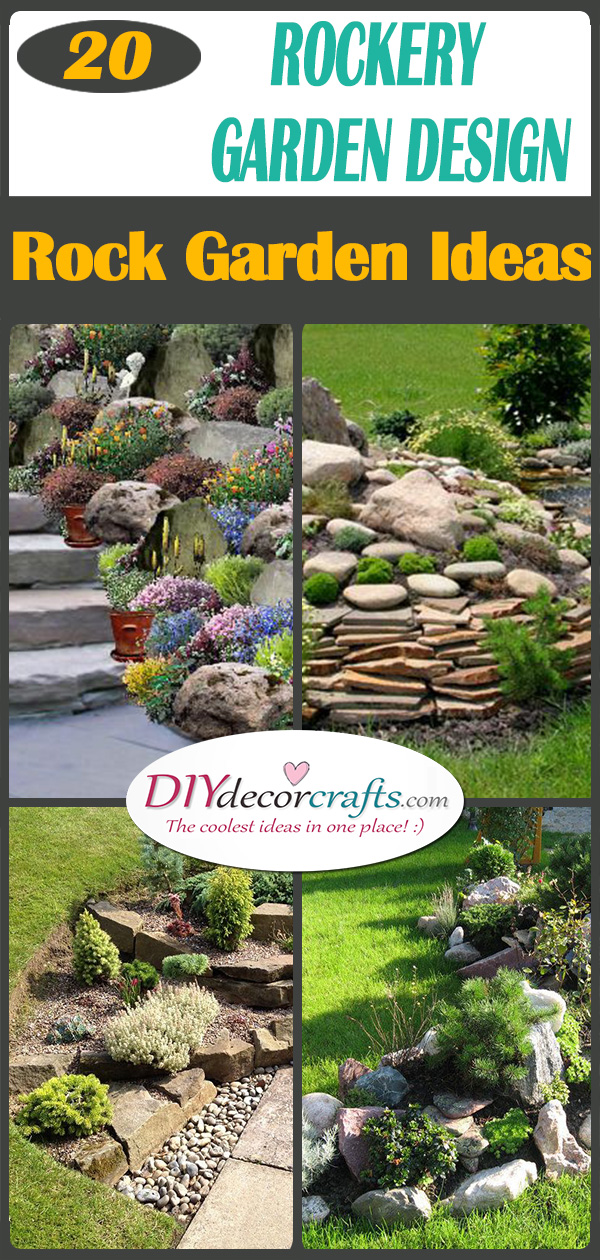 Whether you are renovating your whole garden or you just want to spruce it up a little, you may be looking for ideas! Of course, a lot depends on what your garden looks like, what sort of style it incorporates. But one amazing way of perking up any garden is with a rockery garden design! This is all about placing larger rocks and stones in a heap but in an aesthetic way. You can even have small garden beds blossoming with flowers growing out in between these rock gardens. So, if you are in search of inspiration concerning rock garden ideas, also known as alpine gardens, how about you look through our small collection? You'll be sure to find something fantastic!
1. A Large Mound – Cool Rockery Garden Design
If you are just getting started on understanding the concept of rock gardens, then you may be looking for cool designs. Do you have a large garden? If so, you can always create a big rockery, that will become the centrepiece of your whole yard. At times like this, a small mound or hill in your garden will come as a perfect addition, to create the rock garden on it! Putting together a rockery on a smaller hill will accentuate the difference in the height of your terrain, giving your garden more volume and dimension!
2. Just a Small Pocket – Cute and Stylish
Rock gardens don't always have to take up a large portion of gardens. This means, even if you have a smaller garden or backyard, you will still be able to create a rockery. For example, if you have a garden path, you may just decide on creating a rock garden in one of its corners. Just dig up that part of the garden and then lay out the rocks and stones. After that, you can scatter small pebbles or gravel on the different levels of your rockery. Or you can plant some small shrubs and bushes in it!
3. Art in Your Garden – Rock Garden Ideas
There is a whole variety of rock garden ideas to try out! You don't have to choose a boring or plain design. Instead, incorporate your favourite plants or even a few old items from your garden shed. For example, you can create your rock garden, grow an assortment of shrubs and flowers in it. Fill up the parts in between the plants with gravels or pebbles. Then you can also place something like a wheelbarrow or the wheel of an old wagon in your rockery for a unique look!
4. Gorgeous and Different – Carved Out Large Stones
Have you always admired creative and unique solutions? If your answer is yes, then you are bound to love the idea above! It consists of large stones or rocks, that are carved out, to create hollow shells. Place these stones upright in your garden, filling the inside of these rock-shells with soil. This will allow you to plant a selection of any type of flora inside of them. We would recommend trying out succulents, as these will thrive in only a bit of soil, not to mention they will look incredible!
5. A Raised Rock Garden – Garden Rockery Ideas
You may be familiar with raised flower beds. They are just another way of adding dimension to your garden, by raising the garden beds. This is an alternative to letting them grow on the same level as the rest of the ground in the garden. So, how about giving this a try with your rock garden? Stack the rocks and stones on top of each other, creating the border of your rockery. Then fill up the inside of it with soil, making it ready to have all sorts of greenery planted in it!
6. Next to Your Steps – Beautiful and Brilliant
Do you have a garden path, that leads you to various places in your yard? Or do you have a flight of steps that take you up to your terrace or veranda? An amazing way of decorating one or both sides of this path or stairs would be by creating a rockery right next to it! You can place large rocks into the ground, then have some flowers planted in between them. This whole environment will look breathtakingly beautiful when the flowers start to blossom! For an even more magical touch, you can place some statues in between the rocks.
7. Landscaping with Rocks – Great Rock Garden Ideas
Creating a rock garden in your front or backyard may be a way you landscape! First of all, decide on the spot where you'll want to create your rock garden. Dig out the grass and plant your chosen bushes, shrubs or flowers in their designated places. Then it's time to pour small rocks or pebbles over the dug up soil. Finally, you will be able to place your large slabs of rock or stone where you'd like, creating your rock garden. Feel free to add a garden statue to your rockery!
8. A Vertical Rock Garden Idea – Chic and Simple
One thing you may be brave enough to try out is a vertical rock garden. Instead of just laying out rocks on the ground of your garden, why not create something completely different and spectacular? Stack layers of stone or rock on top of each other. Squeeze some soil in between the gaps and plant your selection of flowers, succulents, herbs or ferns in them! You'll have to choose plants that will grow well in this vertical circumstance! This wall of rocks and greenery will look amazing!
9. Pyramid Vibes – Fantastic Rockery Garden Designs
Here is another amazing idea of how you can build a completely unique and fantastic rock garden! Take inspiration from the pyramids around the world. Instead of placing rocks next to each other on the terrain of your garden, why not place them on top of each other? But as an alternative to creating a wall of rocks, creating a pyramid shape. Naturally, you can have all sorts of different flora growing out in the sides of the rocks, giving it a lush and green look! These pyramid rock gardens will look truly fabulous!
10. Play Around with Lighting – Perfect for Evenings
When evening or night arrives, it's important to light up your garden! Especially if you want to see it even when it's dark outside. How about you play around with lighting, using it in creative and smart ways, to brighten up your garden? For example, you can install lights on the ground of your rock garden. This way, they'll project rays of light, as if it was the sun shining from the deep crevices of your rockery. It's completely up to you how and what sort of lighting you install.
11. Creating a Border – Rock Garden Ideas
Now here is a great idea for anyone who wants to perk up the area around their fences! Create a long line of a rock garden, surrounding the fence of your garden completely. This will look absolutely amazing, becoming a type of garden edging. You can keep your garden rockery levelled with the terrain of the rest of the yard. But you can also create a raised rock garden! A long rock garden such as this will probably take a lot more time to build, than a simple small one. However, the end product will be completely worth it!
12. Incorporate a Small Pond – For Anyone Who Loves Water
A lot of people would like to include a bit of water in their garden. After all, it has such a calming and relaxing effect! How about you create a small pond in the middle of your rock garden? The contrast between rocks and water will look awesome! You can even consider installing a small fountain in the pond, so you will be able to listen to water trickling! The rest is up to you, on what type of rocks you use or what types of plants you grow in between them!
13. Innovative with Cacti – Rockery Garden Design Idea
Maybe you live in a warm climate, where the sun is always shining and rainfall is a rarity! If this is the case, then don't worry, you can still create a rock garden. Except by using different types of plants! A type of plant that is guaranteed to grow well in hot and dry environments is no other than cacti! Grow cacti in pots, which are place on the tiers of your rock garden. This will give your whole garden a unique and interesting atmosphere!
14. On the Side of a Slope – Lovely and Lush
Perhaps your garden includes a small hill or a lift in the terrain. If this is the case, then you can easily create a rock garden on the side of it. Dig up the ground, in order to plant your selection of plants. Then all you will have to do is gather some stones and rocks and place them in their designated spots. You don't have to go over the top with this design. Sometimes keeping it simple is the best possible choice!
15. Growing in Containers – Rock Garden Ideas
Advert