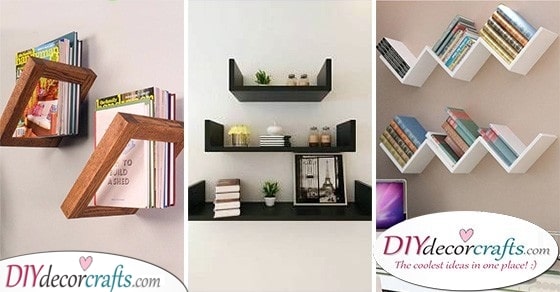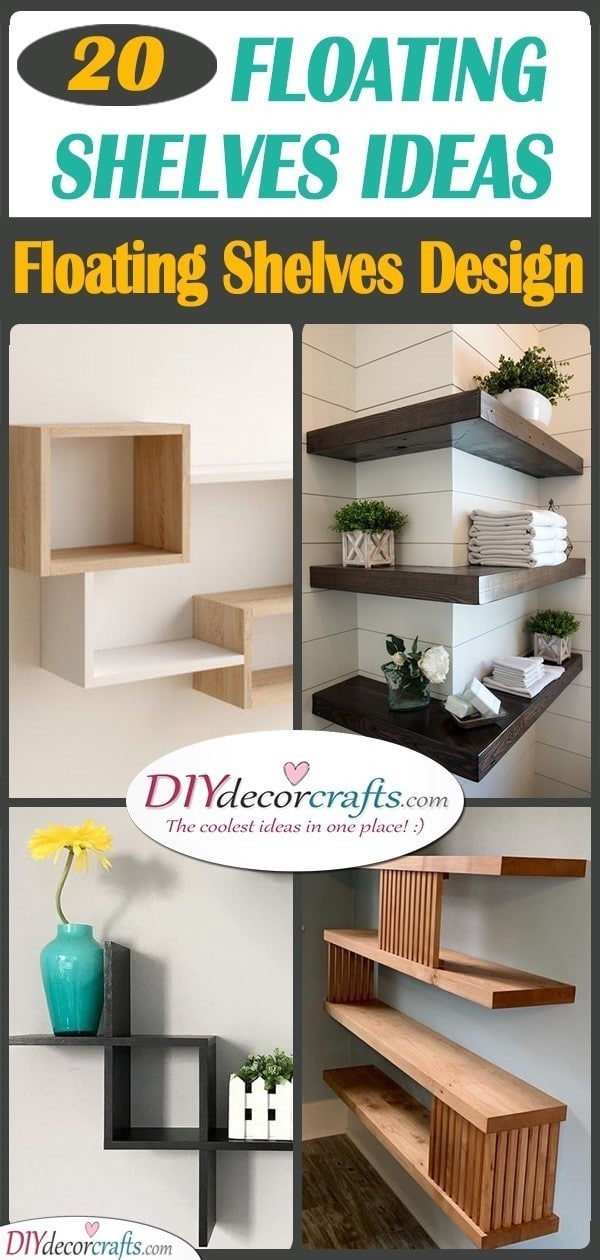 Are you in the middle of renovating or refurbishing your home? Improving your home bit by bit can be a long and difficult task to carry out! Maybe you are in search of a few finishing touches for any of the rooms in your home. Whether this is a bedroom or your living room, make sure that you have enough storage space. As well as making the rooms look stylish! Here is an idea for anyone who needs that extra storage space, but wants to make it look beautiful as well! Check out our 20 floating shelves ideas! By looking through our collection, we are certain that you will find floating shelves design complementing the rest of the room or your taste!
1. An Oval Shape – Floating Shelves Ideas
Installing floating shelves in any of your rooms at home doesn't mean that it has to incorporate a boring style. If your home exudes a modern atmosphere, then this floating shelves design will be perfect for your surroundings! It consists of more than one floating shelf. Place the shelves above and underneath each other, to create the shape of an oval. This means you'll have to get shelves which are different sizes. When you're finished, you can decorate the shelves with any sorts of ornaments to your liking!
2. Perfect for Books – A Creative Twist
Maybe you are trying to find a creative way of storing books or magazines in your home. Well, how about you follow the bookshelf design above? It's all about attaching square-shaped wooden frames to your walls. As an alternative to filling the middles of the frames with anything, this will become a space in which you can store your books. Install a few of these wooden frames next to each other on the wall for a fabulous look, turning them into pieces of wall decorations! You can have a sofa placed underneath these cool shelves and all you'll have to do is reach up for a book!
3. Cool Criss Crosses – Floating Shelves Design
When it comes to choosing a floating shelf for the walls of your home, make sure that it matches the overall style! If you are going for a modern look, then these criss-cross shelves will be stunning! They are not only functional and practical but are also pleasing to the eye. While using them for storing practically anything, you'll also be able to place decorative items on them. These floating shelves could also be installed in the kitchen, using them as space for storing jars of herbs and spices.
4. Easy and Effortless – Keeping It Clean
Naturally, you don't need to opt for a super elegant or modern design! If your whole home is designed in a simplistic style, then you'll want to find wall shelves that complement the whole look. In cases such as this, we would recommend sticking to a truly simple type of floating shelf. For example, mount three shelves on the wall. Each the same shape, yet a different size. Install them on the wall going from the small to the largest. They don't need any type of unique design, simple wall shelves will do the trick as well!
5. Another Idea for Books – Wall Shelf Ideas
Do you have a lot of books at home, that you haven't been able to find the space for? Maybe you have already filled up a few bookshelves with your collection of books and are currently in search of an easy way of storing them. Then check out this one of many fantastic floating shelves ideas for inspiration! These shelves create the look of geometric waves, with small slits in each wave, perfect for storing books! So for an easy yet stylish choice, these will make a great option!
6. Rustic and Natural – A Delicate Design
Are you familiar with rustic designs? This type of home design incorporates organic and somewhat aged materials. Working with natural materials, such as wood is what brings this home design style alive! If you have been using delicate and rustic elements in the environment of your home, make certain that the floating shelves you choose remind you of the same atmosphere. Using a rustic design throughout your home will definitely bring a sense of peace and harmony to your house or apartment! Feel free to decorate your rustic floating shelves with ornaments that fit the style!
7. Long and Verticle – Floating Shelves Design
Instead of getting a few floating shelves for your walls, you may be in want of something simpler. Such as a shelf unit. This way you won't have to fumble with mounting more than one shelf onto the wall of your home. A fantastic idea would be to install a long and verticle shelf unit, with small shelf spaces popping out of it. You can place a selection of different items on each shelf part. Ranging from pot plants to decor items or books! This will look great in a more modern setting!
8. Creating It Yourself – For Anyone Who Loves to Work with Wood
Perhaps you are the sort of person who loves to tinker and fix things, as well as create their own furniture. If so, why not create your own floating shelves for your home? With the help of one or two online tutorials, you'll be able to find something easy yet gorgeous to put together for your home! Firstly, you will have to install shelf brackets onto the wall, as these will keep the shelves in place, before placing the actual floating shelves on these. It's actually quite simple to put together!
9. Another Easy Hack – Floating Shelves Ideas
As we just mentioned before, you may be the sort of person who loves to make their own furniture, instead of buying it at a store. If you don't necessarily want to install brackets to place your floating shelf on, here is an alternative to it! You will have to mount a wooden panel on your wall, which you will be able to slide your floating shelf onto. It's sort of like linking two pieces of a puzzle together. It's another simple idea to try out!
10. Get Ready to DIY – Adding Built-ins to Your Walls
If you are considering building your own wall shelves, you may be wondering about how you are going to install them in the room. When it comes to DIY floating shelves, you may choose to create some wall built-ins. You will have to create holes inside of your floating shelf. Then the built-ins slide right into the floating shelves holes, keeping it fixated in one place. In order to keep the floating shelf in place, you will probably need at least three or more built-ins.
11. A Corner Shelf – Floating Shelf Designs
How about you try out something different for your home when it comes to floating shelves? Maybe your home is quite small or just not spacious enough, and you haven't been sure of where you should place a bookshelf. Well, how about installing some floating corner shelves in your home? Whether you use these for inside or outside corners either will be a great idea. These shelves will save space, as you are using them on corners. So, for something different and unusual, you may want to add a few corner floating shelves such as these ones!
12. Recycled Wood and Metal – Recycle and Reimagine
Do you have any old materials lying around at home or in your garden shed? Instead of throwing out these materials, why not reimagine them and create something new out of them? After all, recycling materials and building furniture from them is an environmentally friendly way of sprucing up your home! For example, if you have some wooden panels and a bit of metal, you'll be able to make some floating shelves designs out of them! All you will need are a few tools and a good tutorial to follow!
13. A Minimalistic Style – Floating Shelves Ideas
Here is one of many floating shelf decor ideas styled in a modern and very minimalist design. Meaning it's perfect for anyone who wants to exude this vibe in their home. This is another example of a corner shelf, Made up of a few tiers, this shelf will lend the room it is mounted inside a simplistic elegance. A multiple-tiered floating shelf such as this is not only functional but will be amazing for adding some ornaments on. Whether it's a portrait of a family, a small statue or a pot plant, you'll be able to perk up any corners of your room!
14. Slim and Slender – State of the Art
We have included quite a few floating shelf decor ideas that are designed in a minimalist or modern manner. However, if you are still trying to find one suited to your own home, then take a quick look at this idea! These are super slim wall shelves made from slices of wood. You can get a few of these wooden panels, in different sizes, yet using the same simplistic shape. For a truly minimalist look, you'll only want to place a few ornaments on each shelf!
15. Unique and Exciting – Floating Shelves Designs
You will have probably noticed that there are dozens of types of floating shelves to choose from. If you are trying to find a wall shelf that will spruce up the whole design of your room, then why not pick one that has a unique shape and give off groovy vibes? Some amazing examples would be to opt for shelves that incorporate geometric shapes. There is a lot to choose from, including the idea above. But naturally, you can try out triangular or trapeze-shaped floating shelves as well! Whatever feels right for you!
16. Getting Really Creative – Reusing Wooden Pallets
If you have any wooden pallets at home waiting to be used, then here are some DIY hanging shelves to create out of them! Fixate differently sized wooden pallets next to each other, to create the base of your shelf, this will be what gets mounted on the wall. Then hammer wooden pallets horizontally onto the base, creating small shelves, on which you will be able to place anything you'd like! This is a perfect craft to try out that isn't too difficult and is also cheap since you'll be using materials you already have!
17. An Industrial Element – Floating Shelves Ideas
Have you always admired industrial home design? If you have already included some industrial furniture or a whole layout in your home then also make sure that your floating shelf incorporates industrial elements! For example, to fixate your floating shelves, how about using metal brackets? Using small metal accents on any pieces of furniture will give them that industrial vibe that you may be going for. These types of wall shelf ideas will be perfect in any of your rooms, from your kitchen to your bathroom!
18. Wonderful in Wood – Three Fantastic Shelves
Put together a shelf made of three shelf units. This is a great type of shelf for anyone who is in search of a practical and functional one! They are three rectangular shelves connected to each other. You can have them painted in vibrant shades or keep them looking earthy and natural.
19. From Wall to Wall – Floating Shelves Designs
Perhaps you have a small space between two walls, which you probably wouldn't use for anything.  Instead of leaving it as an empty and unused space, why not install some DIY hanging shelves in between the walls? Reaching from one wall to the other this shelf design will be an easy way of adding a bit of storage space to a room! But naturally, you can use it for decorative purposes.
20. Stylish and Chic – Trying Something New
Finally, we have brought you a unique type of floating shelf! Install wooden pallets underneath each other, each should be the same size and shape. Then connect them with small wooden pieces, as if creating a long, wooden trail on the wall. If you are bored with plain designs, definitely give this a try!
We hope that this pick of floating shelves designs gave you inspiration for your own home! For other home ideas, besides floating shelves ideas, such as modern home bars or dining room lighting, visit our website!
Advert