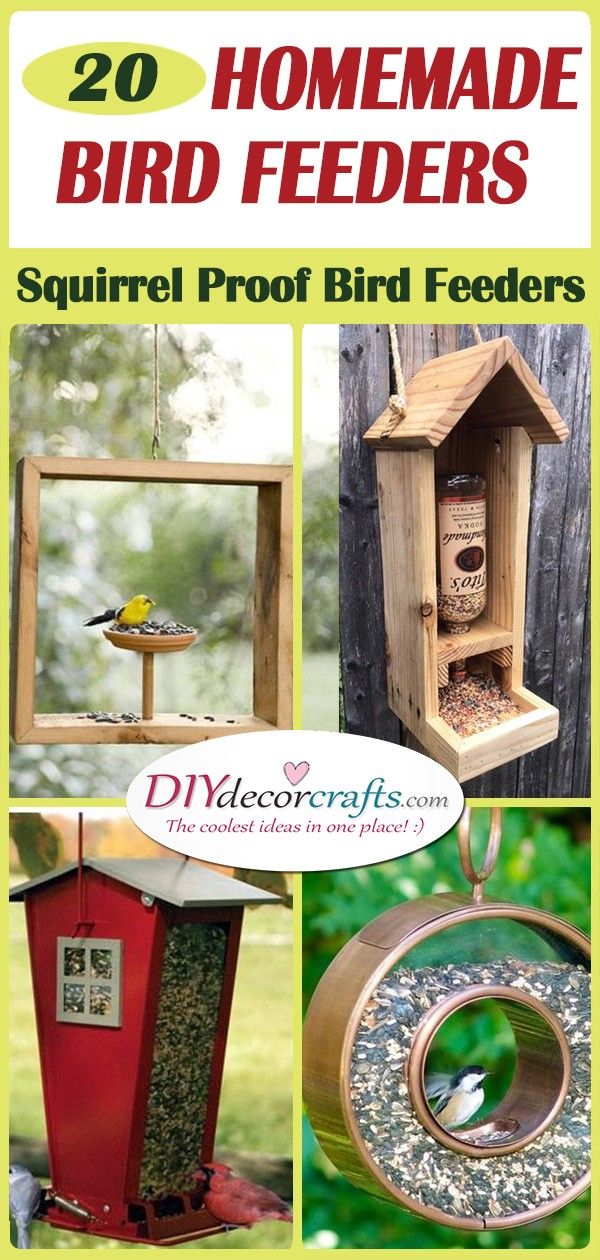 Create a space of relaxation and peace from your garden! You may be in search of easy ways of perking it up. Whether it's adding some garden furniture or installing a pond, there is a whole variety of ideas to try out! If you would like to attract more animals into your garden, such as birds, why not create a cute homemade bird feeder? Thanks to a bird feeder, you'll give the neighbourhood flock a supply of seeds and the garden will be filled with birdsong! Check out our pick of 20 squirrel proof bird feeder ideas in order to get inspired! With the help of these options, you may be able to find a feeder that fits right into your garden!
1. A Fabulous Frame – Squirrel Proof Bird Feeder Ideas
Invite your feathered friends to your garden with a minimalist and stylish hanging bird feeder! For this easy bird feeder idea, all you will need is a wooden frame, in which you install a small bowl, which you can fill with seeds. Hammer a hook nail into the top of the feeder, allowing you to hang the frame from a tree, making it the perfect place for birds to eat. This is a great option for anyone in search of something super simple yet truly fabulous!
2. A Hanging Chair – Adorable and Awesome
Model the bird feeder after a piece of actual furniture placed in your garden! If you have a porch or garden swing, you'll know all its benefits! Relaxing to sit in, a swing is certain to give you a sense of fun and comfort at the same time. Why not create a miniature version of it for the birds in your garden? Attaching this mini swing to a tree or your porch will create the perfect place for birds to come to! Place a tray on top of the garden swing, on which you will be able to scatter seeds.
3. A Tiny Tire – Homemade Bird Feeder
Here is yet another great idea to turn into a bird feeding station! If you love all sorts of cars and have recycled various parts of a car in your garden, turning them into furniture, then why stop? How about you use a small tired as a bird feeder? You will have to tie it to a tree and fill the inner gap with seeds. It's an easy yet awesome idea to try out in your garden. Not to mention, you'll probably have a flock of birds arriving at your garden each day!
4. A Pinecone Craft – Cute and Earthy
Do you love trying out new DIY crafts? Here is one you can try out with the kids! Create some DIY pinecone bird feeders! You will need pinecones, peanut butter, bird seeds and some yarn. Coat the pinecones in a thin layer of peanut butter. This will help in making the bird seeds stick to the pinecone! Now all you'll have to do is cover them in the seeds, before tying some yarn to an end and hanging it from a tree. Anyone in search of a cheap and easy idea should definitely give this a try!
5. An Elegant Design – Squirrel Proof Bird Feeder
Protect the bird seeds from any hungry animals in your garden with an awesome bird feeder! If you are in search of a squirrel proof feeder, then take a look at the example above. It's a circle, fly-through bird feeder, made out of metal and glass. The circle in the middle, in which a small bird will be able to perch, will make the small feathery friend feel safe! While also being able to feast on some delicious seeds. Not to mention, a bird feeder like this one will also look amazing in an elegantly designed garden.
6. A Lovely Bird House – For a Small Vacation
If any of the birds in your area need a safe space to stay, then you can even add some birdhouses to your garden! Buy them or build them yourself and feel free to paint them, giving the birdhouses cute designs! They can function as bird feeders, but naturally, if anyone needs a quick vacation or a place to stay during winter, then a birdhouse will be the perfect solution! Make sure that the houses are well fixated to a tree or to one of the sides of your house. This way they'll be protected from any predators!
7. A Trip to the Saloon – Funny Homemade Bird Feeder
Maybe you'd like to add a funny type of bird feeder to your garden! After all,  if you love creative and fun ideas, then you will adore this! The idea revolves around creating a small version of a saloon. Even add a few saloon stools, on which any bird visitors will be able to perch on while eating the seeds. A small saloon wooden bird feeder such as this is great for anyone in search of something truly unique and different!
8. Magical and Amazing – A Tea Party
Are you in search of a magical way to feed the birds in your garden? How about throwing them a tea party? Instead of getting the birds in your neighbourhood a simple bird feeder, place the seeds in teacups. Then fixate them to either your fence or porch or hang them from trees, making sure that the seeds don't spill out. Using an old set of teacups, that you don't actually drink from anymore will give your whole garden an enchanted atmosphere. As if you stepped into the world of Alice in Wonderland!
9. A Cool Caravan – Squirrel Proof Bird Feeder
Create a home for any bird in your area that needs it! We have already mentioned that you can create a birdhouse, which includes a bird feeder. This way you'll provide a safe space for birds to nest inside, with a steady supply of seeds! Naturally, you can make sure that your birdhouse looks super cute and stands out, giving it a homely vibe of its own! For example, why not get your birdhouse designed and styled to look like a caravan?
10. Build it Yourself – Recycling Old Items
Get creative and build your own bird feeder! It doesn't have to be too complex and you can even recycle old items to make it! For example, you can use wooden panels to create the base of the bird feeder, in any sort of shape you'd like. Then install an old glass or plastic bottle inside of the bird feeder. It should be filled up with seeds before turned upside down. This way, some of the seeds will be able to pour out, as the birds eat them. So give this option a try, if you are in search of a DIY bird feeder!
11. Terrific in Terra Cotta – Homemade Bird Feeder
Bring a sense of sophistication and beauty to your garden. You will easily be able to achieve this by adding elegant styled furniture or decor to your garden, including your bird feeder. If you love using terra cotta, as the main material around your home and garden, why not have the bird feeder made out of it as well? You can simply use an old pot to create your bird feeder. It will look distinctive and refined!
12. Natural and Earthy – A Chunk of a Log
When it comes to finding the right bird feeder, you don't necessarily have to use items or unnatural materials. Instead, opt for something completely organic! Carve out the side of a log, turning it into a space that you can fill generously with bird seeds. Then all you will need to do is hammer two hook nails into both sides of the log chunk. These will enable you to hang it from a tree or from your porch. Not only is this an idea you can make at home, but it is also a cheap option!
13. Crazy About Peanuts – Squirrel Proof Bird Feeder Ideas
It may come as a surprise for you to learn that a lot of species of birds like peanuts in shells! Create a bird feeder, that stores peanuts, from which birds will easily be able to take out these nutty treats! The bird feeder should have holes cut out on each of its sides, giving the birds the possibility to grab the peanuts with their beaks and pull them out! We're certain that a peanut bird feeder will attract quite a flock. Give a bird feeder like this one a try!
14. How to Install a Bird House – A Simple Tip
While you may be deciding about a bird feeder, you might also want to install a birdhouse somewhere in your garden! If you have already found a birdhouse to your liking, you may be wondering about how to install it. First of all, you may need to fixate a simple wooden pallet on a tree in your garden, hammering it into the tree. Thanks to this, you'll be easily able to attach your birdhouse to it. Make sure that it is fixated in a stable way. After all, you won't want it to fall off the tree when a family has moved in!
15. Keeping Away Unwanted Guests – Bird Feeding Station
You may have noticed with a few bird feeders, that squirrels tend to visit, gobbling up the seeds before the birds can eat! If you would like to create a squirrel proof bird feeder, then make sure that the seed access closes for any unwanted guests. Also have a small perch create for birds, allowing them to land. The design of the bird feeder is completely up to you, depending on what sort of vibe you'd like your garden to exude!
16. An Old Boot – A Whimsical Option
Of course, if you are in a creative mood, you don't have to stick to plain homemade bird feeder designs. Think out of the box and try something completely different and new! If you have an old rainboot, how about you transform it into a birdhouse or a bird feeder? You'll have to make a hole in one of its sides, giving the birds a route into the boot. Then they'll be able to turn it into their home. Place one of these either on the ground or even hang it from a tree!
17. Old Aluminium Cans – Recycle What You Don't Need
Are you in search of an environmentally friendly option when it comes to bird feeders? After all, if you have old and unused items, transform them into something new, instead of buying something at the stores. Coat aluminium cans in layers of vibrant paint, before attaching them from their bottoms to a wooden panel. Then fixate the panel to the side of a tree. Finally, all you will have to do is fill the cans with a selection of bird seeds. This is an easy bird feeder you'll be able to create at home!
18. Delicate and Beautiful – Repurpose Old Objects
We have talked quite a lot about repurposing old objects and breathing new life into them! Turn some old teacups or mugs into bird feeders, by first attaching them to small wooden panels, like in the example above. Teacups will bring a delicate and beautiful sense to your garden. So, if you like dainty things, teacup bird feeders will match your taste!
19. A Plastic Triangular Prism – Squirrel Proof Bird Feeder
Make certain that the bird feeder you install in your garden is squirrel proof! Create a triangular prism out of plastic, with small metal rings providing space for the birds to get in while blocking any potential squirrels out! Not to mention, this squirrel resistant bird feeder will look amazing in any garden!
20. Simplistic and Chic – Homemade Bird Feeder Ideas
Here is an idea for anyone who loves simplistic designs made from organic materials! A wooden bird feeder, make out of bulky pieces of wood will look amazing. You can even try making this yourself if you like to work with wood! A bird feeder like this one will lend your garden a cosy and homely atmosphere!
We hope that you have found inspiration amongst these homemade bird feeder ideas! For other garden ideas, such as rockery garden designs or raised vegetable beds, visit our website! 
Advert