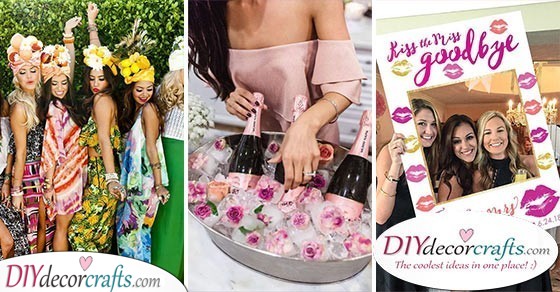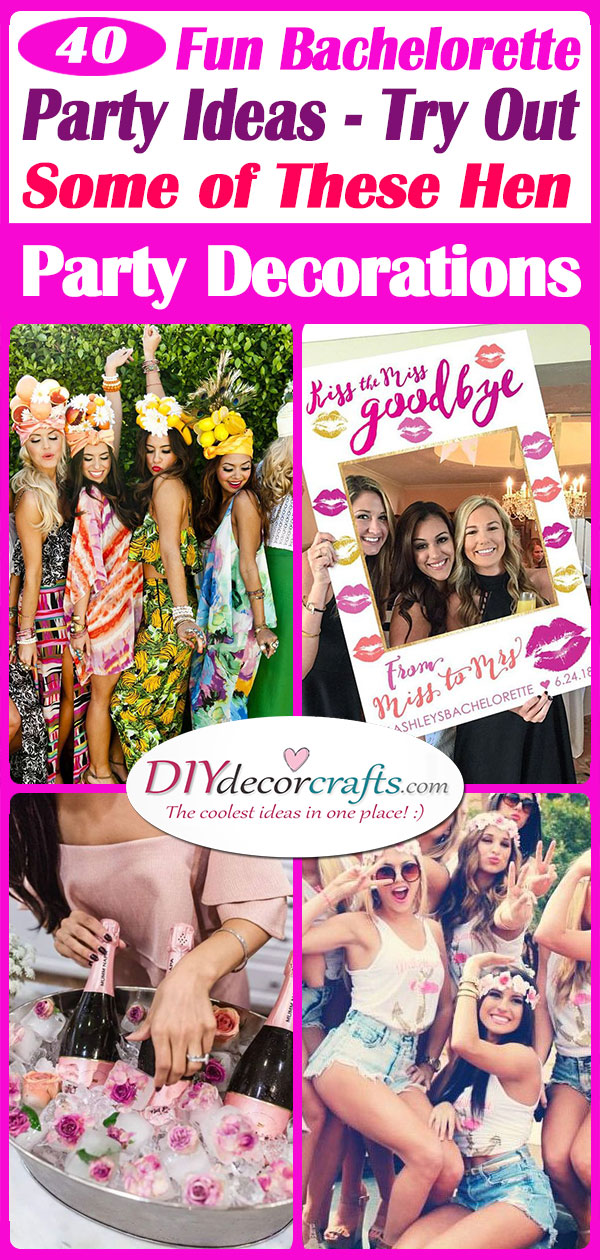 Make sure that your last night of freedom will be an unforgettable experience. Your hens night is your big last party, before walking down the aisle and tying the knot. Take a look through our collection of 40 fun bachelorette party ideas, and give your girls a hint of what you'd like to do on your hens night! We have a list of party ideas, not to mention hen party ideas as well, for you to choose from as well as a collection of wedding ideas!
1. Tropical Theme – An Exotic Party
While you might not have an exact idea for what to do on your hens night, you might have a theme in your mind that you'd like to bring to life. This might mean everyone dressing up in a similar way. For example, check out this tropical theme in the picture, everyone is wearing bohemian dresses and fruit on their heads! This is great for summer hens parties.
2. Prim, Proper and Pink – Hen Party Ideas
3. Matching Bracelets – Fun Ideas for Bachelorette Parties
For your hen's night, make certain that you've got your squad assembled with adorable matching bracelets! Make sure everyone at your party has one.
4. Balloons as a Backdrop – Hen Party Ideas
Are you having trouble finding a perfect wall decor idea or backdrop for your hen's party? Well, here's a great idea for you and your girls to take selfies in front of! Arrange an array of vibrant balloons in front of a wall, you can even get some letter balloons that spell out your name, "bride to be" or "bride vibes." It will be really fun taking pictures in front of this great backdrop!
5. Bohemian Beach Theme – Bachelorette Party Ideas
6. Scavenger Hunt – Get Ready for Games
Would you like to have a bit of fun on your hen's night? Try out this scavenger hunt! Write up a list of random and hilarious ideas, that everyone will need to achieve during the night. The person who ticks off the most things will win a fantastic prize!
7. Gold Tattoos – Fun Bachelorette Party Ideas
If you're thinking about getting something matching for your hen's party, why don't you and your girls try out matching temporary tattoos? Gold temp tattoos are extremely fashionable nowadays and they really do look spectacular!
8. Popping Champagne – Delightful Drinks
What drink should you be celebrating any big event with? Naturally, champagne! Champagne is a perfect drink for any huge moment in your life, which includes your hen's night!
9. Matching Clothes – Hen Party Ideas
Make certain that everyone knows what your night out is about! Get everyone matching clothes and accessories for your hen party. A great idea is you can have "bride" printed on the bride's t-shirt, while you can have "bridesmaid" or "maid of honour" printed on the other t-shirts.
10.  Sweet Rings – Snacks for Your Party
Make sure you supply your party with snacks! But since we are talking about a hens night you will have to consider getting food that matches the theme. That's exactly why these doughnuts are perfect! Make them look like engagement rings, by sticking a cut-out diamond on top.
11. Inspired by Friends – T-Shirt Ideas
Do you have a favourite TV show or movie that you'd like to incorporate in your hen's party? Take a quick glance at the picture above. It's a mashup of your bachelorette party and everyone's favourite classic TV series, Friends. Depending on what your go-to TV series is, create t-shirts for all the girls with a similar design. This would also make perfect gifts for the bridesmaids!
12. A Flurry of Pink – Bachelorette Party Ideas
Pink is the colour of harmony and love, not to mention it's considered to be a feminine colour. All this being said, it should come as no surprise if you decide to use it as a dominant colour in your hen's party decor.
13. Moustaches on Sticks – Funny Pictures
For the sake of having a hoot, take some funny pictures with your squad. You can buy accessories or props for your mini photoshoot. Moustaches and berets are a perfect combination for a set of hilarious photos.
14. A Game of Questions – Hen's Party Games
Initiate your friends into a game and find out who knows the most about you and your partner. Raise 10 or more questions, like for example, who kissed who first? Your girls will have to answer and whoever gets the most questions right can win a prize.
15. A Sign of Love – Hen Party Decorations
For a bit of outdoor decor, attach a sign to the front door. Write up on the sign the number of days until the Miss turns into a Mrs. 
16. Mugshots of the Gang – Funny Bachelorette Party Ideas
Make sure that you and your partners in crime have a bit of fun on your hen's night! Take mugshots of yourselves, holding signs which describe what crimes you committed during the night. This will be great to look back at in a few years!
17. Retro Polka-dots – Great Outfits for Your Bachelorette Party
Do you and your girls love retro fashion and retro style? Then how about you all wear retro outfits to the hen's night? Cute polka-dot skirts and headscarves will give you girls a cool look. All the photos you take at the party are guaranteed to look glamorous.
18.  Similar Bracelets – Hen Party Ideas
As we mentioned before, getting everyone matching bracelets is a fantastic idea! You don't necessarily have to find bracelets that are exactly the same, they can embody a similar theme or design.
19. Find the Guest – Fun Ideas for Bachelorette Parties
20. Groovy Straws – Take a Funky Sip from Your Drink
An awesome and stylish idea for your hen's night is buying customised straws for everyone! You can now buy straws that spell out a word, for example, "bride" or "bridesmaid." Getting straws such as these will be a great way to prevent your drinks from getting mixed up.
21. Sailors in Stripes – Another Matching Outfit Idea
Does the bride of the group like sailing or fishing? Then make sure her hobby is the main theme of the hen's party! Get matching sailor outfits for each member of the crew! This idea is even better if you are actually going to be going sailing on your hen's night.
22. Hangover Kits – For Before and After
Are you planning a wild hen's party with heavy drinking involved? Then be prepared for the hangover! Buy some vitamin B (to take before the drinking starts) and some Advil (for the killer headaches for the next day).
23. Frame of Kisses – Gifts for the Bride
24. Bubbly Balloons – Hen Party Ideas
Balloons are a great source of decor for any sort of event. So get a few customised balloons for your hen's party! You can get balloons that have words such as "team bride" or "bride tribe" written on them. This way everyone will know what you're celebrating.
25. Cool Bracelets – Inspiration from TV Shows
Another great way of integrating everyone's favourite movie or TV series is by using a logo or slogan from it. Using this logo or slogan, you can design cool bracelets or accessories for everyone.
26. Fantastic Gifts – Presents for the Bride
Make sure that the bride remembers her hen's party by giving her a fantastic gift! Take polaroids of everyone at the hen's night and put them in a frame. This is a lovely gift that the bride will be able to hang up in her home.
27. Stylish in Suits – Bachelorette Party Ideas
Going for a casual yet formal style for your hen's night? Well, how about getting matching suits for everyone? Suits create an elegant look and they are usually more comfortable to wear than dresses are.
28. Do Not Disturb – Awesome Ideas for Your Hen's Night
Are you hosting your hen's night at a hotel? Make sure no one walks in on your party by putting a do not disturb sign on the door. Take a look at the one above, isn't it just great?
29. Cut-Out Frame – Hen Party Ideas
Take amazing photos all night with a cut-out frame! You can write up messages on the frame for the bride or include a hashtag stating what the event is. Get ready for posing in pictures all night!
30. Champagne Balloons – Bachelorette Party Decor
Champagne is considered a must-have drink at big events. As you will probably have bottles of champagne being popped all night, why not use it in the party decor as well? Place gold and transparent balloons along a wall (representing the flowing, bubbly drink), with a champagne balloon at the very top. This will make a great backdrop! It would look amazing as a bit of New Year's Eve decor!
31. Confetti Poppers – Make the Night Unforgettable
Shower the bride in a cascade of confetti! Confetti is always great for getting everyone in the party mood!
32. Drinking Games – Hen Party Games
Drinking games can be really fun, especially if you want to loosen up a bit. Make a game consisting of a few rounds. You can write up statements, and if it's true about someone they will have to drink.
33. Another Cut-Out Frame – Hen Party Decorations
Make sure your hen's night has a cut-out frame so you can take all the pictures you'd like with it! On it, you can write up a funny message, for example, "kiss the miss goodbye." 
34. Pyjama Set – For a Relaxed Party
Maybe you're not planning a huge party for your hen's night and would prefer to stay in at home. Chilling at home is always great, watching a movie or doing facials together. So get everyone pyjamas so you can hang at home comfortably.
35. Mugshots – Hilarious Hen Party Ideas
We mentioned doing mugshots before, it's a really awesome idea for any hen's party! Instead of writing up your names or the crimes you have been convicted for, write up your role at the wedding on a sheet of paper., for example, "bridesmaid", "bride" or "maid of dishonour."
36. Crowns – Cute Accessories for the Hen's Party
A fun dress up idea is getting everyone matching accessories! Get headbands for everyone, which have crowns attached to the top. You can write your names on the crown or naturally, you can stick with "bride" and "bridesmaid."
37.  Very Vintage – Bachelorette Party Ideas
Is the bride planning a vintage themed wedding? Make sure her hen's party matches that style! Get everyone to dress up in a similar vintage or retro manner. This will show beautifully on photos.
38. Keeping it Modern and Stylish – Hen Party Decorations
Keeping the environment clean and simple is always a great idea. It lends modern refinement to the venue.
39.  Sunglasses – Accessories for the Bride Tribe
Get matching sunglasses for the bride tribe! This is an especially great idea if you're going to be in the sun all day long. So, protect everyone's eyes with these awesome sunglasses!
40.  Who Knows the Bride Best – Fun Games
Provide the bride tribe with some fun games! For example, find out who knows the bride best with a set of questions. The questions can be a mix of easier and harder ones, for example, how did she meet the groom or what is her favourite dog breed. This one is really up to your creativity!
We hope this pick of 40 hen party decorations and bachelorette party ideas have helped you to find your ideal ideas for the special night! We trust that you will have a fun and fantastic night with your girls, whatever you end up doing! For other wedding ideas, such as the mother of the bride hairstyles or hairstyles for the bride, visit our website!
Advert