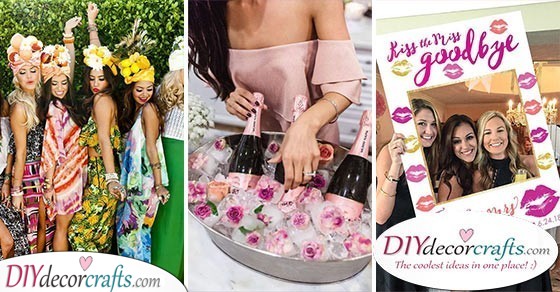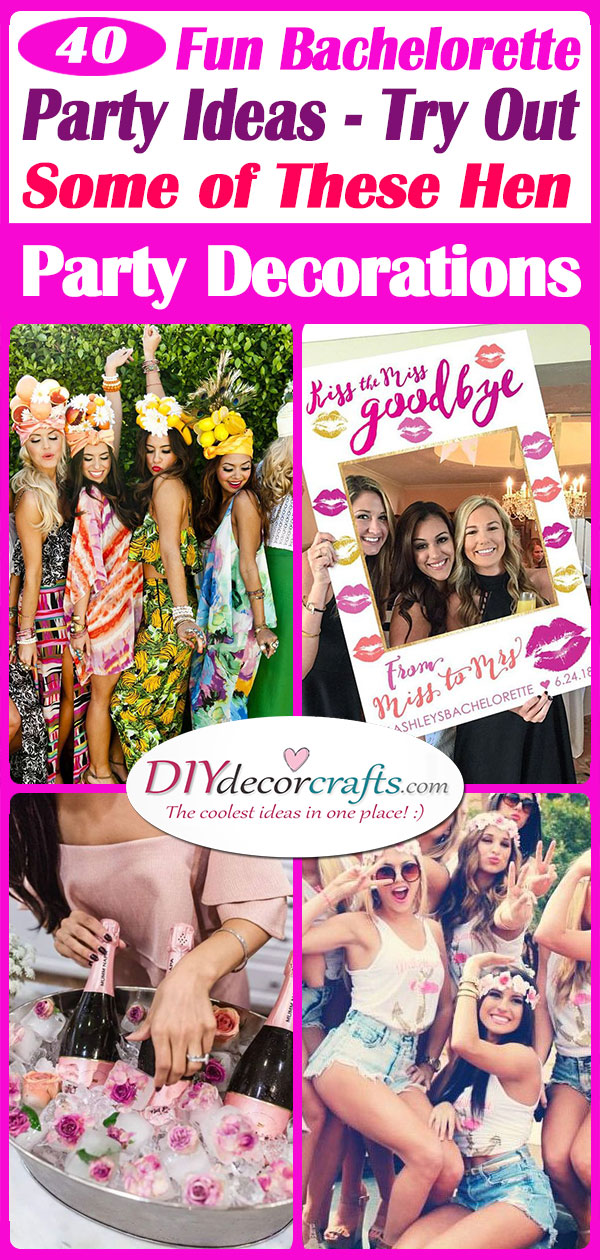 Make sure that your last night of freedom will be an unforgettable experience. Your hens night is your big last party, before walking down the aisle and tying the knot. Take a look through our collection of 40 fun bachelorette party ideas, and give your girls a hint of what you'd like to do on your hens night! We have a list of party ideas, not to mention hen party decorations as well, for you to choose from as well as a collection of wedding ideas!
1. Tropical Theme – An Exotic Party
While you might not have an exact idea for what to do on your hens night, you might have a theme in your mind that you'd like to bring to life. This might mean everyone dressing up in a similar way. For example, check out this tropical theme on the picture, everyone is wearing bohemian dresses and fruit on their heads! This is great for summer hens parties.
2. Prim, Proper and Pink – Hen Party Themes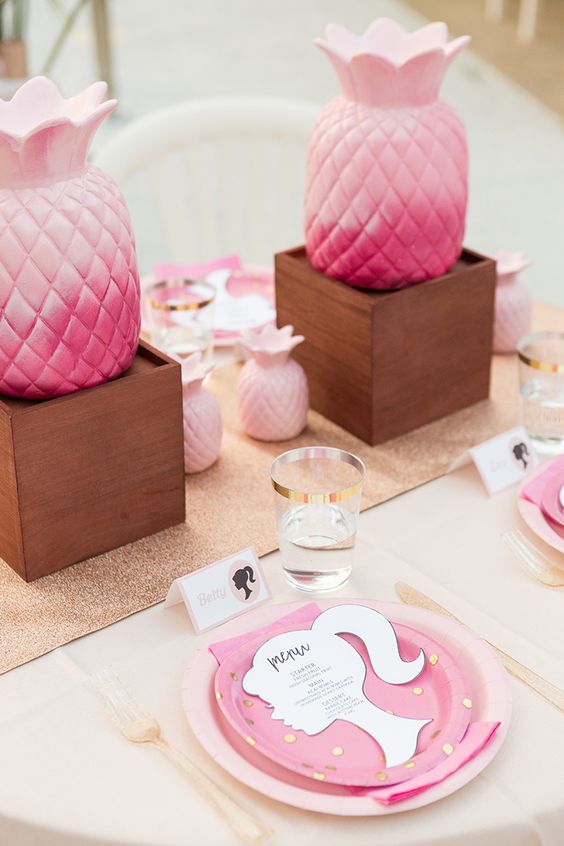 Maybe you're thinking about having a lovely dinner party before the night begins. If everyone loves the shade pink then try getting pink decor for dinner. Pink plates, pink cups and pink table centrepieces.
3. Matching Bracelets – Cute Ideas for Your Bachelorette Party
For your hen's night, make certain that you've got your squad assembled with adorable matching bracelets! Make sure everyone at your party has one.
4. Balloons as a Backdrop – Hen Party Decorations
Are you having trouble finding a perfect backdrop for your hen's party? Well, here's a great idea for you and your girls to take selfies in front of! Arrange an array of vibrant balloons in front of a wall, you can even get some letter balloons that spell out your name, "bride to be" or "bride vibes." It will be really fun taking pictures in front of this great backdrop!
5. Bohemian Beach Theme – Bachelorette Party Ideas
If you're not looking for a wild night out in the city, how about chilling on the beach instead with your girls? You can have a picnic, watch the sunset and dance around a bonfire at night. This is an awesome idea for people, who prefer relaxed nights over crazy parties.
6. Scavenger Hunt – Bachelorette Party Games
Would you like to have a bit of fun on your hen's night? Try out this scavenger hunt! Write up a list of random and hilarious ideas, that everyone will need to achieve during the night. The person who ticks off the most things will win a fantastic prize!
7. Gold Tattoos – Great Ideas for Your Party
If you're thinking about getting something matching for your hen's party, why don't you and your girls try out matching temporary tattoos? Gold temp tattoos are extremely fashionable nowadays and they really do look spectacular!
8. Popping Champagne – Delightful Drinks
What drink should you be celebrating any big event with? Naturally, champagne! Champagne is a perfect drink for any huge moment in your life, which includes your hen's night!
9. Matching Clothes – Hen Party Ideas
Make certain that everyone knows what your night out is about! Get everyone matching clothes and accessories for your hen party. A great idea is you can have "bride" printed on the bride's t-shirt, while you can have "bridesmaid" or "maid of honour" printed on the other t-shirts.
10.  Sweet Rings – Snacks for Your Party
Make sure you supply your party with snacks! But since we are talking about a hens night you will have to consider getting food that matches the theme. That's exactly why these doughnuts are perfect! Make them look like engagement rings, by sticking a cut-out diamond on top.
11. Inspired by Friends – T-Shirt Ideas
Do you have a favourite TV show or movie that you'd like to incorporate in your hen's party? Take a quick glance at the picture above. It's a mashup of your bachelorette party and everyone's favourite classic TV series, Friends. Depending on what your go-to TV series is, create t-shirts for all the girls with a similar design.
12. A Flurry of Pink – Beautiful Decor Ideas
Pink is the colour of harmony and love, not to mention it's considered to be a feminine colour. All this being said, it should come as no surprise if you decide to use it as a dominant colour in your hen's party decor.