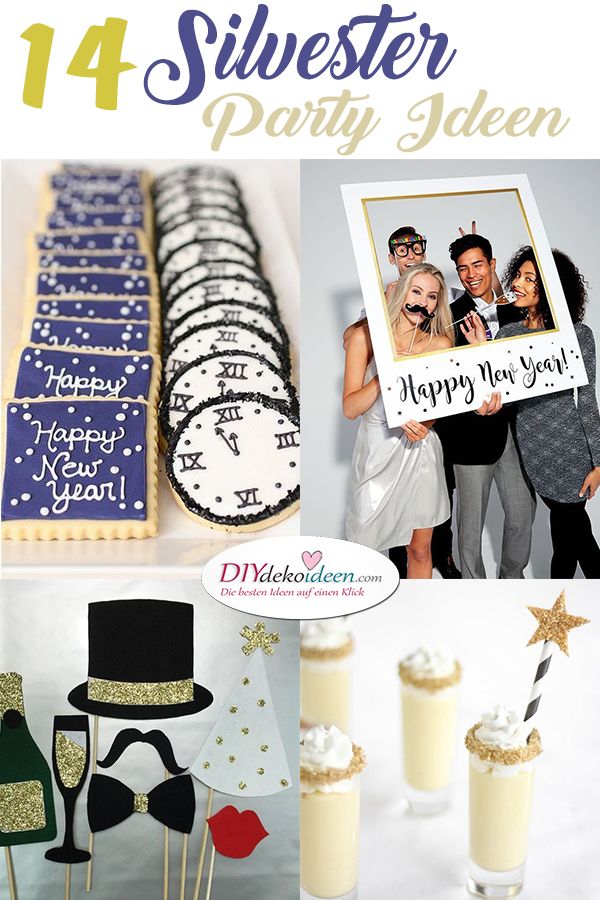 A huge celebration which takes place during the very end of the year also marks a new beginning! This event is no other than New Year's Eve! The last day of the year has become a time for huge and fabulous parties. It's all about getting together with friends and family, saying goodbye to last year and welcoming the next! Perhaps you will be hosting a New Year's Eve party this year at your place or a venue. If so, you will be in search of amazing New Year decoration ideas to glam up the event. That's exactly why we have gathered 25 New Years Eve party decoration ideas, to help you find some perfect New Years Eve ideas for your party!
1. Create Your Own Disco Ball – Unique and Funky
Do you ever sit down to listen to your parents talk about their younger years when they were living their life to the fullest? Think about all those retro parties they went to back in their day. An awesome party decoration necessity was the disco ball. If you are considering hosting a New Year's Eve party, that has a retro vibe to it, make sure to make a disco ball. You can easily create one at home by yourself. You will need a foam ball and CDs and DVDs cut into small pieces. Using a glue gun, stick these pieces onto the foam sphere, covering it fully. Then attach a string to it and the disco ball is all ready!
2. A Cupcake Countdown – New Year Decoration Ideas
You will also want to make sure you have plenty of food served at your party! Fantastic food which can be served at any party is cupcakes! Bake a batch of your favourite flavoured cupcakes for your New Year's Eve event. Then it's time to decorate them. Grab twelve cupcakes and with the help of frosting, draw numbers on each cupcake from one to twelve. Line them up on a plate, making the numbers resemble the image of a clock. You can put a cake in the middle on which you draw the hands of the clock.
3. Handmade Party Poppers – Fun and Glittery
An absolute necessity at any New Year's Eve party is the party poppers! You don't need to buy the ones in the stores though, you can easily put these together at home. You will need toilet paper rolls, balloons and fillers, which can consist of glitter or confetti. Naturally, you can decorate the poppers to give them a festive and fun look! Coat them in an abundance of sparkles for the perfect New Year's Eve appearance.
4. Photo Booth Party Props – For A Fabulous Picture
New Year's Eve is a time for taking photos! This way you will be able to look back at the pictures after a few years and remember what a blast you had that night! Set up a small photo booth area for all your guests! To give the photo booth a more fun feeling, you can create small props for everyone to hold in the pictures! Cut out small designs from cardboard and attach them to thin wooden sticks. Great examples are a moustache, a top hat, lips or a bottle of champagne.
5. A Balloon Clock – New Years Eve Party Decoration Ideas
Create a huge clock for your guests, this way you will be able to count down the hours left of the last day of the year! Blow up balloons, filling them with helium. Draw numbers from one to twelve on each balloon. Then stick them to the walls of the place you will be holding the party at in the shape of a clock. With each hour that passes of the day, you can pop a balloon, counting back the hours of the day.
6. DIY Glittery Globes – Perfect for a Party
Here is yet another great way of decorating the venue of your New Year's Eve party! You will need simple paper lanterns for this, which are sphere-shaped. All you will need to do is coat them in layers of glitter. You can hang these from the ceiling as a fun gorgeous effect. Using glitter is a great idea for this, after all, New Year's Eve is all about celebrating! And we all know that glitter is a staple of all sorts of celebrations.
7. Popping the Champagne – New Year Eve Party Decoration Ideas
When you think of New Year's Eve, what image pops into your mind almost immediately? Perhaps it is the image of a bottle of champagne being popped with bubbles overflowing everywhere. If so, use this as inspiration for your New Year's Eve decoration at your party! Recreate the look of champagne pouring out from the bottle, except in the form of balloons! Create a cardboard champagne bottle, tilted to one side and hang it up on one of the walls. Spilling out from the bottle should be an array of see-through, silver, gold and white balloons, resembling the champagne. This will look perfect for the event!
8. A Photo Booth Frame – For Taking Funny Pictures
If you are certain that you would like to include a photo booth at your New Year's Eve party, there are a lot of cheap and easy solutions on how to create this. Firstly, you will need a large piece of cardboard. Cut out a square or rectangle in the middle of it. Coat the cardboard in paint and draw up the message "Happy New Year!" You can add a few decorative elements to the cardboard, like gold speckles and stars. This cardboard will become a great frame for your photos, you and your friends will be able to pose behind it.
9. An Exciting Drinking Game – Activities for the Night
Make sure that everyone has a great time at your New Year's Eve party! You might consider creating a small drinking game for everyone at the party. Create the cards yourself, on which you write up the rules. Whoever picks a card, will have to drink if they have done what is written on the card. This is super easy to create not to mention cheap as well! So if you have run out of time and ideas, this will make a great activity to play at your party!
10. Remembering the Past Year – A Bit of Nostalgia
If you are going to be celebrating the new year with your close group of friends or family, why not think about the past year and all of its happy moments? Reminiscence about them together. Write up questions on small cards, which everyone will have to answer! For example, "best moment of the year" or "best movie you watched this year" are great questions to ask everyone! It will be awesome listening to everyone's answers!
11. Paper Fortune Cookies – New Year Decoration Ideas
Make sure you send everyone your best wishes for the New Year. Create paper fortune cookies in which you place small messages for each one of your guests. These messages can range from anything which read "you will have a great year, filled with successes" or "you have a romantic year ahead of you filled with love." This is super easy and cheap to create. And this is something your guests are guaranteed to love, reading their fortune! 
12. Bake a Batch of Cookies – New Year Decoration Ideas
When it comes to serving your guests' food at your party, make sure you come up with something creative and tasty! The food should fit the theme of the party as well! Something easy to decorate in any way you'd like is cookies! So if you have a delicious cookie recipe lying around at home try finding it. Then decorate the cookies with frosting and icing. You can write "Happy New Year!" on a few of the cookies. For others, you can paint them with icing to make them look like clocks with both hands pointing to twelve!