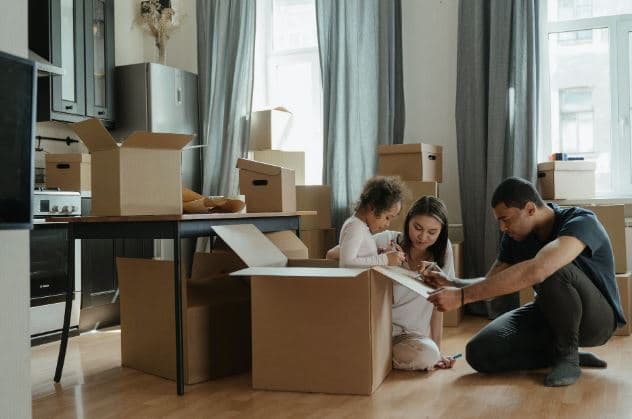 Moving can be life changing, most of the time it is exciting, and despite the fear of starting something new and how stressful it can be, when done correctly, is an amazing journey.
These are some of the actions you should keep in mind in a upcoming move in order to make it successfully to your new life.
1. Make a list of things you need
Before you start packing up all your belongings, it's a good idea to take an inventory of your belongings before you move, especially those items that have monetary or sentimental value to you.
Whether you plan to hire a moving company to pack, or trying to get organized before you start this task, it will help you a lot to have a list or pictures of your belongings and the condition they are in.
Do this based on each room: this will help you organize faster and keep track of your valuable possessions.
2. Buy packaging supplies
One of the most stressful aspects of moving is packing. When considering how to pack for a move, a smart approach is to gather the moving supplies you'll need first.
To ensure a successful move, you will need the following moving supplies:
Gather cheap or free packing boxes: Gather a variety of sizes and make sure the boxes are in good condition.
Buy bubble wrap and tape: bubble wrap keeps your items protected during the move.And best of all, you can buy it from office supplies or department stores at low cost. The tape will be useful to seal your boxes after packing.
3. Review your finances.
Make a budget with all the expenses involved, not just moving, but staying in the new place where you're going to live. For this purpose, analyze the rental fee, the services, transportation and food.
As a general rule the rent should not be more than 30% of the salary, taking into account that the rest will be for payment of services, travel, food and other factors to consider.
4. Make a moving plan
A good idea is to organize, clean and select all your stuff to get rid of the trash and take only what is really needed. You should also buy or collect special moving boxes, tapes, ropes and other materials to pack everything, also markers, to mark the contents and know what is in each box before opening it.
It is essential to decide if it will be necessary to hire someone specialized in moving to take everything or you are counting on friends and family to do so.
5. Take your time
Do everything calmly and without haste, it is better that everything arrives organized and ready for the new house, it can take more than you think, it could even involve memories and feelings that were not expected.
It is very convenient to wash all clothes, sheets, towels, toys, stuffed animals, dust books, ornaments before packing them, this will save effort when you get to your new home.
6. Ask for help
Be accompanied by the greatest amount of help, friends, family, neighbors. It will take many hands and heads with good ideas to make it easier. Remember, you can always rely on moving companies, they are experts on the field and you can trust that they will make the process less stressful for you.
7. Pack everything strategically
In the moving truck the heavy must go first then the lighter boxes and the fragile things. Load everything from the biggest to the smallest, so you won't have to worry about a box when you've loaded everything into the truck. If there is something you need to use right away in your new apartment, make sure you have it handy.
Advert