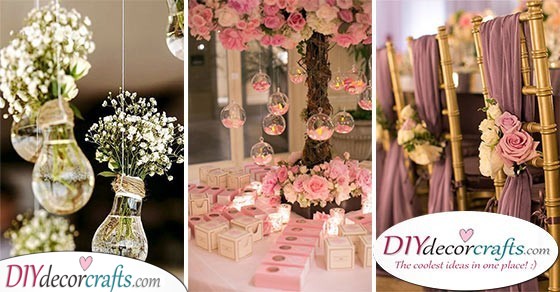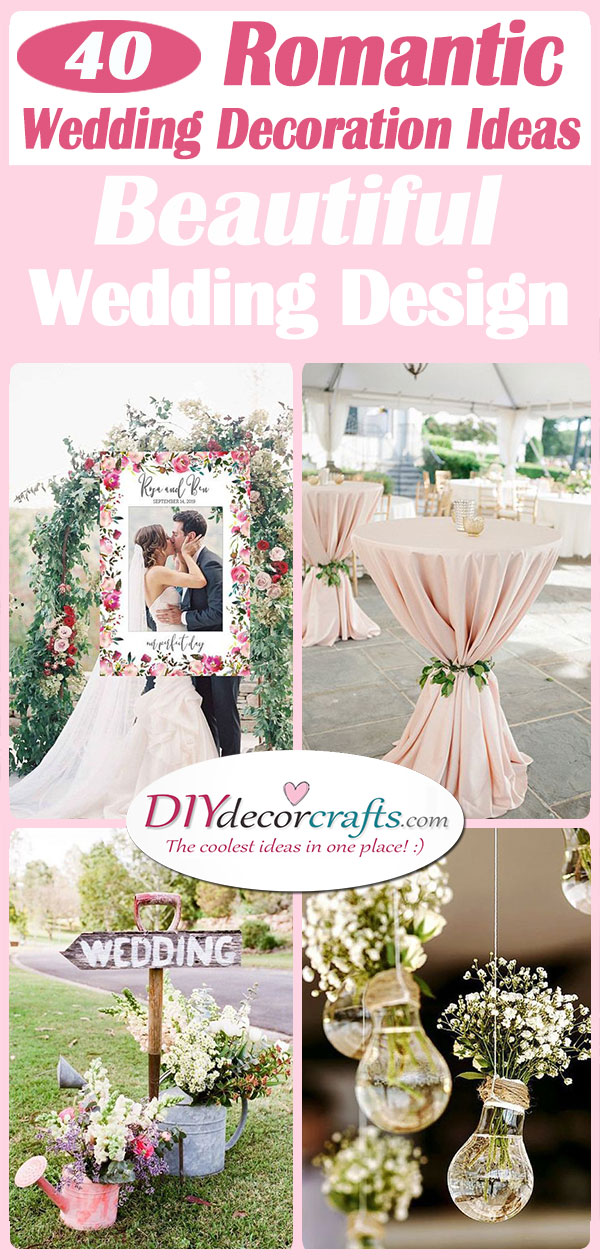 The big day – a moment you have been waiting for all your life – has finally arrived. Your wedding day is a milestone, it's something you will never forget. To make your big day perfect, you want everything else to be perfect. Including the wedding decor. We have a collection of 40 cheap wedding decor ideas to help inspire you. After all, it's incredibly important that you make your wedding environment a reflection of the love you and your partner share for each other. Hopefully, you will be able to find a great idea amongst these ones. Naturally, don't be frightened to get creative, maybe you'll invent some DIY wedding decorations of your own!
1. Blossoming Tree – Cheap Wedding Decoration Ideas
Are you thinking about using pink as the main theme at your wedding? Take a look at the picture above. Instead of using vases of flowers as centrepieces, put the flowers in branches and twigs formed to look like a tree. Your flowers will look like a cherry blossom blooming in spring. To make it look even better, hang some terrariums from the tree's branches, which are filled with the same pink flowers.
2. Fabric and Flowers – DIY Wedding Decorations
To make your wedding stand out, robe it up in sheer sophistication. You can attach cloths to chairs to give it a waterfall effect and wrap vines and ribbons around it. This is guaranteed to give your wedding reception's decor an elegant look.
3. Frame Your Big Day with Romance – Cute and Romantic
A fantastic idea that not only you but also your guests will love, is getting a large cut-out frame that is decorated with your names and the date of the wedding. You and your guests can have your picture taken with the frame.
4. A Whimsical Setting – Secret Garden Style
If you want your wedding reception to give your guests an enchanted vibe, then try sprucing up your venue with a bunch of flowers. Decorating the place with candles will give it a truly special glow at night.
5. Bright Flowers – Simple Wedding Decorations
Your wedding reception's decor is not only the important decor you need to concentrate on. Decorating your wedding aisles is also a big part of designing your big day. A great idea is to use mason jars as vases, put some flowers in them and place them along the aisle. You can decorate the aisle itself with flower petals.
6. Floral Lanterns – Lighting up Your Wedding
Using lanterns as a form of decoration give any special day an extraordinary sense of romanticism. To make your lanterns look even more beautiful, attach some flowers to them.
7. Gorgeous Cocktail Tables – Cheap Wedding Decoration Ideas
Will you have a set of cocktail tables standing at your wedding reception? Make them look fabulous with this easy tip. Don't just throw a drape of linen or silk over it. Tie a ribbon or a vine around the middle of the table's leg, to make it look a bit more elegant. Place candles or flowers on the top of it. 
8. Strings of Light – DIY Wedding Decorations
Naturally, your wedding party won't only be going on for a few hours, it will probably last until the late hours of the night or until dawn breaks and the first rays of sunlight pop up. A great way of lighting up your venue at night is by attaching strings of light to the walls or edges of the tent, of where you will be hosting your wedding party. This will give your wedding an enchanted vibe.
9. Huge, Frilly Pompoms – Wedding Ceremony Decorations
If you want to create your own simple wedding decorations, here is a fantastic idea! You can make huge pompoms at home with this easy technique, to turn your wedding venue into an idyllic place. Choose the same colours for your pompoms that will also play a dominant part in the rest of the wedding decorations.
10. Unique Vases – The Best Wedding Decor Ideas
Just like most weddings, we're certain that yours will also incorporate flowers. To make your flowers stun all your guests, put them in uniquely shaped, tall vases.
11. Balls of Flowers – Great DIY Wedding Decorations
Are you into DIYs and you want to design wedding table decorations for your big day? Check out the picture above. It's a simple, yet beautiful idea for wedding decor. You can cut out small flower petals from paper or fabric, and with pins, you can stick them into a globe made out of foam. You can place these balls of flowers anywhere, whether it be cocktail tables or dining tables.
12. Gorgeous Flower Arrangement – Wedding Decor at its Best
An absolutely gorgeous way of arranging flowers for your wedding is in this way. Cut off the stems of the flowers and place them in large glass bowls. Pour water into the bowls and this will make your flowers float. It's a simple idea, but it shows really well!
13. Hanging Lightbulbs – Another Great Tip for Arranging Flowers
Are you bored of just placing your flowers in vases? Then try out this beautiful alternative. Fill used lightbulbs up with water, and put your flowers in them. Then hang them from the ceiling to give your wedding venue a somewhat rustic and natural atmosphere. You can easily prepare these by yourself at home and it's also a cheap solution.
14. Serve Your Guests Stylishly – An Unusual, but Chic Idea
If you would like to present your guests with their glasses of champagne in an unusual manner, then take a look at this wedding decor idea. On a larger branch of a tree secure copper wires, each end of the wire should form a small circle, in which you can place a glass that won't fall out. This will give your wedding an earthy essence.
15. Classical Sentimentality – Cheap Wedding Decoration Ideas
If you've been dreaming of creating a romantic and whimsical look for your wedding, then this might be the right choice for you. Elegant drapery, candles, flowers and marble vases will give your wedding an elegant look, making your guests feel as if they pondered into a nineteenth-century ballroom.
16. Spring Feeling – DIY Wedding Decorations
If your wedding is going to take place during springtime, then this might be a cute and refreshing way of guiding your guests to the wedding, not to mention the essence of spring will definitely come through. Stick a spade into the ground and attach a wooden board to it, that has the word "wedding" written on it. Point it in the direction of where your wedding will take place. Surround your spade with some watering cans, that are filled with vibrant flowers. This outdoor spring decoration will give everyone a sense of the season!
17. Fancy Cocktail Tables – Vintage Wedding Decorations
Another great way of decorating your cocktail tables is by covering them with some sort of interesting fabric. The picture above is a perfect example of this, a lacey cloth of fabric draped around the table. This will give your tables a dazzling look.
18. A Stunning Wreath – Perfect Wedding Decor
An example of beautiful DIY wedding decorations is the picture shown above. A huge wreath standing as a centrepiece, shrouded in flowers, will show magnificently at any wedding. Attach small candles to the top of the wreath, letting them hang down like tiny parts of a chandelier.
19. An Essence of Zen – Wedding Ceremony Decorations
If you prefer simpler ornaments that put you in a relaxed mood, then this is the perfect choice for you! It's an easy DIY, not to mention it's also quite cheap. All you need to do is find a glass bowl or vase, fill it up with sand or gravel and place your flower in it. The picture above is a great guide on how to make this wedding decor.
20. Regal Purple – Wedding Decor Ideas
Are you crazy about purple and want your wedding to integrate this colour? You can use purple fabric as drapes on chairs. Match it with the tablecloth linens, making sure it's the same colour!
21. White Elegance – Wedding Aisle Decor Ideas
Have you been searching for the perfect wedding aisle decor? You've found it! Spread white flower petals along the aisle. Place trees along both sides of the aisle, and decorate them with white flowers or glass beads, allowing them to hang down from the branches. This will create a whimsical setting for your wedding.
22. An Array of Lanterns – Cheap Wedding Decoration Ideas
A fantastic way of decorating your wedding reception is with lanterns and fairy lights. Hang them from the ceiling and when night comes, they will light up your venue in the most romantic way.
23. A Path of Love – DIY Wedding Decorations
Planning an outdoor wedding or reception? Then guide your guests to the ceremonial place with a stream of hearts. This is a simple DIY, all you need to do is cut out paper hearts, attach them to wooden rods and stick them in the ground. Your guests will follow this heart-filled road to get to your wedding.
24. Paper Flowers – Vintage Wedding Decorations
If you want to make your wedding decor yourself, then this is a great and simple idea for you to follow. Cut out paper flowers, stuck on branches and twigs, will give your wedding a rustic and simplistic vibe.
25. White Roses on a Wreath – Keeping It Simple
There is nothing as elegant as a beautiful wreath, embellished with white roses. You can hang such a wreath on the door of your reception's venue. Tie a veil around the wreath to give it an even better wedding glow.
26. Hanging Flowers – Outdoor Wedding Decorations
Do you prefer using rustic ornaments that make you feel closer to nature? Then this might be a super idea that you can use as well for your own wedding! Place flowers in ordinary vases, tie a string around them and hang them on tree branches. These simple ornaments will paint a picturesque setting at your wedding.
27. A Heavenly Wedding – Fluffy Clouds
28. Flowers in Birdcages – Cheap Wedding Decoration Ideas
Illuminate your wedding in a romantic way using this idea. All you need is birdcages and flowers. Stuff the cages with the flowers and you're already done! This is a delicate and gorgeous ornament.
29. A Beautiful Backdrop – Fancy and Stylish
Have you been looking for a divine backdrop for your wedding? Using curtains or drapery can provide an elegant setting, especially if it's arranged in an interesting way. If you are going for a fancier theme, then consider using chandeliers as lighting, they will complement the drapery very well.
30. Brilliant Terrariums – DIY Wedding Decorations
Using terrariums as a source of decoration is always a great idea. According to the colour scheme of your wedding, place the same coloured flowers and candles in small terrariums, and hang them from other pieces of decor. These small objects will lend your wedding ceremony a divine glow.
31. Photos of You – Personal and Intimate 
In a metal wreath place photos of you and your significant one. Photos of you, during your baby years, childhood and when you met each other, are a very intimate way of sharing personal moments of your life experiences. This will put a smile on your guests' faces and warm their hearts.
32. Fairy Lights as a Backdrop – Cheap Wedding Decoration Ideas
Thinking about using a beautiful backdrop? Use fairy lights! When placed behind a thin veil, fairy lights shine through gorgeously, making you feel as if you were in an enchanted forest with angels guiding you.
33. Rustic Vibe – Rustic and Adorable
If you like rustic decor, then this is a great choice for you! Tie bows around chairs using sack fabric. If you want to make the sack fabric look prettier, sew some white lace on it beforehand.
34. Wedding Signs – Outdoor Wedding Decorations
Do you want your guests to know the most important dates of your relationship? Using boards you can write up a few details for your guests, just like in the picture above.
35. Amazing Wedding Arches – Beautiful Wedding Decor
A huge factor in wedding decor is wedding arches. These beautiful arches will give your wedding a romantic and captivating look. You can hook fairy lights around them, hang flowers from them, there are endless possibilities!
36. Flowery Backdrop – DIY Wedding Decorations
Another great idea for backdrops is this one! Beautiful white and pink carnations hanging from strings could give your wedding an earthy and natural atmosphere. 
37. DIY Chandelier – Cheap Wedding Decoration Ideas
Would you like a chandelier hanging from your wedding venue's ceiling, but can't afford one? Then make it at home by yourself! It's really simple and easy to put together, all you need is a hula hoop, some sort of wrapping paper and a glue gun. Glue the wrapping paper all around the hula hoop. Then twist fairy lights around the hoop and you're already done!
38. Glamorous Flowers – Gorgeous and Enchanting
Would you like a wedding that is more on the glamorous side? Coat everything with smooth and silky fabric, candles and a lot of flowers. Placing flowers in tall vases, as centrepieces, is a true classic.
39. Rosy Backdrop – Romantic and Beautiful
Backdrops are great not only as decoration but as a background for wedding photos. If your family and friends want to take pictures, then this is a perfect background for them. Drape some chiffon or thin fabric over a wall, you can decorate it with roses to give it a more romantic vibe.
40. Gorgeous Centerpiece – Stunning and Spectacular
A truly unique wedding table centrepiece is a small tree, with candles, beads and flowers hanging down from its branches. This looks especially beautiful when it's growing dark already and the tree illuminates everything with its vibrant glow.
We sincerely hope we have helped you find or at least give you an idea of what sort of wedding decor will surround you on your big day! Make sure you choose carefully, after all, you'd like your wedding and reception to be perfect! Check out our other ideas on wedding napkins and wedding ring pillows for some extra inspiration! 
Advert