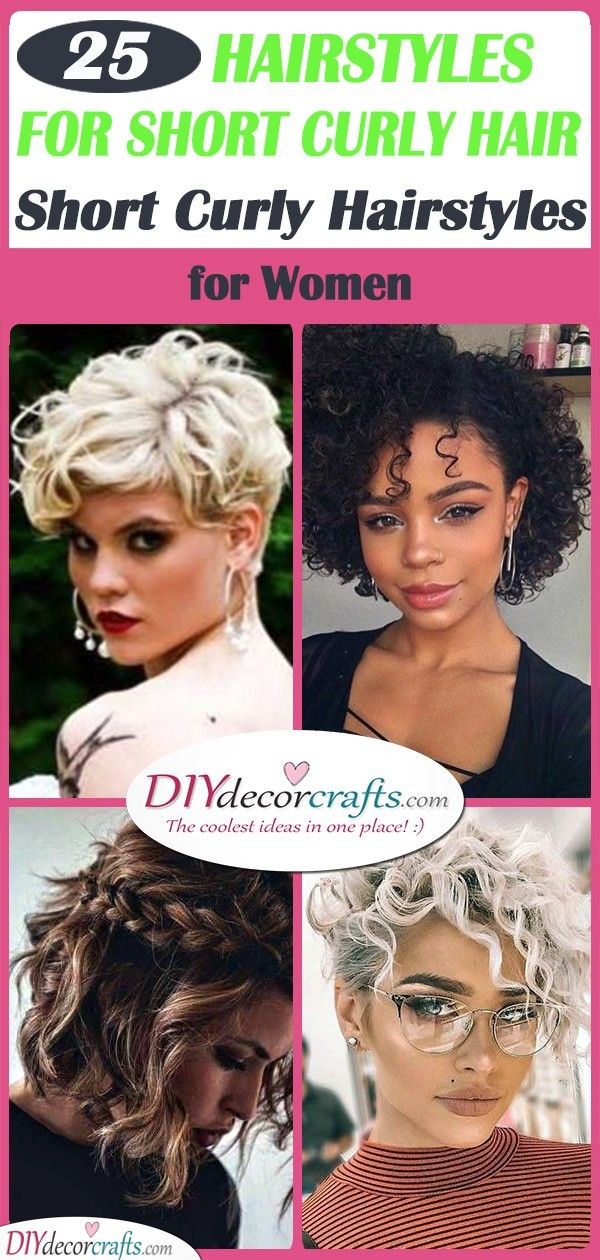 Whether you are getting ready to go to a family get together or a work meeting, you will want to make sure that you look perfect. This includes your clothes, the accessories you choose, your nail design and naturally, your hair! While we seem to forget about hairstyle ideas, it is actually an important factor in attaining the perfect look. If you have short curly hair, you might think that you don't have a lot of options for styling your hair. But you are completely wrong! We have collected 25 hairstyles for short curly hair to help you out in finding something, with which you can express yourself best. So take a look through our collection of short curly hairstyles for black women and gather some inspiration!
1. Glam Rock – Hairstyles for Short Curly Hair
If you have short curly hair, why not make it even shorter by giving it a pixie cut? A pixie cut is super short but shows off the beautiful shape of your head. Your curly locks will give your pixie cut a different look, making you look cool and chic. This hairstyle is perfect for your everydays, whether it's just running errands around town or going to a concert after work, this hairstyle will look great on you. These pixies are great short haircuts for curly hair!
2. An A-Line Cut – Cute and Curly
If you've had shorter curly hair, but haven't known how to style it, why not have it cut in the form of an A-line? It will give your whole image a bit of an edge, with the front strands of curls being longer, the ones in the back properly trimmed into the A shape. Your bouncy curls will help make this hairstyle look more unique, giving it enough volume and definition. Again, this hairstyle is perfect for any occasion you might be heading to. Whether it's casual or fancy, this A-line cut will look beautiful on you!
3. Add a Few Clips – Hairstyles for Short Curly Hair
It's always a great idea to let your curls run wild and free. If you are getting ready to go to an elegant dinner or a more formal event, you will need to add a small touch to your hair though, to give it a more sophisticated glow. First of all, part your hair on the side. Then add a few clips to one side, pinning down your hair to your head. This small trick with clips will definitely glam up your whole look for the night!
4. Short and Gorgeous – Short Curly Hairstyles for Black Women
We have already mentioned that going super short, in the form of a pixie cut, is a great option! It's a way to show off the beautiful shape of your head as well as exuding a huge amount of confidence. To give your pixie cut a further spark, why not cut a fringe or bangs to go with it? Side fringes out of curly hair look fabulous and will be guaranteed to uplift your whole look. This pixie cut with a fringe will take your curls to the next level!
5. A New Colour – Blonde Bombshell
Another way to boost your whole appearance is by trying out new hair colour. Summer is the perfect season to try out something new, especially if you are planning to go to festivals and parties throughout the season. Depending on your personal style, choose a cool shade that matches your complexion as well as your eye colour. For example, trying out honey or even platinum blonde is a fantastic idea, it will give you a stunning glow. You can even think about dying the tips of your hair in different vibrant colours for a festival or party!
6. Ginger and Funky – Hairstyles for Short Curly Hair
Here is another great shade you can dye your hair if you are bored with your current hair colour. A glowing ginger colour, either a light shade of red or something more orange. Of course, before dying your hair, make sure that the shade you choose matches your skin complexion and the colour of your irises. The hair colour ginger will complement your short curly hair really well! It will add a bit of funk and spunk to your whole image. Not to mention, this hair colour will give you a more unique look.
7. Big and Curly – Short Curly Hairstyles for Black Women
Another fabulous idea for short curly hairstyles for women is to just let it be as it is! Don't tie it together in a bun, just let your curls run wild. This will definitely give your hair a natural and funky vibe. Letting your hair out in big curls will look great wherever you need to go. If it is just a small get together with friends or a romantic date at a fancy restaurant, you will definitely look stunning and natural. Leaving your hair in a natural form means you are owning it and have loads of confidence!
8. Messy and Wild – An Edgy Look
Sometimes when you get out of bed, you notice your strands of hair sticking in every direction, looking like a messy bird's nest. While it looks messy, it also gives off a carefree and edgy look. So if you're going for that sort of vibe, why not leave your hair in messy tangles? You can leave a few curls out front, creating a small fringe. We would recommend this hairstyle for casual events when you don't need to care about looking prim and proper.
9. Layered and Asymmetric – Short Curly Hairstyles for Women
Here is another great hairstyle for short, curly and thin hair. Not to mention, this haircut is perfect for any age. The curls and cut and layered to create more definition and texture for your hair. This hairstyle is all about going short and bold! Part your hair in the middle for an asymmetric angle. Then simply let your curls fall downwards onto your face. While this haircut is short, it gives off an elegant and sophisticated vibe, making it perfect for any sort of fancier event you might be visiting. But it's also great for casual occasions!
10. Shaved on the Side – Short Curly Hairstyles for Black Women
We have talked a bit about pixie cuts, which is no wonder because they are fabulous short curly hairstyles! Now we have a pixie cut with an edgier side to it. Shave the sides of your head, leaving your hair super short there. Leave the curls bouncing freely on the top of your head. The trimmed sides and the curls on top will definitely give you an edgy look, which will be perfect for any sort of casual event but will also shine brightly on more formal occasions.
11. A Glowing Red – Sensual and Seductive
Here is another awesome shade you can dye your hair with! A darker red will give you a sensual and seductive look, and will show beautifully with short curly hair! So if you have been thinking about changing it up, make sure to give your hair a new colour! Dying your hair a different colour is all about expressing yourself and red is a very expressive colour. This striking colour will definitely be an eye-catcher at any parties or events you might be attending. So don't hesitate to try out this brilliant red shade!
12. An Easy Updo – Hairstyles for Curly Short Hair
When you have shorter hair it's harder to find or create an updo out of it. Since your hair is short, you might not have enough to tie it together. Instead of using hair ties though, you can try using clips to tie your hair down. This will make it a lot easier to create a simple half updo out of your short curls. Check out the tutorial above on how to make this simple hairstyle using only a few hair clips and bobby pins. This hairstyle will look great for any event.
13. A Cute Curly Bob – Effortless and Adorable
A short bob is a perfect haircut for anyone who would like to stick to something short, but not too short! You can add a fringe to it, for an adorable effect.  Bobs are great for any time of the year and will look great at any sort of event you might be heading off to.
14. Short and Stylish – Curly Hairstyles for Short Hair
Here is another fabulous pixie cut. This one is well trimmed on the sides, leaving the curls on the top of your head running freely. This is a great look for summer if you are going for something light and trendy.
15. A Curly Bob – Stunning Short Curly Hairstyles
Perhaps you have long or medium length curly hair and would like to give it a fresh look. How about you try out a shorter bob, which will have a lot of texture and volume thanks to your curls. This is a youthful look, which you can further style with front bangs or a side fringe. This haircut will give you a lovely and feminine look and will look great whatever you do with it!
16. Pretty in Pink – A Unique Colour
If you are happy with your haircut and would like to give it a new and fabulous colour, why not go for a fun and funky colour like pink? If you have blonde hair, simply dye a light shade of pink over it for a little bit of colour. It will look great at a festival or a party, but will not be over the top!
17. A Dazzling Look – Hairstyles for Short Curly Hair
Here is another trendy short hairstyle, which is outspoken and beautiful. Cut your hair short, leaving it in frizzy tangles. This short and curly hairstyle is all about embracing your unique self and making a statement. This is a bold look, which you don't have to do anything with, just leaving it out and flawless.
18. Two Cute Buns – The Topknots
Creating buns on the top of your head is are super cute hairstyles for short curly hair! Not to mention and it's a great way of adding a fun and youthful side to your look. Create two smaller buns, one on each side of your head, then let your remaining hair run out freely. These buns will definitely spark you up with a new attitude, giving you a trendy and stylish look.
19. Dye It Grey – A Modern Twist
Another colour of hair that has become super stylish over the past few years is grey. If you have been thinking of trying this hair colour out, then don't hesitate and just do it! Your grey short curls will look super fashionable!
20. Natural and Round – Short Curly Hairstyles for Black Women
If your curly hair naturally grows into an afro, then make sure to try it out. Let it grow out naturally, this will make certain that your hair looks healthy and full of volume and texture! You don't even need to add any hair accessories to it to make it look fantastic! These short curly hairstyles for black women are guaranteed to look amazing!
21. An Elegant Haircut – Simple and Sophisticated
Wearing your hair short does not mean you have to bring an edgy or funky vibe with yourself. Short hair can also stand for elegance and feminine elegance. Try cutting your short and curly hair into a pixie cut, leaving the curls at the front and on the top a bit longer. This will give it a touch of sophistication and softness.
22. A Few Easy Braids – Cute Hairstyles for Short Curly Hair 
Spice up your simple curly bob with a few braids and an accessory. You can create a three-stranded braid, pinning it back to the back of your head. Try using a beautiful hairpin for this!
23. A Short Shag – Looking Fantastic
If you think that shags are a hairstyle of the past, you are completely wrong! Shags will create a unique and bubbly look. If your hair is short and curly, it will add more layers, meaning more volume, to your hair!
24. A Brilliant Braid – Hairstyles for Short Curly Hair
If you have short and curly hair, a great way to enhance your look is with a simple braid. Braid part of your hair from the front, attaching it to the back of your head in the middle. This will give you a casual and effortless look, which is perfect for your everydays.
25. Modern and Stylish – Curls for Days
Find some stylish short haircuts for curly hair! For a trendy and more modern look, you can leave your hair short and layered with an abundance of curls! You can go super short if you'd like to, it will make you shine with confidence! This would be an amazing short hairstyle for women over 50.
Hopefully, you have found some great options in our collection of 25 hairstyles for short curly hair and short curly hairstyles for black women which will suit the shape of your face! For more ideas concerning hairstyles, like medium length hairstyles for women or cute summer hairstyles, check out our website!
Advert