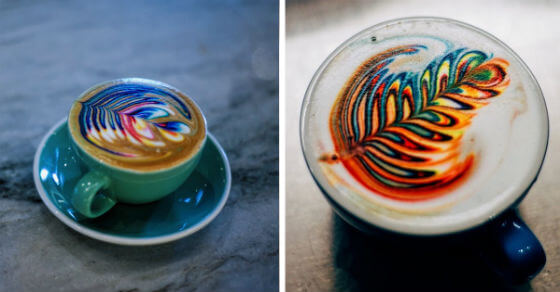 No wonder that being a barista is getting a more and more popular profession nowadays, because coffee latte art can immediately amaze everyone. It provides such a unique and interesting perspective that you will never forget these memories in your entire life! Let's have a closer look at how this barista creates colourful latte art using food dye, you won't believe it! 
Have you ever wanted to practise your barista skills but can't afford to waste all that espresso? Las Vegas-based barista Mason Salisbury certainly has, and that's the main reason why he's come up with a clever alternative. Believe it or not, he uses food dye instead of using espresso. What's a clever idea! How about discovering some photos about his artwork?
One thing is sure: if you are a real coffee fan, you will fall in love with these brilliant creations! We don't mind at all that he uses food dye. It's amazing! You can find more information about his special technique below!
He makes them by steaming milk which he then infuses with food dye before pouring the foam into a cup.
 I am not addicted to coffee, we are just in a committed relationship.
 He finishes them off with an artistic flourish in order to create these beautiful multi-coloured leaf patterns.
 Barista Creates Colourful Coffee Latte Art Using Food Dye