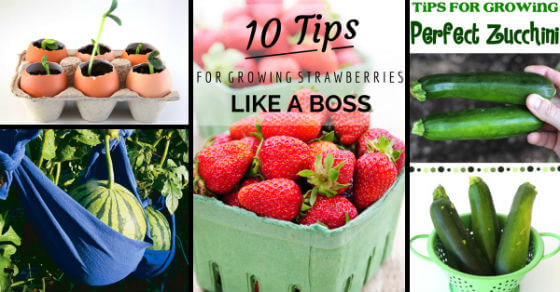 Gardening is a lifestyle that helps you get relaxed while connecting with the nature that surrounds you. If you are just getting started with gardening, you should definitely discover these garden tips and garden decor ideas as well! Be creative and make this wonderful hobby part of your daily routine. 
Citrus Peel Starter Pot
This is certainly one of the most awesome gardening hacks you will ever come across! all you need for this awesome citrus peel starter pot is a large lemon that will be carved out.
Source: myromanapartment
DIY Raised Garden Beds
Raised garden beds are certainly becoming the norm amongst modern gardeners. Learn more about the following tutorial, grab your nails and hammer and get ready to make your own lovely mini-garden!
Source: thegardenglove
Use Old Pallets For An Outstanding Veggie Garden
This tutorial will change the way you look at garden furniture and other support systems for your flowers and plants. Don't throw away your old pallets!
Source: ourlittleacre
Useful Tips On How To Grow And Care For Your Zucchini
If you are in love with Italian food, you are certainly familiar with the famous zucchini! Now you can check out how to grow and care for your own zucchini.
Source: thefrugalgirls
 12 Garden Decor Tips And Garden Hacks To Turn You Into A Gardening Expert
How To Care For Your Annuals
There are many types of plants that every passionate gardener should become familiar with, and the annuals and perennials are only two of them. This useful tutorial will certainly come in handy for you!
Source: beeskneesbungalow
Great Tips For Growing Healthy, Big And Delicious-Looking Strawberries
It's time to learn how to grow your own strawberries in your back garden!
Source: tenatthetable
Frugal Gardening Tips
Do not worry if you don't have a massive budget at your disposal, you can still enjoy healthy, beautiful and ever-blooming flowers! Here you will find frugal gardening tips!
Source: premeditatedleftovers
Useful Tips For A Flawless Herb Garden
Herbs are great to have around so don't miss these useful tips and hints that will undoubtedly benefit you, over the years!
Source: acultivatednest
 12 Garden Decor Tips And Garden Hacks To Turn You Into A Gardening Expert
DIY Covered Greenhouse Garden
One can never have too many different greenhouse garden plans! So if you feel creative and hard-working, try out this DIY covered greenhouse garden tutorial on your own!
Source: apartmenttherapy
The Fast And Easy Way To Repot Your Succulents
This tip will help you make the best of your succulent plants, and teach you how to use old pots and to repot your succulents in a practical and professional fashion!
Source: hellohydrangea
The Art Of Growing Carrots
Carrots are super rich in antioxidants, betacarotene and have numerous health benefits. How about exploring the art of growing carrots?
Source: prepared-housewives
Rose Cutting Tips
Check out some of the best rose cutting tips, provided by expert gardeners who specialize exclusively in growing and caring for roses.
Source: amateurgardening
Thank you for reading our article of "12 Garden Decor Tips And Garden Hacks To Turn You Into A Gardening Expert"!
Advert