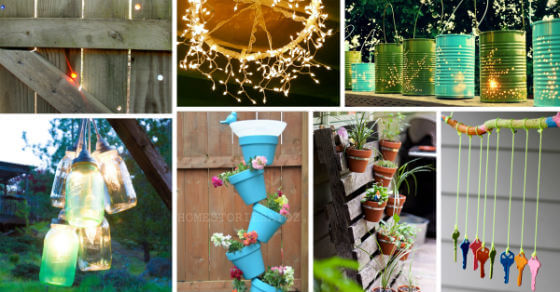 It is said that a backyard is one of the most useful and versatile parts of your home. So how about renovating, decorating or even remodeling it?  You can choose from endless possibilities, for example, you can add an artificial pond, a barbecue grill, a gardening shed, a pool or a tanning bed if you aim to make it as comfortable as possible. Discover 12 outstanding DIY backyard ideas on a budget that will make your neighbors jealous!
Tin Can Lanterns
This lovely tin can lantern tutorial will teach you how to "upgrade" your backyard lighting system in an instant. Grab a few old tins and get started on this creative project today!
Project Credit and Tutorial – growcreative
DIY Toy Storage For Your Kids
Summer is almost here and your kids will certainly want to play outdoors so this creative, practical and useful outdoor toy storage idea will definitely come in handy!
DIY Key Wind Chime
It's time to make mini key chain wind chime that will boost your mood and make your day happier!
Project Credit and Tutorial – giving.innerchildfun
Turn Your Old Chandelier Into An Awesome Hanging Planter
Don't throw away your old chandelier because you can turn it into an awesome hanging planter!
12 DIY Backyard Ideas On A Budget That Will Make Your Neighbors Jealous