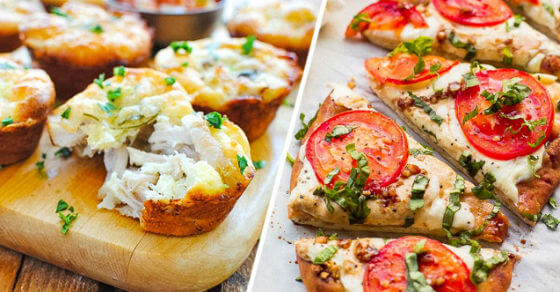 Do you often dream about having the time to make and eat a delicious and nicely served breakfast? Believe it or not, it's possible! Let's discover 10 great breakfast ideas that take just 15 minutes to make! Don't forget, a good breakfast can make your morning better. 
Banana and blueberry pancakes

source

Ingredients you will need:

1 cup of wheat flour
1 glass of milk
1 egg
1 teaspoon of baking powder
1 tablespoon of butter
1 tablespoon of sugar
Salt
Berries and fruit for garnishing
Honey or syrup

Firstly, combine the sugar, flour, salt, and baking powder in a bowl. After that, whisk the egg, pour in the milk and stir the batter. Before melting the butter, add the egg mixture and milk to the dry ingredients and mix everything carefully. Cook each side in a frying pan for 2-3 minutes. If your pancakes do not stick to the pan, you don't need to use oil. Finally, garnish the pancakes with fruit and berries, what's more, you can pour the honey over them.
Frittata with vegetables
source
Ingredients you will need:
6 eggs
3 bell peppers
1 onion
200 g of broccoli
200 g of asparagus beans
1/4 lemon
50 ml of olive oil
2 cloves of garlic
50 g of butter
Salt, ground black pepper and spices
First of all, whisk the eggs together with the spices and salt. After that, divide the broccoli into little florets, peel the bell peppers before cutting them into thin strips and then slice the onion into half-moons. Your next step is chopping the garlic and mixing it with the olive oil and lemon juice. Then fry the onion with the butter until it gets soft, add the broccoli to it and fry it for 1 more minute. Add beans and the bell pepper, fry them together for 1 minute. Don't forget to add the garlic and, 30 seconds later, the eggs! Put the frittata in the preheated oven when the eggs harden a bit. Bake it for 7 minutes at 180°C. Salt and pepper the dish and garnish with chopped greens before serving.