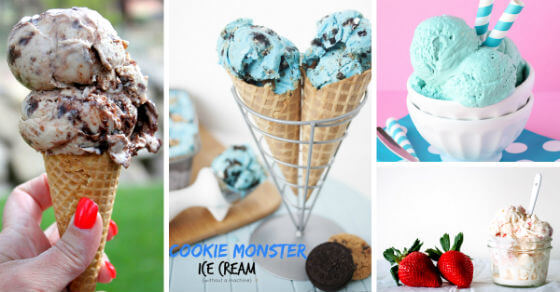 Summer is finally here and everyone knows that nothing can beat the experience of a rich and creamy scoop of an ice cream. If you would like to head to the store all the time, let's make your own ice cream at home! At first sight, this idea might seem a tough task but you will soon realize that it is actually truly easy and trouble-free! Discover 25 easy homemade ice cream recipes that will definitely bring sweet freshness to your day!
Lemonade Ice Cream
First of all, just imagine how it would be when that frozen delight is combined with the goodness of lemon. We simply can't find words! Here is an easy-to-forge recipe that calls for whole milk, egg yolks, granulated sugar, lemons, lemon extract, fresh lemon juice, and undiluted frozen lemonade concentrate. It sounds awesome, doesn't it? Let's learn more about the recipe below!
Recipe Details : iheartnaptime
Caramelized White Chocolate No Churn Ice Cream recipe
If you are in love with caramelized white chocolate, you shouldn't miss this amazing recipe. Believe it or not, you will need 3 ingredients from your kitchen. You can't say no to this ice cream recipe that is for sure!
Recipe Details : deliciouseveryday
No-Churn Cake Batter Ice Cream with Funfetti
You should definitely check out this recipe if you are organizing a great birthday celebration! You will adore these loads of colorful sprinkles The best thing is that you will need only 4 ingredients: some heavy cream, sweetened condensed milk, a yellow boxed cake mix, and some sprinkles to get all set. Add those final touches of garnishing with some crunchy Oreo cookie bits!
Recipe Details : lifemadesweeter
Red Velvet Cake Ice Cream
A drool-worthy ice cream loaded with crumbled pieces of a delicious red velvet cake integrated into the base mixture tastes no less than unearthly happiness. All you need to whip up the recipe is some sugar, free range eggs, full cream, milk, a little vanilla extract, red food coloring, a few homemade red velvet cupcakes, and lastly, some cream cheese frosting. This one is perfect for a romantic date at home or making your Valentine feel a bit more special.
Recipe Details : drizzleanddip
Advert