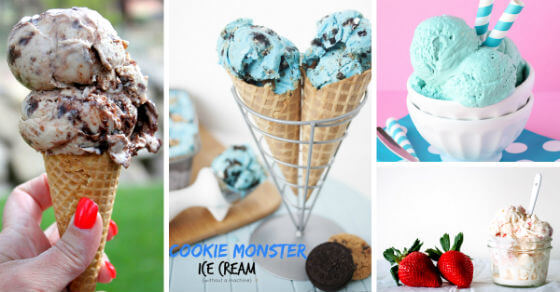 Summer is finally here and everyone knows that nothing can beat the experience of a rich and creamy scoop of an ice cream. If you would like to head to the store all the time, let's make your own ice cream at home! At first sight, this idea might seem a tough task but you will soon realize that it is actually truly easy and trouble-free! Discover 25 easy homemade ice cream recipes that will definitely bring sweet freshness to your day!
Lemonade Ice Cream
First of all, just imagine how it would be when that frozen delight is combined with the goodness of lemon. We simply can't find words! Here is an easy-to-forge recipe that calls for whole milk, egg yolks, granulated sugar, lemons, lemon extract, fresh lemon juice, and undiluted frozen lemonade concentrate. It sounds awesome, doesn't it? Let's learn more about the recipe below!
Recipe Details : iheartnaptime
No-Churn Blueberry Cheesecake Ice Cream
Are you craving for some dessert, but haven't got all the ingredients to prepare complicated slow churned ice cream? Then this surprisingly easy ice cream recipe is perfect for you! All you need to do is mix a bunch of readily available ingredients and pour them into a loaf pan, then your freezer will work wonders! Don't forget, No-Churn Blueberry Cheesecake Ice Cream has got the flavors of a scrumptious cheesecake packed within!
Recipe Details : justputzing
No-Churn S'more Ice Cream
This recipe is all about healthy perfection! The best thing is that it takes no more than 5 minutes to prepare and you don't need to have an ice cream maker. What's more, it needs only five simple ingredients – sweetened condensed milk, cold whipping cream, gluten-free vanilla extract, gluten-free graham crackers, and a chopped chocolate candy bar to come to life.
Recipe Details : grainchanger
Marshmallow No-Churn Ice Cream
This ice cream features the amazingly fluffy texture, as well as the sweet and citrusy flavors of marshmallows. Pink Lemonade Mallow Bursts is combined with some whipped cream and sweetened condensed milk to whip up a winsome dessert. What's more, you don't need an ice cream maker to take it to new heights of happiness.
Recipe Details : jellytoastblog
Cookie Monster Ice Cream
Are your children fan of the adorable Cookie Monster? Then they are surely going to fall head over heels in love with this no-churn homemade ice cream. It will definitely remind them of the cute character at first sight. Oreo cookies and chocolate chip cookies transform the simple vanilla ice cream from plain to enchanting! And of course, don't miss the food coloring!
Recipe Details : frugalcouponliving
No Churn Cherry Cobbler Ice Cream
No-churn ice cream doesn't require you to reach for any appliances to prepare a great dessert at home. Turn your fresh cherries into a yummy filling that has been coupled up with delicious cobbler topping. You need to take no more than half an hour to pull off the recipe all by yourself.
Recipe Details : thisgalcooks
Caramelized White Chocolate No Churn Ice Cream recipe
If you are in love with caramelized white chocolate, you shouldn't miss this amazing recipe. Believe it or not, you will need 3 ingredients from your kitchen. You can't say no to this ice cream recipe that is for sure!
Recipe Details : deliciouseveryday
No-Churn Cake Batter Ice Cream with Funfetti
You should definitely check out this recipe if you are organizing a great birthday celebration! You will adore these loads of colorful sprinkles The best thing is that you will need only 4 ingredients: some heavy cream, sweetened condensed milk, a yellow boxed cake mix, and some sprinkles to get all set. Add those final touches of garnishing with some crunchy Oreo cookie bits!
Recipe Details : lifemadesweeter
Brown Sugar Cinnamon Ice Cream
It is time to treat yourself with some great homemade pies with some frozen bites of happiness with a scoop of this Brown Sugar Cinnamon Ice Cream sitting on top of the pie. Let's organize a get together with your friends or family! Believe it or not, you can simply prepare it ahead of time and serve chilled to let everyone immerse in this awesome blend of cinnamon chips and ground cinnamon with a traditional vanilla ice cream.
Recipe Details : sugardishme
Homemade Coffee Ice Cream Drumsticks
No more than only 4 ingredients – sugar cones, a homemade chocolate shell, lots of coffee ice cream that you make at home, and some chopped toasted almonds is what this recipe needs. Adorned with lots of crunchy chopped nuts, this one looks amazing! So what are you waiting for?
Recipe Details : lifecurrents