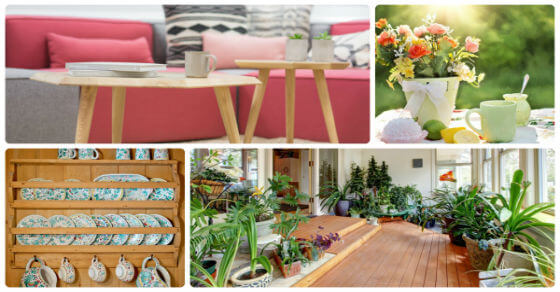 If you often feel weakened at home, but shine with happiness when you are outdoors, it's time to renew your home and let summer in! Check out the following absolutely affordable home decor ideas and tips that will make your house an inspiring and joyful place! 
Let in some air
It's a general truth that all changes start with cleaning. First of all, open all the windows, clean them, and let in some air in all the rooms. Don't hesitate to get rid of unnecessary things you have stocked up for a long time. You will definitely breathe much more freely. What's more, it's such a pleasure to free some space in your house! What do you think?
Colors influence our mood
You won't believe how easily the atmosphere in a house changes after a renewal. Try applying light and fresh colors like yellow, light green, turquoise, or mint. You don't need to make big changes, you can add just a few small things that will change your interior, for example, colorful curtains, flowers in a vase, or beautiful pillows. You will see, these will freshen up your house.
Let everything bloom!
Potted plants turn an apartment into a wonderful garden. Flowers and plants will certainly bring a lot of inspiration and lightness to you!
Pots and vases can be hung, have a lace effect, or be made from some exotic material like coconut.
Ingenious color choices
Using wall stickers and murals, you can redesign your house in a creative way: decorate your walls with fantastic flowers, flying birds, a tree, and many other things. If you are brave enough, you can even paint the walls!
Country style
There is no doubt that the countryside is usually associated with sun, peace, and summer. Why not decorate your apartment in a country style? Cane furniture, flowers in vases, a country-style tablecloth will create the peaceful atmosphere of the countryside.
Don't forget about the details
Make yourself happy with a new bright and colorful dish, a lime and green bowl, a printed mug or colored glasses for wine. It will easily boost your mood!
Low-cost options
A renewal of your house can be inexpensive as well. Many chain stores offer a great number of high-quality pieces of furniture that aren't expensive at all. But it's good to discover some flea markets, curiosity shops if you would like to have exclusive products in your home.

Thank you for reading our article of "7 Affordable Home Decor Ideas That Will Help You Renew Your Apartment"!

Advert