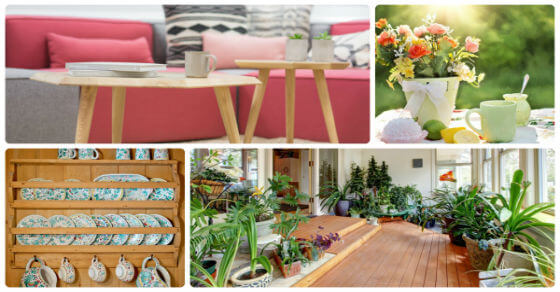 If you often feel weakened at home, but shine with happiness when you are outdoors, it's time to renew your home and let summer in! Check out the following absolutely affordable home decor ideas and tips that will make your house an inspiring and joyful place! 
Let in some air
It's a general truth that all changes start with cleaning. First of all, open all the windows, clean them, and let in some air in all the rooms. Don't hesitate to get rid of unnecessary things you have stocked up for a long time. You will definitely breathe much more freely. What's more, it's such a pleasure to free some space in your house! What do you think?
Colors influence our mood
You won't believe how easily the atmosphere in a house changes after a renewal. Try applying light and fresh colors like yellow, light green, turquoise, or mint. You don't need to make big changes, you can add just a few small things that will change your interior, for example, colorful curtains, flowers in a vase, or beautiful pillows. You will see, these will freshen up your house.
Let everything bloom!
Potted plants turn an apartment into a wonderful garden. Flowers and plants will certainly bring a lot of inspiration and lightness to you!
Pots and vases can be hung, have a lace effect, or be made from some exotic material like coconut.
Ingenious color choices
Using wall stickers and murals, you can redesign your house in a creative way: decorate your walls with fantastic flowers, flying birds, a tree, and many other things. If you are brave enough, you can even paint the walls!