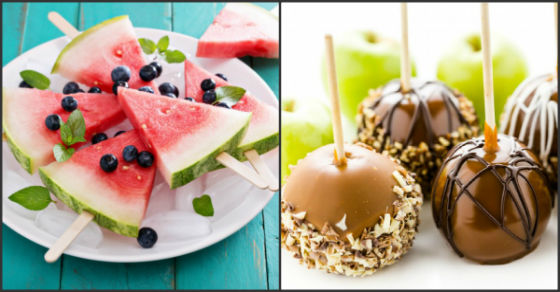 Advert
All parents want their kids to have festive lunches. Not to mention when moms all over the world always wonder what to cook for kids and their young guests at children's parties. Take a look at some fun and easy ideas how to make delicious dishes and snacks that your kids will definitely love!
Caramel apples
First of all, pierce the apples with chopsticks or wooden skewers, dip them in caramel, and roll them in nut crumbs or sesame seeds. Adults will also adore this idea!
Watermelon ice-cream
Let's check out a healthy alternative to ice cream. Cut the watermelon into triangles and insert a wooden popsicle stick into each piece. They are not just lovely snacks, super healthy as well!
Mini pizza
You have probably experienced that kids hardly finish huge slices of pizza, so a mini pizza is a perfect choice for children's parties.
 15 Fun And Easy Ideas How To Make Perfect Snacks For Children's Parties
Snail cookies
It's time to add a bit of fun to ordinary cinnamon rolls, twist the dough's ends together to make a 'snail.'
Hot dogs
Even ordinary hot dogs can look different if you put them vertically on a plate and tie them with a spring onion. At first sight, these hot dogs might seem a little bit strange, but hopefully, children will like this unique idea!
Sausage mummies
Wrap each sausage with a strip of dough, seal the ends and your sausage mummies are ready! This snack is perfect for Halloween parties.
Funny sandwiches
Have you ever realized that children love making their favorite cartoon character using an ordinary sandwich with cheese? Just guide his or her fantasy and imagination in the right direction.
Marshmallow pops
Firstly, insert wooden skewers into marshmallows, dip them in chocolate and sprinkle them with colorful sprinkles. Finally, just place them in a glass full of M&Ms and candies.
Pancakes
Caterpillars, owls, cats and bears — everyone will love these charming animal-shaped pancakes!
 15 Fun And Easy Ideas How To Make Perfect Snacks For Children's Parties
Tiramisu
You can make small portions of any dessert and decorate them like this to avoid cutting it into pieces. Nobody will say no to this cute tiramisu!
Penguin snacks
Black olives, cheese, and carrots are all you need to make a penguin army. Be patient and start the whole project in time!
Fruits in waffle cones
To serve fruit in waffle cones, just put berries or a mix of berries and other fruit pieces inside.
Chocolate-dipped bananas
You can make small penguins using bananas that aren't fully covered with chocolate. Don't forget to use orange M&Ms to make their noses and legs!
Quail eggs
Use cherry tomatoes and radishes to make small amanitas and little mice.
Meatballs with spaghetti
You can cook meatballs with spaghetti, serving them like 'faces' on a plate. Use fresh herbs and green peas to make eyes and bows.
Thank you for reading our article of "15 Fun And Easy Ideas How To Make Perfect Snacks For Children's Parties"!
[afterpage]

Advert