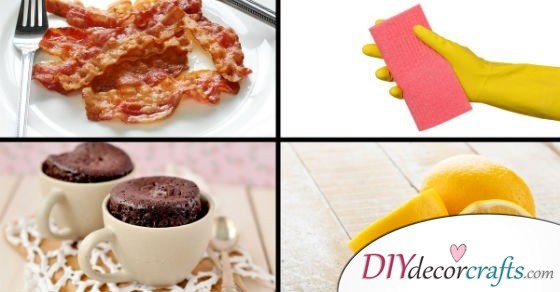 A microwave oven is a super useful household device in your home, it simply makes your everyday life much easier. However, most people never take much interest in it. Now you can discover 10 brilliant things you didn't know about one of your most important devices and let's learn more about microwave cooking as well! Some facts will leave you amazed! 
Disinfect Sponges
Did you know that your microwave can kill up to 99.9% of household germs on a sponge? Firstly, saturate your sponges, then put them in this device for a minute  and it will kill common house bacteria like salmonella and E. coli. This useful tip will always come handy!
source
Save That Stake Bread
Everyone knows the feeling when your two days old bread is too hard for you to chew but you don't need to throw them out. Just wrap them in a clean moisturized towel and leave it in the microwave for 20 seconds. Voila, your bread will be soft again!
source
 10 Things You Didn't Know About Your Microwave Oven & Microwave Cooking