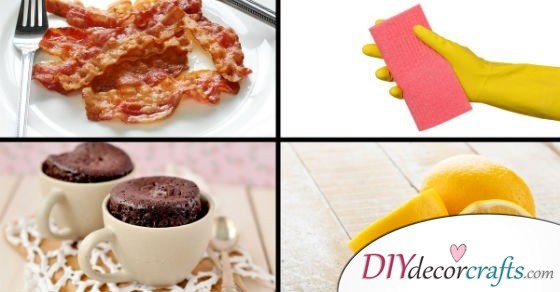 A microwave oven is a super useful household device in your home, it simply makes your everyday life much easier. However, most people never take much interest in it. Now you can discover 10 brilliant things you didn't know about one of your most important devices and let's learn more about microwave cooking as well! Some facts will leave you amazed! 
Disinfect Sponges
Did you know that your microwave can kill up to 99.9% of household germs on a sponge? Firstly, saturate your sponges, then put them in this device for a minute  and it will kill common house bacteria like salmonella and E. coli. This useful tip will always come handy!
Save That Stake Bread
Everyone knows the feeling when your two days old bread is too hard for you to chew but you don't need to throw them out. Just wrap them in a clean moisturized towel and leave it in the microwave for 20 seconds. Voila, your bread will be soft again!
 10 Things You Didn't Know About Your Microwave Oven & Microwave Cooking
Cook Eggs
Believe it or not, your microwave can cook eggs by preheating a plate, applying some butter and the cracking your eggs on the plate. Just leave the eggs in the microwave for 45 seconds.
Sterilize Your Soil
You can easily kill all germs in the soil before planting your plants by sterilizing soil.
Bake a Cake
You can bump into dozens of mug cake recipes on the Internet, so what about trying them out?
 10 Things You Didn't Know About Your Microwave Oven & Microwave Cooking
Zap Your Citrus Fruit
If you would like to have more juice, cut your citrus fruit and out it in a microwave oven for some minutes!
Easily Cook Some Bacon
Place bacon on a plate and leave it for some minutes in the microwave. It's a good idea how to make a quick breakfast.
Loosen Your Mascara
If your mascara has dried up, heating it in a microwave will help loosen it up. I guess, ladies will adore this beauty hack!
Peel Your Garlic With Ease
We can't stand when peeling the garlic skin is difficult. Let1s heat it for around 15 seconds in the microwave and it will help loosen up the skin making peeling easier.
Thank you for reading our article of "10 Things You Didn't Know About Your Microwave Oven & Microwave Cooking"!
Advert