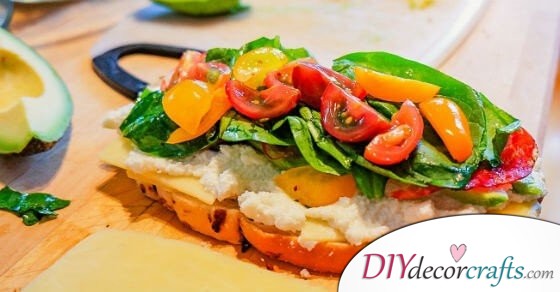 There is no doubt that sandwiches are the best quick-and-easy breakfast ever. We even can't list the advantages of sandwiches: they don't occupy much space in your bag, they are perfect for busy mornings, lunches and dinners, what's more, you don't need to be a professional cook to make delicious sandwiches. So let's discover the best sandwich recipes! They will definitely boost your mood!
Hot tomato and cheese bruschetta

source

Ingredients:

1 baguette
3 tomatoes
1 onion
1 clove of garlic
1/2 teaspoon of dried basil
A dash of salt
A dash of ground black pepper
200g of mozzarella cheese

First of all, combine the sliced tomatoes, garlic, onion, basil, salt and pepper in a bowl. Toss everything carefully, then don't forget to cover the bowl with a lid before putting it into the fridge. Heat the oven to 190°C, after that, slice the baguette into 12 slices. Toast the bread in the oven for 5 minutes and adjust the temperature to 120°C. Scoop the tomato salad onto the toast, cover them with thin slices of mozzarella. Finally, heat up the bruschetta in the oven until the cheese melts.

 
Fried tomato and cheese sandwiches
source
Ingredients:
Several slices of bread
1 or 2 tomatoes
100g of cheese
Oil for frying
Firstly, slice the tomatoes and cheese before heating up a frying pan, add some oil too. Then fry one side of the bread and turn it over. Finally, lay the tomatoes and cheese on top and cover the pan with a lid.
Baked sandwiches with cheese and shrimp
Ingredients
:
200g of hard cheese
150g of shrimp (you can use the smallest shrimp)
2 tomatoes
2 cloves of garlic
2 tablespoons of mayonnaise (you can use sour cream or natural yogurt instead)
8 slices of wheat bread
Make thin slices from the cheese or simply grate it. Then unfreeze the shrimp if they are already cooked, or boil them. Your next step is to slice the tomatoes into thin pieces. Chop or press the garlic and combine it with the mayonnaise. After that spread the garlic sauce, then lay the tomatoes, shrimp, and cheese on top. Grill the sandwiches for a couple of minutes to let the cheese melt.