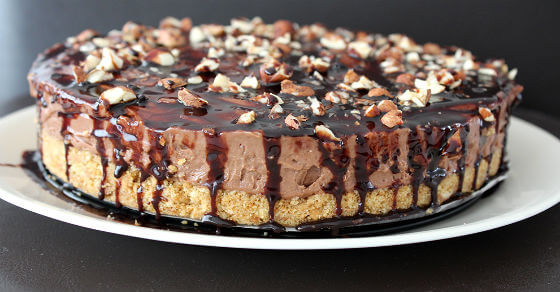 Do you know the feeling when we overcome with an insatiable desire for cake? But we often just grab a bar of chocolate and don't bake a cake on our own, it takes too much time. But your life will definitely change with this super easy Nutella cheesecake that needs no baking. If you love Nutella cupcakes, you will adore this recipe as well! 
Do you have 20 minutes? Then check out the following Nutella cheesecake recipe and make it on your own. You will soon have a perfect chocolatey cheesecake on your plate. It sounds awesome, let's get started!
Ingredients you'll need: 
2 cups of Nutella
16 oz cream cheese
1/3 cup butter
9 oz shortbread cookies or Graham crackers
If you would like to make some decoration as well,you will need some nuts, chocolate, fresh fruit, Oreo biscuits and so on.
1. First of all, place the shortbread cookies/Graham crackers in a plastic bag and crush them. After that just put the crushed cookies into a bowl.
 2. Then melt 1 tablespoon of Nutella and 3.5 oz of butter together. Pour this mixture into the bowl with the crushed cookies and mix them together.
 If You Love Nutella Cupcakes, You Should Check Out This Easy Cake, Too!
3. Add the cookie and Nutella crust mixture into a cake pan and spread it out evenly.
 4. Your filling is also really simple. All you have to do is just whisk Nutella and cream cheese together.
 5. Pour the filling on top of the crust and spread it out. Place the cake pan into your refrigerator for two hours and voilà your Nutella cheesecake is done! The best thing is that it's quick and you don't need to use your oven.
You can make this easy sweet whenever you want! What's more, your guests will also adore it, let's share your recipe with them!
Thank you for reading our article of "If You Love Nutella Cupcakes, You Should Check Out This Easy Cake, Too"!
Advert