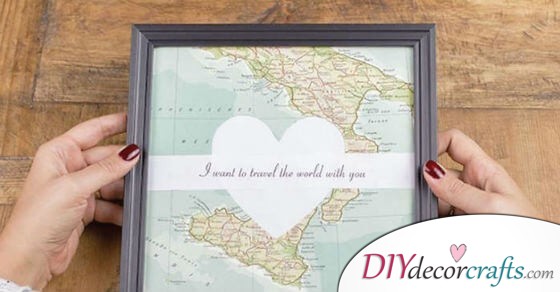 Valentine's Day is around the corner, so it's time to figure out your little present to your loved one. Are you looking for an original and creative gift for this special occasion? Check out this unique list of 6 Valentine's Day DIY gifts!
Heart-shaped Bookmark
If your partner is a lover of literature, this is the idea you are looking for. It's really simple, no special skills are needed, what's more it takes only 5 minutes to complete it.

Cut a 9 cm-long wire and bend one end around your pliers. After that make a kink in the wire and turn it back around the pliers. The final step is to bend the remaining wire into the form of a teardrop.

Valentine Puzzle
First of all, choose a phrase, quote or a nice saying that you will hide under the puzzle. Print this message, but you can do it manually as well. Buy some blank puzzle and cover it with the message.
Heart Cake
Everyone loves special cakes, so it's definitely a good choice. Here you can find the ingredients you need and the steps how to make this heart cake.
A Handmade Card
You only need construction paper, a cardboard, needle, yarn or wool, scissors, glue and pins. Decide what colours you want to use and create the card size.
Make another piece the same size for the inside of your card, then use some cardboard to cover the back of the embroidery. Draw the design you want to sew and write down your message, too. Glue the thicker carboard to the back of your card and make holes with a needle. Embroider the holes and fix the yarn.
 Valentine's Day Diy Gifts
Garland of Hearts
Take A4 papers and cut 1 cm wide strips, then fold them in the middle. Finally, staple the ends together creating a garland.
Atlas Message of Love
Ingredients you need: page of map, scissors, glue, pencil, sheet of paper, heart template, printed message and a picture frame.
Firstly, cut the map to the size of the picture frame, after that cut a piece of paper to the same size.
Then take the heart template and draw round it on the map. Cut out the heart. Finally glue the map with the heart  and glue your message across the heart. Place your work in a nice frame and your personalized gift is ready.
Valentine's Day Diy Gifts
Thank you for reading our article of "Valentine's Day Diy Gifts – Give Something Special"!
Advert