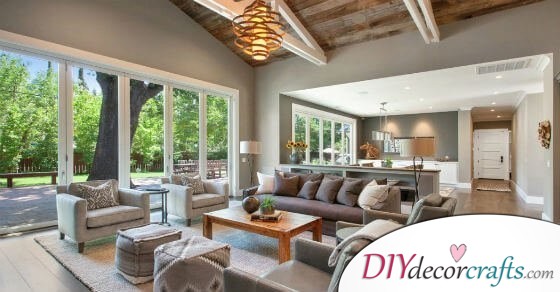 Many people dream of real home elegance, but they think it's too expensive, so they rather choose cheap options. Now, here is 10 fantastic ways how to make your home elegant on a budget!
1. Crown Molding – Details Matter
When it comes to decorating your home to look high-end, you should know that details are key. In this instance, our detail is crown molding. It has a lot of advantages such as brings the ceiling and the walls together and gives a complete, elegant look. Did you know that crown molding is relatively inexpensive?
2. Paint – Colour Matters
Finding the perfect paint colour is absolutely not an easy thing. It's good to know that there are certain colours which can add some elegance to your home: bold and dramatic or soft, understated hues. What's more, painting interior doors black is also a great idea.
 Thank you for reading our article of "Home Elegance: How to Make Your Home Look Elegant On A Budget"!
3. Pillows – Comfort & Elegance
Pillows serve two purposes: they can really punch-up the elegance factor and they provide your guests with a little extra comfort on the couch. Large, overstuffed pillows create a very plush, elegant appearance.
4. Window Treatments – A Must-Have Accessory
It is said that a home without window treatments will look unfinished and cheap. When it comes to window treatments stick with elegant materials such as natural silk, linen and cotton. If draperies are not for you, then try out wood blinds or woven bamboo shades.
5. Hardware Finishes – Opt for Unique
These bulk hardware pieces are inexpensive, but they are also poor quality and cheap-looking. Smaller hardware stores, flea markets, and antique shops are the best places to look.
6. Lighting Makes a Difference
It's obvious that designer light fixtures will add more elegance to your home than the standard chandelier. Let's discover a flea market or second-hand shops where you can get unique piece at a budget-friendly price.
 Thank you for reading our article of "Home Elegance: How to Make Your Home Look Elegant On A Budget"!
7. Hardwood is Preferred Over Carpet
Don't forget, hardwood provides a classic, elegant appearance and can be found at an affordable price. If you would like to have a more luxurious appearance, choose drak colours. Did you know that birch and oak are usually less expensive than cherry?
8. Accessorize Your Home
There are many affordable ways to accessorize your home while staying within your budget, especially if you think gold. What about having some gold mirrors, gold picture frames or even gold-legged tables?
9. Furniture Can Be Affordable
Buying cheaper furniture could cost you more in the end. So check out second-hand stores, estate sales an consignment shops for quality pieces.
10. Housekeeping— A Clean, Uncluttered Home is a Must
Surprisingly, one of the most affordable ways to make your home look elegant on a budget is actually free! All you need to do is clean and declutter your home! Most people can't stand it, but weekly dusting and vacuuming can actually make your home feel high-end.
Thank you for reading our article of "Home Elegance: How to Make Your Home Look Elegant On A Budget"!
Advert