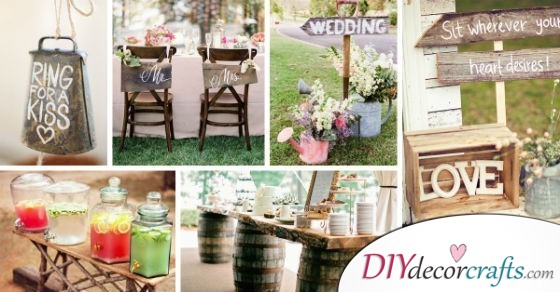 Are you dreaming about a discrete, rustic wedding? If you feel like "going back to the origins" and celebrate your wedding in a traditional style, then here you will find some truly spectacular rustic and vintage wedding ideas. Make your big day special with the following tips!
Rustic Outdoor Reception – Right Next To The Barn
Many people associate a rustic, traditional wedding with being low-budget but it's not true! Here you can find an outstanding idea for organizing a traditional, conservative outdoor reception. The best thing is that you can decorate your barn the way you want to!
Gorgeous Rustic Buffet
Let's check out a gorgeous rustic buffet idea that you can try out, and the good thing about it is that it features only natural and chemical-free foods. Eco-friendly, beautiful and delicious at the same time. Simply sounds awesome!
Rustic Wedding Chair Signs
If you love those classic director's seats that you can see in the movies, you will adore this tip. You only need two chairs and a couple of wooden boards on which you can write "Mrs." and "Mr.".
Rustic Wedding Reception Inside The Barn
There is no doubt that organizing your wedding reception inside the barn can really benefit you. For example, it will also help you save a lot of money and time on chair decorations.
Wine Barrels Decorated With Colorful Flower Bouquets
Take your wedding decorations to the next level on a budget! Let's discover how you can add some lively flower bouquets to a few wine barrels.
Chic Rustic Ceremony Decor
Add some beautiful and pearly white silk curtains, hanging down from the trees. It definitely creates the perfect setting for some unforgettable pictures!
Rustic Wedding Dessert Bar
When it comes to traditional weddings, you will never go wrong with a dessert bar! Here is how you can make your very own, from scratch.
Burlap Wedding Table Idea
If you would like to amaze your wedding guests, don't miss this super idea! The materials used for it are very inexpensive as well!
 Shine On Your Wedding Day With These Rustic And Vintage Wedding Ideas!