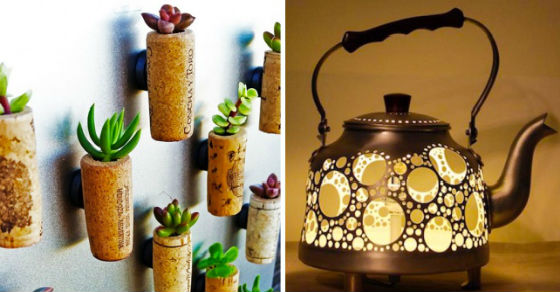 One day your old kitchen utensils can come handy so while you are cleaning out your drawers, wardrobes and shelves, don't throw away all the stuff. Let's reuse them for another purpose! Check out a list of creative ideas that will give you some inspiration in finding new uses for old cutlery and crockery! A lamp
Let's transform an old kitchen colander into a cool lamp shade! Just fire up your imagination and start creating! Detailed instructions can be found here.
'Smart' holders
This unusual holder can be used for storing and hanging almost any small item. It will also add a touch of style to your room. Click here for details.
Tiny flower pots
Make tiny flower pots to adorn your interior space!
A flowerbed
As you can see, grills are adorable when planted with herbs. Click here for detailed information.
 How To Turn Old Kitchen Utensils Into Stylish Home Items