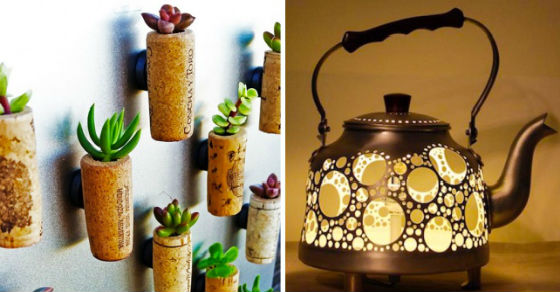 One day your old kitchen utensils can come handy so while you are cleaning out your drawers, wardrobes and shelves, don't throw away all the stuff. Let's reuse them for another purpose! Check out a list of creative ideas that will give you some inspiration in finding new uses for old cutlery and crockery!
A lamp
Let's transform an old kitchen colander into a cool lamp shade! Just fire up your imagination and start creating! Detailed instructions can be found here.
'Smart' holders
This unusual holder can be used for storing and hanging almost any small item. It will also add a touch of style to your room. Click here for details.
A flowerbed
As you can see, grills are adorable when planted with herbs. Click here for detailed information.
 How To Turn Old Kitchen Utensils Into Stylish Home Items
Pin cushions
If you would like to keep your sewing machine needles and other small items organized, make pretty doodad pin cushions out of old, small jars. Click here for instructions.
A chandelier
Believe it or not, using just spoons and forks, you can create a wonderful Gothic chandelier.
Wall lights
Make a unique lampshade using an unused teacup, and it will definitely be a talking point in your kitchen.
Hooks
Would you like to have an unusual design idea that will look stunning in your kitchen? Grab some old metal forks and make unique wall hooks out of them! Use a hammer and some pliers, and don't forget to drill a pilot hole for the screw.
 How To Turn Old Kitchen Utensils Into Stylish Home Items
A teapot lamp
Are you a creative and organized person? What about creating a striking and original teapot lamp like this? Click here to get even more ideas.
Decorations for a romantic dinner
Simply insert some fairy light into a bottle with the plug hanging out the top and voila, your unique decoration is ready. What's more, here you can get even more inspiration.
A table lamp
A table lamp like this will definitely help bring more warmth and comfort to your room. Try it out and you will realize why!
The base for a floor lamp
Just drill holes on the bottom sides of each cup, combine them using a glue or adhesive, and put the lamp on top.
Thank you for reading our article of "How To Turn Old Kitchen Utensils Into Stylish Home Items"!
Advert