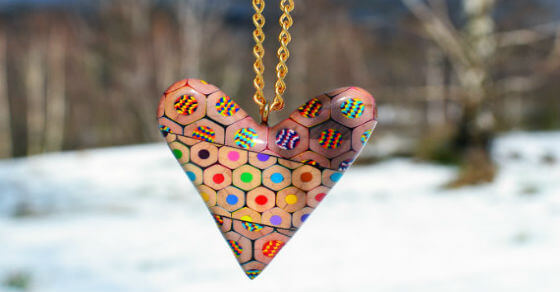 You probably use colourful pencils for drawing or even colouring. What's more, many people can create beautiful masterpieces using pencils. But an artist called Anna Curlejová does something extraordinary from pencils: jewelry sets. She takes things to the next level by turning pencils into pieces of colourful necklaces, bracelets or even earrings. Let's learn more about her incredible work! 
You already know that pencils aren't just for drawing. With artists doing wacky things with them like carving minuscule sculptures into their tips or using them to construct fantastical beasts, the idea of what a pencil can do has really opened up recently.
Anna uses slices of the pencils and she arranges them into careful patterns before sealing them into place with clear lacquer. We can simply associate this necklace with happiness. Its colours can definitely make you feel better!
She uses different kinds of pencils, and she can create a number of different and outstanding effect by slicing them at different angles.
 All of her medals are unique and you can't find same pieces.
Slicing the pencils lengthwise makes for a striped pattern, while cutting them widthwise achieves a honeycomb effect. Isn't it unbelievable? One thing is sure: this combination creates a special, but awesome look.
As you can see, many of her pieces incorporate multiple patterns. This heart medal looks really cute!
Different brands of pencils also yield different results. It makes the whole project and her jewelry sets interesting.
 Would you wear this necklace? You will outstand from the crowd with jewelry sets from Anna.
 There is a wide variety of jewelry you can choose from.
Thank you for reading our article of "Discover An Artist Who Creates Colourful Jewelry Sets Made of Pencils"!
Advert