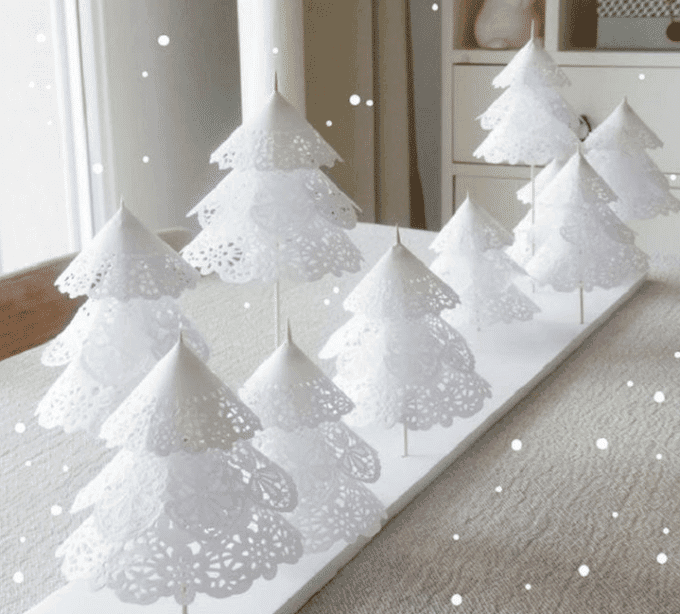 Christmas is coming and we love doing creative decorations for this lovely celebration. Did you know that there's only 30 days until Christmas? Don't hesitate to make plans and amazing crafts because time flies incredibly fast. Let's check out this fascinating idea! This super-easy Christmas decoration will definitely become your favourite.

Ingredients
cake paper
scissors
glue
sticks
wooden beads
a piece of polystyrene
pencil sharpener

How to make this lovely Christmas decoration?
First of all, take your ingredients: the cake paper, scissors, wooden balls/beads, sticks and the glue.
As you can see in the picture, you should cut the cake papers along the pink line. After that, create small cones from the paper and glue it. Be patient, you might need a couple of minutes because the glue should dry.
Sharpen the end of the sticks with your pencil sharpener. It's an inportant step, if you would like to stand your little Christmas trees into a piece of polystyrene. Then grab your sticks and make "skewers". Put 3 cake papers on each stick and what is more, don't forget the wooden beads as well!
Use your glue to fix the parts of the Christmas tree. You can even turn it upside down and glue the bottom of the beads as well.
Repeat these steps and create a little wood of Christmas trees. Your Christmas decoration is ready!
Try out this super-easy idea with your kids or friends. It is such a great and funny activity for a chilly winter afternoon.
Thank you for reading this articel about "Check Out This Lovely Christmas Decoration Inspiration"!
[mail_register]
[afterpage]