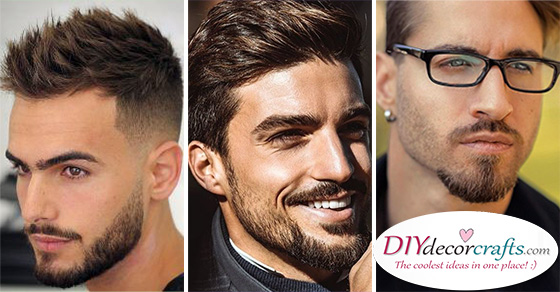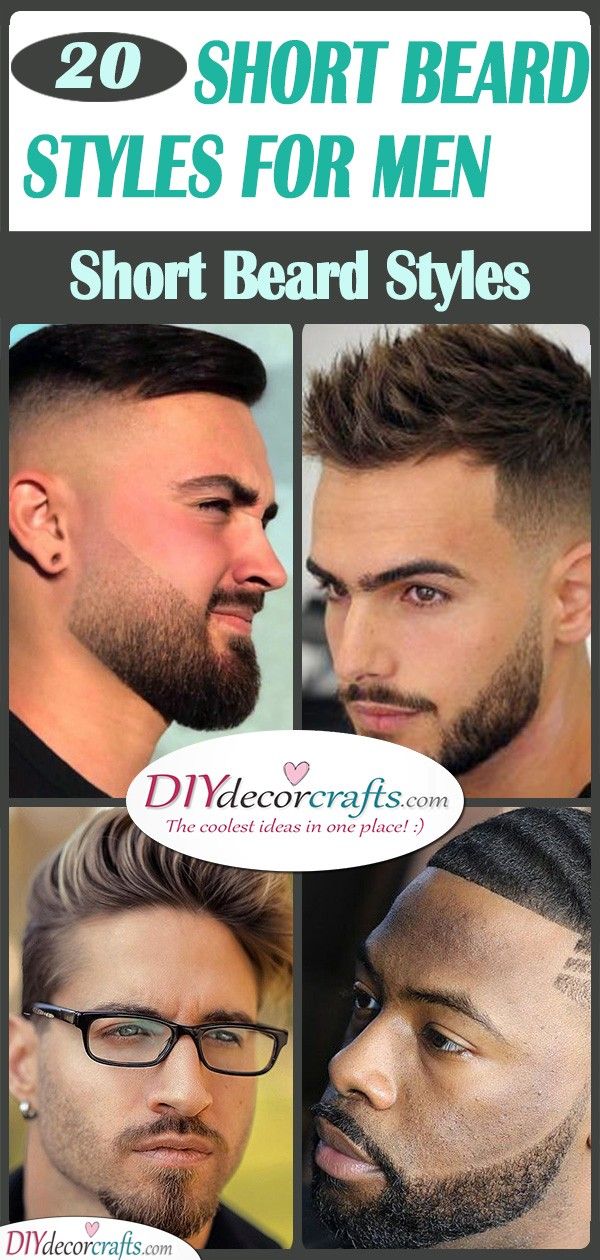 Men have to take care of their appearances just as much as women! After all, it's important for a man to look neat and tidy! This will not only include his clothes and his haircut but his beard as well! Beards have made a comeback and are as popular as ever! So, if you are in search of a short beard style for men, then how about you look through the ideas we have gathered? With the help of these short beard styles, you shall be able to discover something that goes well with your face shape and your haircut! So, get ready to look through these jaw-dropping beards to find something for yourself! 
1. A Full Beard – A Fantastic Short Beard Style for Men
There are so many beards to choose from when it comes to finding one perfect for your whole look! You may want to think about what sort of haircut you have or your face shape, before deciding on a beard though. Perhaps you have a fade or buzz haircut. If this is the case, you can imitate a small fade or the buzz cut in the way the beard is trimmed. A full beard, taken to the next level, with how it is cut, will look amazing!
2. An Awesome Fade Beard – Cool and Manly
While you may be in want of a full beard, you might still want to perk it up a little and give it a unique look. How can you achieve this easily? Well, how about going for a faded beard? This will go really well with your haircut if you have a fade cut, as the hair and beard will complement each other. To keep this beard looking good will require maintenance, as facial hair grows pretty quickly. This means the fade will grow out eventually, so you'll have to get it shaved again!
3. The Anchor – Cool Short Beard Styles
If you don't want to go for a full beard, how about you try out something different? A great example would be an anchor beard! But what exactly does the anchor beard consist of? It's a pointed beard, trekking across the jawline and is paired with a moustache, making it somewhat resemble the shape of an anchor. The anchor beard exudes confidence and a sense of manliness. Not to mention, this short beard trim will go really well with any type of haircut, making it a jack of all trades!
4. The Goatee Beard – Short and Simple
Maybe you are knowledgeable in the world of beards and know exactly what a goatee is. A goatee is mainly made up of facial hair growing on the chin and a moustache. You may be asking yourself whether you can pull off this type of beard. A goatee would be a great choice for a guy who has a weaker chin, as it will help in adding definition to it! It will also make a good option for men with rounder faces, due to the fact that a goatee can add some strength to it, taking away the sense of roundness.
5. Longer Stubble – Short Beard Style for Men
You may not want to grow out a full beard. After all, it does take a lot of care to keep a beard looking healthy and fine. As an alternative to a full beard, how about letting your stubble grow out? Long stubble is a great substitute for any guy, who is not really for a long and full beard yet, but would like to add some definition to his face! When you feel like the stubble is turning into a beard, you can either trim it or shave it off!
6. Another Faded Beard – With a Rounded End
We have already mentioned trying out a faded beard cut. It's a great beard style for anyone, who has a fade haircut already. And we don't have to tell you about how trendy it has become these days! But instead of opting for the simple version of a faded beard, how about you try out one that has a rounded bottom tip? With this type of beard end, you might be able to add a bit of roundness to your face, which is what you may want! For the complete look, make sure that your moustache is trimmed into a neat shape, that will look great with the faded beard!
7. An Effortless Look – Short Beard Styles
Here is a beard idea for men with round faces! If you have been wanting to add some definition to your face, then how about trying out this effortlessly easy beard? Allow your beard to grow out along the line of your jaw. The stubble or beard growing on your jawline will make it pop, but without being too much. Naturally, feel free to grow out a moustache as well! This type of beard is also known as the chin curtain and they are great round face short beard styles!
8. Pairing Your Haircut – Fun and Youthful
Depending on what sort of haircut or hairstyle you have, make sure that your beard or stubble matches it! Here is one of many small beard styles, that is guaranteed to go well with short and spikey hair!  A version of a short boxed beard will look truly awesome! It's a type of beard, that will most definitely add definition with its sharper angles to your face! So, if you have been in search of something refined yet stylish, this short boxed beard is something you may want to give a try!
9. Rugged and Handsome – Short Beard Style for Men
You don't necessarily have to opt for an incredibly neat beard! If your haircut has a windswept vibe to it, maybe keep your beard just a bit rugged, for a handsome feeling! Grow out a beard or long stubble along the sides and jawline of your face. And also add a moustache to your overall look. A simple beard idea like this will be great for men of any face shape! It's also perfect for men who have patchy facial hair, as they'll be incorporating a rugged look, instead of the clean and finely trimmed beard!
10. A Trendy Fade – On the Face and Head
As you will have noticed, we have talked quite a bit about faded beard cuts. They have become incredibly popular, meaning that it may have perked your interest and you have considered getting one yourself! Here is an example, that incorporates both the facial hair and hair in creating one large fade. Instead of creating a break between the hairline and the beard, have it shaved to a fade, just like in the picture above. You won't know where the hair ends and the beard starts!
11. The Awesome Anchor – Easy Short Beard Styles
The anchor beard is an easy men's short beard to try out. It is also an awesome look for anyone who has their facial hair growing in patches. The anchor beard, as we have mentioned before, incorporates two parts of facial hair.  A moustache and growing out the hair on the chin, just a bit longer, than the rest of your stubble. The shape of your anchor beard should resemble the nautical device, none other than the anchor! Give this a go, if you are looking for something easy!
12. A Bit Scruffy – Youthful and Simplistic
You may be in search of a beard that gives off bad boy vibes, giving you an edgy and somewhat scruffy look! If this is the case, opt for a simple beard or long stubble, that isn't combed to give off a neat and sleek appearance. Adding a short moustache will only help in enhancing this bold and daring image! Depending on your taste, you may opt for either a shorter or longer version of this look. Short stubble will look just as great as a long beard! 
13. A Chin Strap Beard – Easy and Short Beard Style for Men
Are you trying to find a fresh and youthful look, that is achievable for men, who have patchy facial hair? A fabulous idea would be to get your beard shaved into a chin strap beard, also known as a short beard trim! This revolves around the beard reaching along the jawline and the chin. It's a great way of growing a beard, but without the patchiness, you may encounter when trying to grow it out on the cheeks. To spruce, this beard up a little, feel free to get it trimmed evenly with an angular cut or add a fade cut to it.
14. Thin Lines – With a Curly Tip
Do you have curly hair? Then you may have facial hair, which is also quite curly! While you may want to show off your naturally curly hair, by letting it grow out, you might be in search of something shorter for a beard! How about you go for thin lines for a beard instead, reaching towards to chin. Then let the beard on your chin grow a bit longer. This is a good idea for anyone, who wants to add a bit of length and definition to their chin!
15. Match Your Buzz Cut – Short Beard Styles
We have already discussed what type of beard to get if you have a buzz cut. A buzz cut is clipped short and close to the head and adds an edgy and minimalistic look to its wearer. So when trying to find the perfect beard or stubble to match it, you'll want to go for a similar style! This may include a beard and moustache, made up of strong and straight lines to complete the buzz cut. Just take a quick glance at the example above for inspiration!
16. Great for Bald Guys – Keeping It Simple
Maybe you are bald and would love to find the perfect beard for your look! One of the best solutions for a man who is bald would be to grow a full beard or a pointed beard. Both of these will help in adding definition and a manlier look for your face. Not to mention, a full or pointed beard, will help in defining your jawline. Even if you aren't able to grow an intense and thick beard, even a bit of stubble will do the trick as well!
17. A Trendy Fade – Short Beard Style for Men
Here is yet another type of fade beard cut, giving you a different and unique variation of it! Create an overall fade from your beard, but leave one part of it longer. The longer part can resemble a circle beard, which will look amazing and manly. So, if you have been trying to find a simple yet cool beard, with a bit of a fade, that isn't high maintenance, then this is definitely something to try out!
18. Find Something Terrific – To Complement Your Hair
Always remember to try finding a beard, that will match your haircut! After all, you don't want to create two separate looks on your face. Instead, bring a balance of harmony by using similar styles for both your haircut and beard! Here is one of many men's short beard ideas to personalise and make your own! For example, if you have a fade pompadour hairstyle, you may pair it with a fade cut beard. These will also make fantastic round face beard styles!
19. The Van Dyke – Short Beard Styles
You may be familiar with the unique and artistic looking Van Dyke beard. It consists of two main components, a floating moustache and a chin beard. These two elements combined will give you a very suave and stylish look. It's a perfect type of facial hair to try out if you are in search of something that is low maintenance, as it will only require you to trim it when it gets too long!
20. Full and Faded – Never Going Out of Style
Finally, here is our last men's short beard idea! Combine a full beard with a fade cut, for a simplistic yet stylish look. The mixture of these two will create a clean look. It would be advised to have your faded beard to get done by a professional, but the rest of the maintenance will be easy to be done by yourself.
We trust that you have found a great short beard style for men! For other ideas, such as Men's Medium Beard Styles or Long Beard Styles, check out our collection! 
Advert