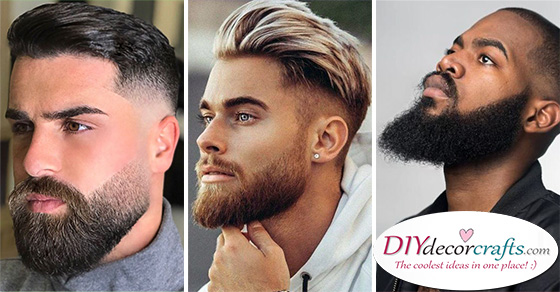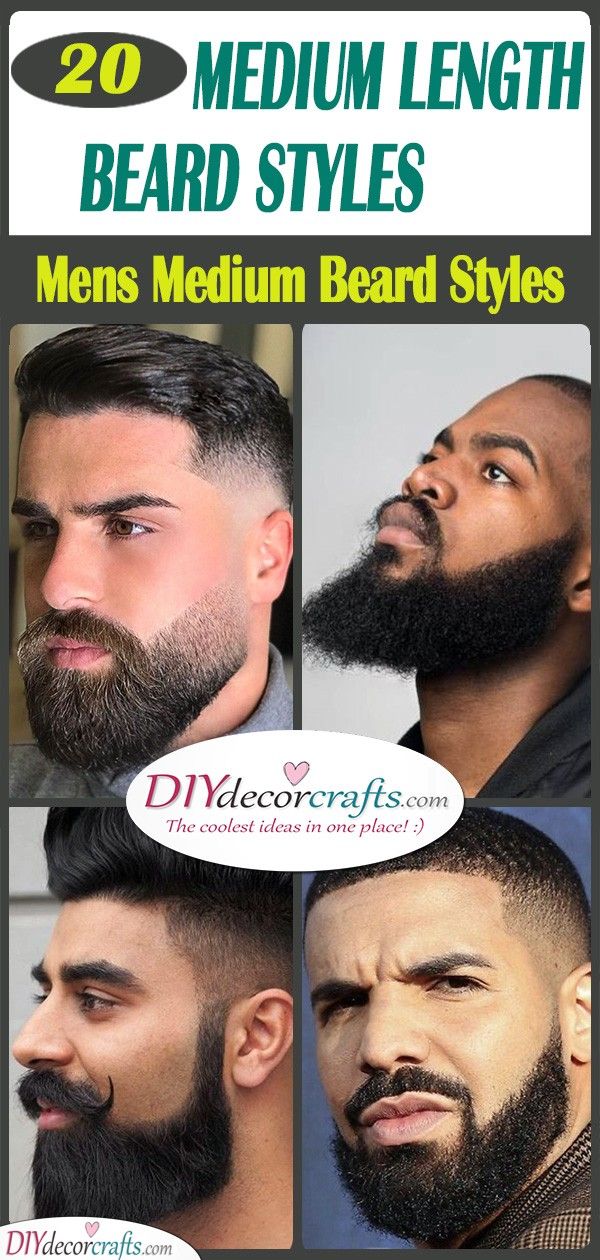 Beards have come back into trend over the past several years! Men have to take care of their appearances just as much as women! It is essential for a man to look well-kept and well-groomed! Naturally, this will include his clothes and his haircut. But if he wants to grow out his beard, then this will become an important element of his style as well! If you are in search of awesome medium length beard styles for men, then how about you look through the ideas we have collected? With the help of our 20 men's medium beard styles, you'll be able to find a beard that suits your face shape and hairstyle. So, check out our pick for a bit of inspiration!
1. A Faded Undercut and Beard – Medium Length Beard Styles
It can be a great pairing to style your beard with your hairstyle. Maybe you have had your hairstyle trimmed into an undercut fade. You may be in want of a full beard, you might still want to perk it up a little and give it a stylish appearance. So how about going for a faded beard? This will go really well with your haircut if you have a fade cut, as the hair and beard will match each other. In order to keep this beard looking good, it will require maintenance, as facial hair tends to grow rather fast. This means the fade will grow out eventually, so you'll have to get it trimmed to create this look again!
2. The Verdi – Looking Handsome and Chic
When you are trying to find a stylish and handsome beard, you may be in search of something more unique. If you would like a medium beard style, then how about trying out a different sort of cut? For example, a Verdi beard! It consists of a full and rounded beard and also includes a moustache. This is a perfect idea for a guy, who has a round face and would like to take away a bit of the roundness.
3. Paired with a Buzz Cut – Full and Thick
Are you in search of a beard, that will go really well with a buzz cut? A type of beard that will look amazing with a short and clipped buzz cut, is no other than a full beard. The short hair will actually complement the length of the full beard. Of course, you can find some different ways to perk up the beard, Just remember that a full beard, that is of medium length will need to be cared for and taken care of.
 4. Keep It Simple – Men's Medium Beard Styles
There are a lot of simple beards, which don't require much maintenance or regular trimming. We are talking about a full beard, that comes up to the jawline. The fact that it comes up to the jawline will create the illusion of a more angular face. So, if you have been trying to find a way to make your jawline really stand out, let your beard grow there as well. Feel free to add a moustache to this look, as it will help in really bringing out a masculine vibe.
5. The Full Beard – Medium Length Beard Styles
We have already talked about getting a full beard! There are quite a few benefits to growing out a beard such as this, which you may not have even thought of! A full beard will not only make you look more attractive, but it will actually help in protecting your skin. During summer it will help in blocking out UV rays and keeping your face safe and when winter comes it will keep you warm! It also keeps dust and bacteria out of your mouth and nose. So if these health benefits haven't convinced you, we don't know what will!
6. Lengthen Your Chin – Manly and Rugged
If you have a round or square face, you may be trying to discover new ways of adding length to your face. Naturally, a hairstyle such as a pompadour will be able to add some length upwards to your face. But another idea would be to grow a beard, giving the chin more length! You don't necessarily have to let your beard grow out long everywhere, just around the area of your chin. While helping in adding length, a beard like this one will give you a bold and daring look!
7. A Unique Moustache – Men's Medium Beard Styles
Have you always wanted a medium length or long beard? Then why are you hesitating? There are so many unique and awesome types of beards to try out and here is just one idea to give a go! All you need to do is grow a longer beard and add a moustache to it. Match the moustache to the beard by letting it grow longer. Thanks to the moustache's length, you will be able to style it in a special way, for example, giving it a handlebar style.
8. Youthful and Bold – An Effortless Appearance
It is not compulsory to trim your beard in a very neat and prim way! For example, if your hairstyle has a windswept look to it, maybe keep your beard just a bit rugged! Grow out a beard or long stubble along the sides and jawline of your face. Then add a simple moustache to your overall look. A simple yet effortless beard style like this one is fantastic for men of any face shape! It's also perfect for men who have patchy facial hair, as they'll be incorporating a rugged look, instead of the clean and properly trimmed beard!
9. A Long Ducktail – Medium Length Beard Styles
Another type of beard you can try out is none other than the ducktail! This is another type of many mid-length beard styles that will lengthen your face. So, if you want to lengthen a round face, then this is something to give a go! A ducktail is shaped to become pointy at the end by trimming both sides of the beard. The facial hair on the cheeks is also shaved off. You may have to use some type of beard oil or balm to keep it in place and shape.
10. A Minimal Fade – Natural and Trendy
A faded beard cut is something else that will look amazing! Faded beards look just as great with longer beards, as they do with short beards! This will look especially great if you have a fade haircut as well, as the beard and hair will complement each other! We would recommend having your faded beard to get done by a professional, to get that real faded look. Luckily the rest of the maintenance of trimming your beard will be easy to do by yourself.
11. A Beard with an Undercut – Men's Medium Beard Styles
What kind of haircut do you have? Perhaps you have an undercut! If so, then here is a beard to pair with it. A fantastic idea would be to get long boxed or mid-length beard styles. It's a type of beard, that will most definitely add sharp angles to your face! The neckline is left sharp and clean, giving your look even more definition! Feel free to add a bit of a fade to your beard, which will match the vibe of your hair undercut perfectly!
12. A Relaxed Look – Easy and Smooth
Are you in search of an easy and simple type of beard? After all, if you don't want to put too much effort or detail into a beard, but still want it to look amazing, then you have a few options to choose from! One choice would be an easy full beard, as this doesn't require much maintenance, only a trim every now and then. Another great beard style would be a medium-length boxed beard! These are both types of beards that go well with any sort of haircut as well as any shape of face!
13. An Amazing Moustache – Medium Length Beard Styles
While you may not want a defined or intricate beard, you might be in search of a truly amazing moustache! A type of moustache that has a very retro vibe to it and has come back into trend is the handlebar! An interesting fact is that they are named after the handlebar of a bicycle. This revolves around curling your moustache upwards. It usually takes about three months to grow out, which will be long enough to style! So, if you like old-fashioned styles, then this may be perfect for you!
14. A Short Garibaldi – Groovey and Laid-back
Another styling of medium-length beards you might opt for is a Garibaldi beard! The Garibaldi has a slightly unkempt vibe to it, which is a great type of beard to try out if you don't have the time and energy to put effort into grooming it each day. This beard style is a combination of a long moustache and a full beard, that is wide and rounded at the bottom. This beard will look great with any type of texture of facial hair. So whether it's straight, wavy or curly, be prepared to be amazed!
15. Bold and Masculine – Men's Medium Beard Styles
Just another great thing about beards is that they create an easy way of adding volume and definition to your face! Achieve this by growing out a full and thick beard, that is trimmed to create a wide and rounded bottom! A beard such as this will look amazing with a simple taper haircut or even a fade! This is also a beard, that any type of face shape will be able to pull off, making it a great option for all guys out there!
17. A Bit Shaggy – Medium Length Beard Styles
Not every man's facial grows in full or thick strands. Sometimes a lot of guys have less dense facial hair, which can grant them a patchy effect. But this doesn't mean you shouldn't grow a beard! Something effortless you can still settle for is a shaggy beard. This can give off a carefree vibe while also being handsome and manly in its own way. These look especially great if you have medium-length or longer hair!
18. Clean and Classic Cut – A Gentlemanly Look
When deciding to go for a full beard, it can be important to give the beard clean cuts. By this, we mean shaving off the beard with clean and straight lines along the jawline. This classic cut will really make your beard look refined and sophisticated! Shave off the beard on your neck, to keep your beard exuding a sense of elegance!
19. A Professional Appearance – Men's Medium Beard Styles
Make sure that you pair your full beard, with a hairstyle that actually goes with it! If you want to look professional and classy in your day to day life, then here's an idea to try out! Part your hair on one of the sides, then slick it back with some hair gel or hairspray! A full beard will complement this incredibly, as long as it's combed properly!
20. A Pointed Beard – Medium Beard Style Ideas
A pointed beard is just another medium or long type of facial hair to try out! The pointed look comes from the beard being shaved to resemble the letter "V." An oval face shape is ideal for this beard. To keep it from looking grizzly and unkempt make sure to comb it every now and then!
We trust that this collection of medium length beard styles has inspired you in finding some men's medium bear styles for yourself! For other ideas, such as Long Beard Styles or Short Beard Styles, visit our website!
Advert