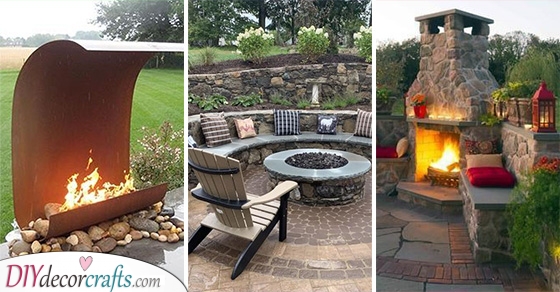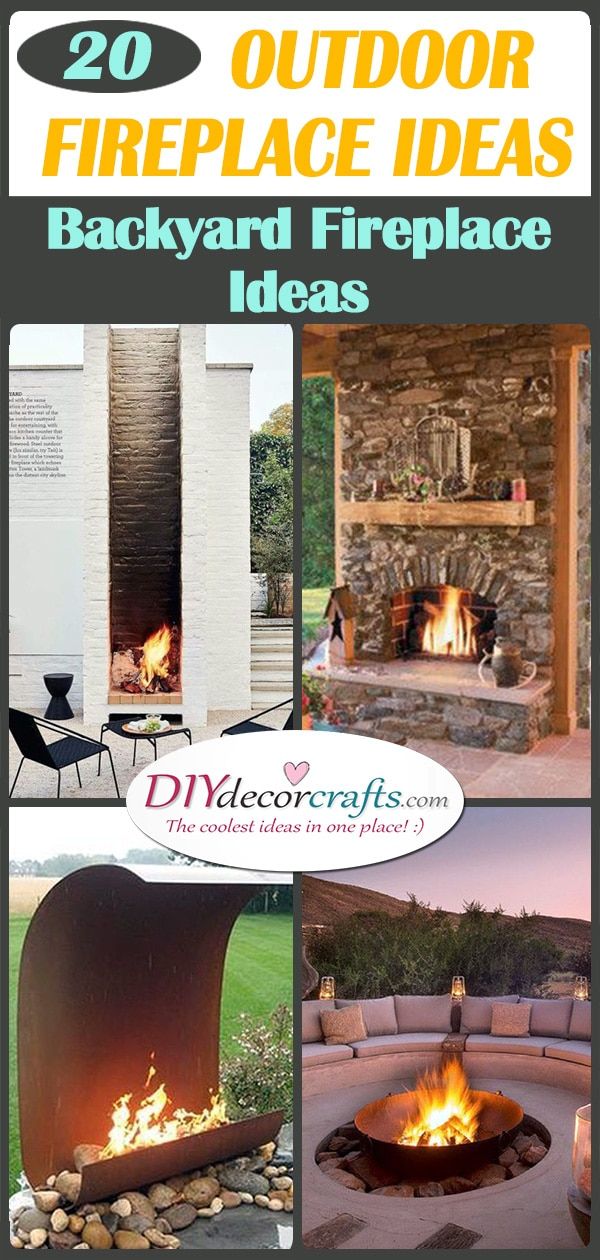 If you have a garden, you will be aware of what an important role it plays in a home. Maybe you have a feeling that something is missing from your backyard. If you want to add something to it, to give your garden a homely and friendly atmosphere, we'd recommend that you install a firepit! Turning it on during the evenings and nights will make a fantastic place for the family to gather and warm up! You will also be able to roast some marshmallows above the flames! Check out our collection of 20 outdoor fireplace ideas. With their help, you may just be able to find some backyard fireplace ideas perfect for your own garden!
1. A Part of the Wall – Outdoor Fireplace Ideas
There are a lot of ways you can incorporate a fireplace into your garden. Here is just one option for anyone who has high and unbreachable brick walls separating their garden from the outside world. Get a fireplace installed into one part of the garden walls, like in the example above. The great thing about bricks is that they are a fantastic material to get a fireplace built out of. This is also a fantastic solution if you have a smaller garden and wouldn't like to take up any extra space in it by creating a firepit in the middle of it.
2. A Table as Well – Practical and Stylish
You can also give your fireplace another function! It just all depends on how you have it built in your garden. One of many outdoor fireplace designs that have been trending is to install the fireplace on a stone or brick table. This will mean that if you ever organise garden parties, you'll be able to sit around the fireplace with your guests and be able to grill or cook food over it. It's definitely a practical idea and will definitely amaze your family and friends!
3. A Unique Design – Backyard Fireplace Ideas
Do you prefer unique and modern designs over traditional or rustic ones? If you have already used a number of modern styled furniture or innovative decorative elements in your garden, then make certain that your fireplace blends right into the atmosphere. There are a lot of modern fireplaces put together of metal sheets, turned and twisted to create interesting shapes. Something such as this will be sure to fit into a garden filled with modern elements. Make sure that the top part of the metal sheet is bent forward, to protect the flames of the fireplace even in rainy weather!
4. A Space for Relaxation – Create a Special Space
Do you love to invite friends, family or colleagues over to your place? When spring or summer arrives, it's always great to spend time outdoors, meaning that you may host a garden party or two. Why not create a space in your garden that will be perfect for entertaining any guests you might have over? Besides laying down benches or creating some sort of seating space, also have a fire pit installed in the middle! This will provide some warmth when the evenings turn chilly but you still want to sit in your garden enjoying the fresh air!
5. A Steel Firebox – Outdoor Fireplace Ideas
You will have noticed that there is a whole variety of types of modern outdoor fireplace ideas. It really depends on you and what sort of atmosphere you'd like to create in your backyard. For a minimalist and modern style, you can buy a simple firebox made from steel. A great idea would be to include a small storage space underneath the firebox itself, where you'll be able to place wood for burning. One of these fireboxes will be awesome for any time of the year!
6. Stones and Rocks – A Natural Vibe
Get ready to design a completely unique fireplace in your garden! This option will be especially amazing for anyone who wants to embrace a natural and earthy atmosphere in their backyard. Use a range of unpolished rocks and stones to build a medieval-looking fireplace. This will help in giving it that rugged and organic appearance. You can build this fireplace on a larger slab of stone or rock. One of these would look especially good in a garden that is overgrown with wilderness!
7. An Outdoor Room – Backyard Fireplace Ideas
You may have tried looking for some patio fireplace ideas, but haven't found any that are your style yet. How about you take a look at the example above? Before the fireplace itself is installed, a smaller outdoor room or patio is built from wooden beams and stone. Make sure that a roof is added above it, giving you a space to sit and relax in, even if the sun is shining too brightly or if it's raining. Install a fireplace in one of the back wall of the patio, making it a perfect space to relax not only during summer but in chillier months as well!
8. Make It Yourself – Brilliant with Bricks
Are you thinking about making a fireplace all by yourself? Maybe you are just searching for the type of material to create it from. Think about using bricks! Bricks are easy to stack on top of each other and of course, they are fireproof, which is a crucial detail! Especially, since you are building a fireplace. You might decide on making an upscale fireplace, which means that the bricks are stacked higher on one side of it.  A simple fire pit like this will make a perfect place for gathering around in the evenings or nights.
9. Adding a Seating Area – Outdoor Fireplace Ideas
Maybe you have decided on creating a larger scale fireplace in your backyard. But as an alternative to just getting a fireplace built, why not connected a seating area to it? Have the seats or benches created from the same material that the fireplace was made from. Feel free the decorate the seats with pillows and blankets. Or just place a selection of lanterns around the area for a peaceful and harmonious vibe.
10. A Beautiful Option – Perfect for Parties
Do you host a lot of parties in your garden throughout the year? If so, it wouldn't be a bad idea to invest into a firepit. If you have a seating area in your garden, how about you install a circular firepit in the middle of it? It doesn't have to be anything grandious or super special, even a metal fireball will do the trick. This will be an awesome spot in your garden to have parties in! The style you choose is completely up to you and your own preferences! 
11. Time to Grill – Backyard Fireplace ideas
Garden fireplace ideas are great for a lot of things! Their only function shouldn't be limited to warming you up! If you love to eat grilled food, you may consider turning it into a grill station, as well as an oven! All you need to do is make sure that these parts are built-in or installed in your fireplace. You may also have a few shelves built underneath your fireplace, in which you'll be able to store wood, or anything essential you may need for grilling! For example, seasoning, tongs or oil.
12. Innovative and Minimalist – A Contemporary Design
Here is a fireplace for anywho who loves contemporary and minimalist designs! When it comes to fireplaces or fire pits, you don't necessarily have to plan on building it yourself. Instead, you may find a ready-made design and buy it. Naturally, you will try finding something that matches and complements to atmosphere of your backyard. As we mentioned before, this fireplace is a perfect symbol of modernism. Styled to look like a geometric tower, with triangular slots inside of it for shelves and the fireplace, this will look like a piece of art in any garden!
13. Simple and Sophisticated – Outdoor Fireplace Ideas
Not all garden fireplace ideas have to incorporate a modern or unique sense of style. You can decide to opt for something simplistic yet sophisticated all the same! Built from slabs of stone, have a corner fireplace created in your garden. For a gorgeous look, try using different colours of stone, giving your fireplace's appearance a stylish boost. A corner fireplace, such as this one. will leave plenty of room in the rest of your garden. But at the same time will also provide you with enough space to sit around the fireplace.
14. A Circular Design – Stone and Pavers
Get ready to take your garden to the next level with this fireplace and seating area! Install a circular fireplace using stone in the middle of the chosen space. Around it, have a seating area built as well. Use the same material for the seating as what was used for building the fire pit. As for the ground, place paving stones or stepping stones around the area. Using stone with stone will grant your backyard a rustic vibe. This type of fireplace area will look amazing in a garden that has already incorporated some form of landscaping in it.
15. Geometric and Minimalist – Backyard Fireplace Ideas
We have talked about a few modern outdoor fireplace ideas. If you have not found the right one for your garden yet, maybe you'll love this idea! The fireplace itself is of a simple and clean design, shaped from metal as a rectangular prism. Place two hollow boxes next to it, that are shaped the same way as the fireplace. These two boxes will create the storage space for firewood! A minimalist design like this is guaranteed to look awesome!
16. A Swing Arm – Great for Grilling Food
Perhaps your main reason for installing a fireplace or fire pit in your backyard is so that you'll be able to cook and grill delicious food over it. Because of this, you may find it handy to install a steel swing arm right above your fire pit. Thanks to one of these, all you'll have to do is swing it above the flames, and you'll be able to start grilling your food! It would be advisable that you get a swing arm, that you can take off your fireplace, allowing you to clean it properly!
17. A Comfortable Setting – Patio Fireplace Ideas
Step out of your house and into the comfort of your garden. Design your backyard in a way that you'll feel completely at home and in peace when spending time there. So, how about you consider building a fireplace on one of the outer walls of the house. You shall be able to place to armchairs or sofas in front of the fireplace, making it a nice place to relax in. This is a great option for people who have limited space in their garden or backyard!
18. Fire Pit Table – Elegant and Refined
How about trying out an elegant fire pit table? Install a concrete fire pit in your backyard as a centrepiece in the middle of your garden furniture. A concrete fire pit table can function as a coffee table as well, which will make it all the better! You don't necessarily have to go for a traditional fire wood that burns with wood. Try out a propane gas fireplace!
19. A Country Vibe – Backyard Fireplace Ideas
Here's another example of how to transform your fireplace into the epitome of cosiness and homeliness. Put together a wall in your garden out of stone, in which you build a fireplace as well. This will be a perfect addition to a patio! Naturally, feel free to decorate your hearth, by installing a shelf above it, on which you can place lanterns or vases of flowers.
20. A Ball of Fire – Unique and Creative
Last but not least, you don't need to stick to traditional or plain outdoor fireplace designs! If you want to go for something more creative or unique, make sure to do so! For example, you can try out a fire pit or fireball that is designed in a special and interesting shape!
We hope that this collection of backyard fireplace ideas has helped you find something for your own garden! Check out our backyard landscaping ideas and our garden lighting ideas!
Advert