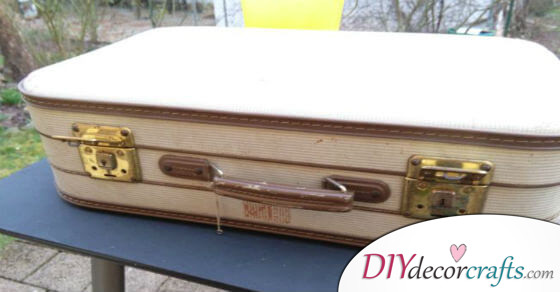 Sometimes you shouldn't throw out your old things because you can make fascinating crafts from them. If you have found an old suitcase in your attic which was your grandmother's, don't hesitate to grab it and use it in your new project! Let's check out how to turn old suitcases into something awesome!
We even can't count it, but there are so many things you can do with vintage suitcases. A "Redditor"  found one and he decided to save the luggage from the inevitable junkyard pile. When you see what he made you'll be searching your city for old suitcases to make over, too.
It might be unbelievable, but Aichtal fished this 50+-year-old suitcase out of the neighbor's trash.
source
As you can see, the inside was covered with grimy paper and smelled. Fortunately, this creative "Redditor" didn't give up his project at the beginning.
source
 How To Turn Old Suitcases Into Something Awesome